Customer Logins
Obtain the data you need to make the most informed decisions by accessing our extensive portfolio of information, analytics, and expertise. Sign in to the product or service center of your choice.
Customer Logins
Bon appétit: Natural water-soluble polymers in foods and beverages

The term water-soluble polymer (WSP) encompasses a broad range of synthetic, semisynthetic, and natural materials (see Figure 1). Natural WSPs—macromolecules derived from plants and animals—account for a relatively small share of the market (20% of global WSP consumption in 2019, as shown in Figure 2). But they dominate an important end-use segment: food production.
More than 90% of the WSPs used in food and beverage applications are natural materials. Gelatin (from animal bones and hides) and casein (from milk) are the volume leaders among WSPs in this end use. Other WSPs that are widely used in food applications include xanthan gum (from fermentation), guar gum (from guar seeds), gum arabic (from the sap of the acacia tree), carrageenan (from seaweed), and pectin (from apple pomace and orange peel).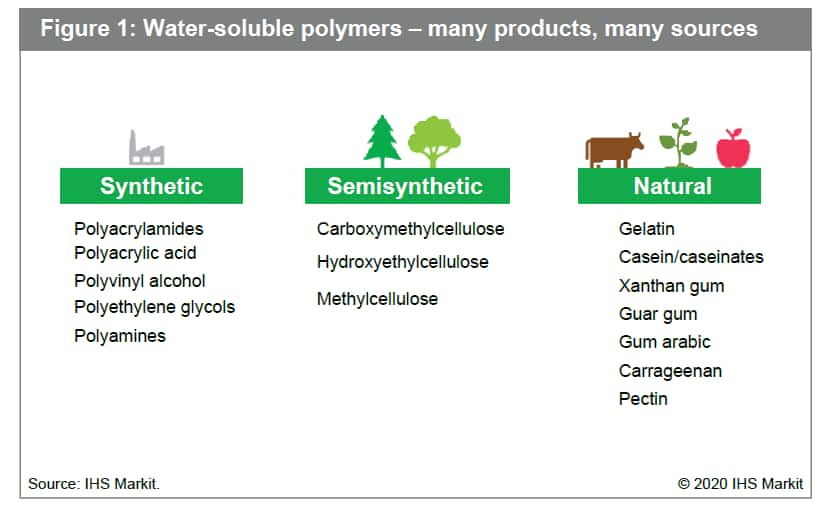 Natural WSPs play a variety of roles in packaged foods, typically at low use levels (less than 1% by weight). They are the secret in many secret sauces. In salad dressings, WSPs serve as stabilizers, preventing oil and water mixtures from separating. In ice cream, WSPs suppress the formation of ice crystals; in chocolate milk, they keep cocoa powder in suspension. WSPs act as thickeners in cream cheese, serve as binders for pimento strips in green olives, and provide gummies with their distinctive texture.
The downside of natural products: Price volatility
The potential disadvantage of natural products is that prices can be volatile. Price increases are generally due to raw material shortages, which have a variety of causes:
Bad weather. Many natural WSPs and their raw materials are produced only in certain countries or regions. Bad weather in those regions, or extreme weather events associated with climate change, can lead to lower production. For example, the Philippines, a major producer of carrageenan from seaweed, is at risk of typhoons.
Plant diseases and pests. Citrus greening—a fatal tree disease spread by insects—is devastating the global citrus industry, reducing the availability of orange peel for pectin production. The current locust infestation in East Africa is likely to have a severe impact on the production of gum arabic in Sudan, the world's largest supplier of this WSP.
Economic factors. If prices fall, farmers often shift to more lucrative or less labor-intensive crops, leading to shortages that drive prices up again. When guar gum prices are low, Indian farmers sow less guar and more chickpeas and cotton. When guar gum prices rise, they increase guar acreage.
Political turmoil. Domestic and transnational conflicts can disrupt production and supply chains. For example, exports of gum arabic from Sudan rose significantly only after the nation's civil war ended.
Ultimately, if prices rise too much, food producers will reformulate products. In some cases, however, there is an alternative source of natural WSPs: fermentation reactions. Xanthan gum, gellan gum, and a few other WSPs can be produced by the microbial fermentation of sugars from corn or sugarcane. This approach has advantages: the scale of production can be increased, manufacturing facilities can be located anywhere in the world, and production is largely independent of the weather.
Increased production generally results in lower prices. In the case of xanthan gum, consumption has increased as capacity has expanded and prices have declined.
On the right side of key trends
In general, natural WSPs are on the right side of key trends in the food industry, including health and wellness, clean labels, and convenience:
Health and wellness: Consumer interest in health and wellness has led to increased consumption of good-for-you foods like yogurt and almond milk (both use natural WSPs for thickening and stabilization). In addition, WSPs can give low-fat products the creamy and indulgent texture of the full-fat versions.
Clean labels: Increasingly, consumers favor foods that contain familiar natural ingredients ("beet juice for color") instead of foods with artificial or chemical-sounding additives ("Red 40"). Most WSPs are "clean-label" ingredients, familiar products derived from natural sources like seaweed.
Convenience: We are all pressed for time, and convenient packaged foods—which rely on WSPs for texture and stabilization—can be lifesavers.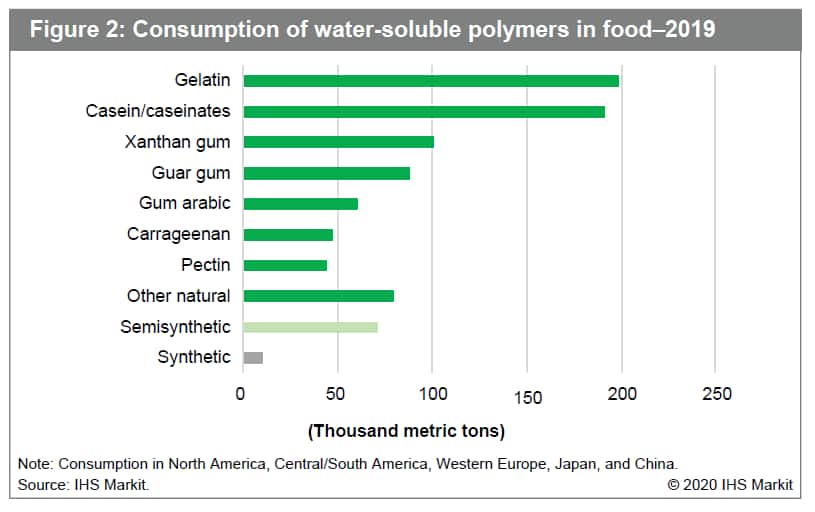 Given these positive trends, what could possibly go wrong? Sadly, consumer perceptions can change rapidly—often based on incomplete or inaccurate information—resulting in lower demand.
Carrageenan is a case in point. A WSP derived from red seaweed, carrageenan has a long history of safe use as a thickener in foods and beverages. It often serves as a stabilizer in coconut milk, almond milk, and soy milk.
The US Food and Drug Administration, European Food Safety Authority, and WHO/FAO Joint Expert Committee on Food Additives consider carrageenan to be safe for use in food. Nonetheless, carrageenan has come under attack from activists who claim that carrageenan causes ulcerative colitis. As a result, several major food producers voluntarily reformulated their products, replacing carrageenan with less controversial WSPs such as locust bean gum and gellan gum.

Outlook: Stability amid the chaos
The food manufacturing industry tends to be remarkably stable during times of crisis, such as the global recession of 2008-09 and the current coronavirus outbreak. Demand may shift from one segment of the industry to another (for example, from food service/ restaurants to retail/grocery stores), but total demand remains comparatively stable. People need to eat!
And WSPs have the advantage of widespread worldwide use in a range of food applications. Many of these applications are pantry staples, such as salad dressing, cream cheese, yogurt, soft drinks, and ice cream.
Convenience will remain imperative. We may have more time to cook these days, but none of us became Julia Child overnight. The great majority of people will continue to buy jam (which depends on pectin, a natural WSP, to make it jammy) instead of making it from scratch.
As the pandemic wears on, food producers will continue to focus on addressing customer demands for health and wellness, clean labels, and convenience—but expect them to do so at a lower price point. Most of the world is in - or is heading into - recession. Unemployment is up, and likely to remain high, for 2020 at least. Customers will want to get the most value for their food dollar. Expect to see increased sales of store brands and economy labels versus high-end food items. Regardless of price point, however, foods and beverages will continue to rely on natural WSPs for thickening and stabilization.
IHS Markit's Specialty Chemicals Update Program Water-Soluble Polymers provides a strategic analysis of the market, including market drivers, key players, industry structure and dynamics, critical factors for success, and threats or opportunities.
RELATED INDUSTRIES & TOPICS
{"items" : [ {"name":"share","enabled":true,"desc":"<strong>Share</strong>","mobdesc":"Share","options":[ {"name":"facebook","url":"https://www.facebook.com/sharer.php?u=http%3a%2f%2fihsmarkit.com%2fresearch-analysis%2fnatural-watersoluble-polymers-in-foods-and-beverages.html","enabled":true},{"name":"twitter","url":"https://twitter.com/intent/tweet?url=http%3a%2f%2fihsmarkit.com%2fresearch-analysis%2fnatural-watersoluble-polymers-in-foods-and-beverages.html&text=Bon+app%c3%a9tit%3a+Natural+water-soluble+polymers+in+foods+and+beverages+%7c+IHS+Markit+","enabled":true},{"name":"linkedin","url":"https://www.linkedin.com/sharing/share-offsite/?url=http%3a%2f%2fihsmarkit.com%2fresearch-analysis%2fnatural-watersoluble-polymers-in-foods-and-beverages.html","enabled":true},{"name":"email","url":"?subject=Bon appétit: Natural water-soluble polymers in foods and beverages | IHS Markit &body=http%3a%2f%2fihsmarkit.com%2fresearch-analysis%2fnatural-watersoluble-polymers-in-foods-and-beverages.html","enabled":true},{"name":"whatsapp","url":"https://api.whatsapp.com/send?text=Bon+app%c3%a9tit%3a+Natural+water-soluble+polymers+in+foods+and+beverages+%7c+IHS+Markit+ http%3a%2f%2fihsmarkit.com%2fresearch-analysis%2fnatural-watersoluble-polymers-in-foods-and-beverages.html","enabled":true}]}, {"name":"rtt","enabled":true,"mobdesc":"Top"} ]}