Customer Logins
Obtain the data you need to make the most informed decisions by accessing our extensive portfolio of information, analytics, and expertise. Sign in to the product or service center of your choice.
Customer Logins
Myanmar and the Rohingya: Reputational risks

On 13 September, Myanmar announced that State Counsellor and de facto civilian leader Aung San Suu Kyi would not attend the United Nations (UN) General Assembly scheduled for 19-25 September. The UN Security Council is due to discuss violence in Rakhine state during the same week. Suu Kyi's withdrawal follows international condemnation of her refusal to intervene in the exodus of a UN-estimated 370,000 Rohingya Muslims from Rakhine state to Bangladesh since 25 August, amid fighting between the Arakan Rohingya Salvation Army (ARSA) and Myanmar's military. The issue has triggered several protests in Muslim-majority countries in Asia - particularly Indonesia - and in Chechnya, Russia.
Commercial sites not directly affected by fighting
Fighting in Rakhine has not affected commercial assets and is unlikely to do so. ARSA, which called an unreciprocated ceasefire on 10 September, has targeted security forces - including at a battalion headquarters - in Maungdaw, Buthidaung, and Rathedaung townships with small-arms and improvised explosive devices (IEDs), killing 12 military personnel and at least 89 militants in retaliatory fire. Local reporting by non-governmental organisation (NGO) workers indicates the military has responded with attacks on sympathetic local populations including, according to Amnesty International, planting landmines in the path of escaping Rohingya villagers. However, mining sites - the main foreign onshore commercial interests - have not been affected, are unlikely to be targeted, and will often have significant perimeter security that cannot be breached by militants' mostly crude capabilities. (Militant attacks and counter-terrorism operations during the past year have occurred mostly in Kachin and Shan states - see map below.)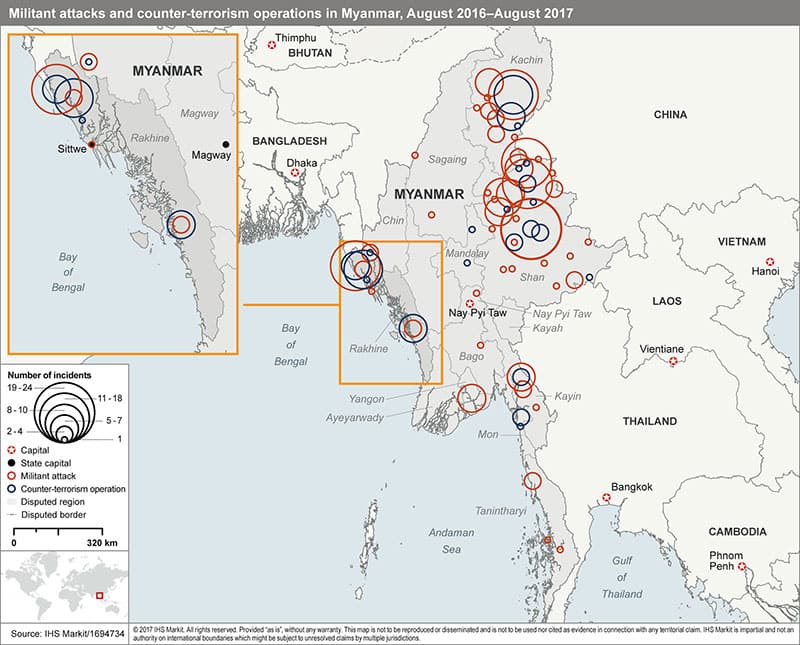 Reputational risk
International condemnation, however, now poses reputational risk to foreign companies operating in Rakhine state. South Korea's Daewoo, Norway's Statoil, and Australia's Woodside all hold concessions for oil and gas exploration in the Bay of Bengal, off the coast of Rakhine. Vietnam's Simco Song Da has reportedly held a 20-year permit through a joint stock company for mining the Nay Pu Taung Marble Quarry in Taungup Township since 2012; and unspecified firms registered in China and Luxembourg are reported to have begun testing in mineral sands in Maungdaw and Rathedaung villages in early 2016.
Reputational risk, if crystallised, is likely to manifest as protests at these firms' subsidiaries and partners' offices in Muslim-majority countries in Asia, and at worst as public demands to cancel government contracts with the firms or for local partners to divest from their investments (although the latter developments are unlikely). Subsidiaries with offices in Karachi, Pakistan, and Jakarta, Indonesia - where protests in support of Rohingya Muslims have been attended by thousands and lasted in excess of a week to date - are at highest risk. Parent companies are unlikely to face significant reputational risk in their home countries, given relatively fewer local sympathies. Similarly, China's CITIC bank, which is seeking an 85% stake in Kyauk Pyu port in Rakhine, is wholly owned by the state-owned CITIC group. The Chinese government's strategic commitment to a deep-sea port in the Bay of Bengal that will be used to supply oil is likely to insulate CITIC bank from the very low reputational risk it will face domestically.
Links with military
Firms linked to Myanmar's military will face a second, lower order of reputational risk, attenuated by the murky and under-reported nature of these links. The military holds extensive commercial interests across Myanmar, mainly through the Myanmar Economic Corporation and Myanmar Economic Holdings. Both are directly owned by the Ministry of Defence, and were among the five largest income-tax payers in 2015-16. Neither publishes full financial statements, but investigative reporting by the Financial Times suggests the firms have major interests across the economy, from strategically important mining, ports, telecoms, and steel (including a partnership with South Korea's Posco), to fast-growing retail industries, such as brewing through Myanmar Economic Corporation subsidiary Dagon Beverages. Japan's Kirin announced a 51% stake in a joint venture with another subsidiary, Myanmar Brewery, in February. Myanmar Economic Holdings partners with China's Wanbao in Myanmar's largest copper mine, Letpadaung, and faces several challenges from NGOs for its allegedly uncompensated displacement of villagers. Foreign firms entering Myanmar are often invited to partner with these military-controlled conglomerates. Firms registered in Singapore - the population of which is estimated to be more than 14% Muslim as of 2015 - accounted for 45% of foreign direct investment in Myanmar in the 2016-17 financial year.
Outlook and implications
Despite the international attention focused on Rakhine state in recent weeks, unilateral sanctions from the US or the European Union (EU) on business in Myanmar are highly unlikely. In removing all US unilateral sanctions in September 2016 - and triggering a surge in investment into Myanmar - the Obama administration hoped that the benefiting military would be incentivised to co-operate with civilian government to transition to democratic governance. This reasoning still holds: the White House and State Department have remained largely silent with regard to the violence. In the EU, several member states have provided direct foreign aid with their firms having invested in Myanmar since 2012, when all EU sanctions except the arms embargo were lifted. In addition, the US and EU are facing more immediate issues - including North Korean aggression, Brexit, and the EU's own ongoing refugee crisis - than the need to co-ordinate congressional and EU parliamentary action on Myanmar.
New UN sanctions are also unlikely. The Chinese government will veto any Security Council resolutions that would help justify sanctions due to its ongoing interests in Myanmar's minerals and ports on the Bay of Bengal. Major countries are also highly likely to be wary of sudden sanctions that would jeopardise the already strained co-operation between Myanmar's military and civilian government.
Keerti Rajan, Head of Desk, Country Risk - Asia-Pacific at IHS Markit
Posted 14 September 2017
RELATED INDUSTRIES & TOPICS