Customer Logins
Obtain the data you need to make the most informed decisions by accessing our extensive portfolio of information, analytics, and expertise. Sign in to the product or service center of your choice.
Customer Logins
Moving up the value chain: Thai military modernisation

14 November 2017
Jane's Editorial Staff
Thailand is pursuing a military modernisation programme aimed at boosting its regional profile and supporting wide-ranging capability advancement. Jon Grevatt reports
This is an extract from an article from Jane's Defence Weekly and is available via Jane's Defence Equipment and Technology Intelligence Centre.
Thailand is in the midst of a defence modernisation programme intended to support not only major improvements in the Royal Thai Armed Forces, but also advances in indigenous military-technological capability in line with a government drive to strengthen self-reliance and spur economic growth.
The interlinked strategy has become a priority for the military-led Thai government, which came to power following a coup d'état in 2014 after years of political instability, including an earlier coup in 2006.
Since assuming office Thai Prime Minister Prayut Chan-o-cha - who led the 2014 coup as commander of the Royal Thai Army (RTA) - and Deputy Prime Minister Prawit Wongsuwan, who is also defence minister, have been credited with providing significant impetus for Thailand's modernisation push in terms of the military and defence industry.
Dr Panitan Wattanayagorn, security advisor to Prawit in his position as deputy prime minister, told Jane's , "There was a personal commitment from these military people when they came to the civilian office.… They are not afraid of making decisions for the long term and in the military domain they understand what is required a little bit better than civilians. They have that confidence."
The modernisation strategy is underpinned by a pledge from the government to secure technological capability through every major defence acquisition from abroad. Such an intention was stated by previous governments but only ever implemented in a piecemeal fashion. The signs are promising, however, that Prayut's administration is on the right track to advance Thailand's progression up the value chain, with a number of plans in place to leverage military investment in supporting wider industrial development.
The development programme is supported by two linked and recently published strategic policies: 'Modernisation Plan: Vision 2026', a programme that outlines overall improvements in the Thai military over the coming decade; and the 'Defence Industry Masterplan', which provides a plan for industrial modernisation.
The former does not specify procurement targets but instead highlights ways to improve the preparation of the Thai military, enhance its capabilities, and modernise its related administrative processes and management structures. The latter is geared towards supporting advancement in indigenous capability in key areas and promoting collaboration between foreign suppliers and local industry.
Spending
To support modernisation the Vision 2026 plan outlined an objective to allocate up to 2% of gross domestic product (GDP) to defence within the next few years, through which funding will be set aside for major acquisitions. The spending plan also provides for contingencies should this target not be achieved, but it is widely accepted that a higher level of defence expenditure is required to underpin greater emphasis on procurement and related development.
Panitan said the country's ability to increase defence spending as a portion of GDP will be a critical factor in future modernisation. "At the moment Thailand allocates less than 1.5% of GDP to defence," he told Jane's . "This is not very high when compared to others in the region. The ability of the government to increase this military budget will be one of the key drivers of modernisation," he explained.
Drivers
Thailand's military modernisation programme has in the recent past been centred on developing capability across all domains - air, land, and sea - and this focus is expected to continue in light of the country's diverse strategic threats. These have ranged from drug trafficking in the north to political violence in Bangkok, low-level conflict with Cambodia in the east, tension with Myanmar in the west, and long-running insurgency in the country's deep south.
Requirements
In response to these expanding requirements Thailand has procured a number of major platforms in recent years, but additional investment is clearly required to meet some of the threat scenarios that the country could face in the future.
Most of the acquisition activity has been in the RTA. Its major orders have included more than 200 BTR-3E1 armoured personnel carriers (APCs) and 49 BM Oplot main battle tanks (MBTs) from Ukraine, with deliveries of the former already fulfilled and the latter scheduled to be complete by the end the year. The RTA has also procured Rheinmetall Skyguard air defence systems as well as a small number of locally-produced Elbit Systems' Atmos 2000 self-propelled howitzers (SPHs).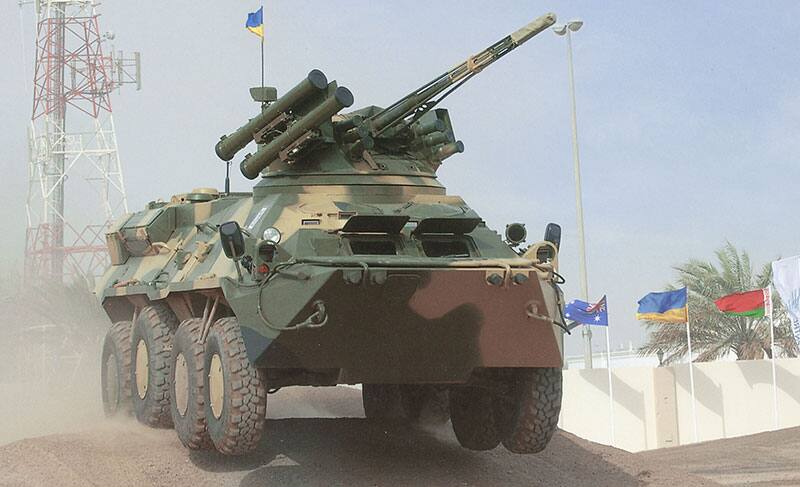 Caption: BTR-3E1 armoured personnel carriers (Ukrspecexport)
Procurement trends
As its recent procurement history demonstrates, Thailand uses a wide range of suppliers to meet its military requirements. This applies not just to platforms, but also the systems and underlying technologies installed on them.
According to data sourced from Jane's Balance of Trade , which tracks deliveries of defence equipment, Thailand's top six military suppliers are China, France, South Korea, Sweden, Ukraine, and the United States. Germany, Israel, Italy, Russia, Singapore, and the United Kingdom all follow, indicating the eclectic range of defence trade partnerships that Thailand maintains. It is also the case that the Thai market has shifted in favour of China, Russia, South Korea, Sweden, and Ukraine during the past decade, while other European countries and the United States have lost ground following an apparent straining of relations in the aftermath of the coup in 2014.
Defence industry
Thailand's defence industry is dominated by a series of factories and facilities owned and operated by the RTA, RTAF, and RTN. Capability is strongest in the land and maritime sectors, where local industry has built several platforms in recent years. These include a range of munitions and firearms as well as more sophisticated systems such as the Atmos 2000 SPH, which was built by the artillery and mortar production division of the RTA's Weapon Production Centre. Other prominent state-owned enterprises include Bangkok Dock, which is building in partnership with BAE Systems the RTN's second River-class OPV at the service's Mahidol Adulyadej Naval Dockyard in Chonburi; and Thai Aviation Industries, which provides maintenance, repair, and overhaul (MRO) services for most of the RTAF's assets, including its Lockheed Martin F-16 fighters.
This is an extract from an article from Jane's Defence Weekly and is available via Jane's Defence Equipment and Technology Intelligence Centre. Learn more.
Jane's Editorial Staff
Posted 14 November 2017
RELATED INDUSTRIES & TOPICS