Customer Logins
Obtain the data you need to make the most informed decisions by accessing our extensive portfolio of information, analytics, and expertise. Sign in to the product or service center of your choice.
Customer Logins
Moving From SMR/ASMR to ITR: France's New P&R Therapeutic Index

The domain of drug cost-effectiveness evaluation is definitively in turmoil in Europe; after Germany and its incremental benefit scores, France is developing a new therapeutic index to assess medicines for pricing and reimbursement. France already has a complex rating system with medicines rated both on their clinical value (SMR - Service Médical Rendu) for the setting of a reimbursement rate, and on their therapeutic improvement compared to available alternatives (ASMR - Amélioration du Service Médical Rendu) for the setting of a price. This mature system is now set to change.

ITR to Replace SMR and ASMR Post-Mediator
Prompted by a recommendation made by a parliamentary commission in June last year, in the aftermath of the Mediator scandal, the creation of a new level of therapeutic progress is set to toll the bell of the old SMR and ASMR ratings. The so-called ITR - or Index Thérapeutique Relatif - is designed to compare the benefit of a given medicine versus the appropriate comparator, with an index ranging from inferior to highly superior.

You will have noticed the similarities with Germany's added therapeutic benefit scores. However, the resemblance stops here. The new index is designed to inform both the reimbursement level and pricing decision in comparison to the standard of care and will not involve strict reference pricing, as in Germany. Reference pricing in the French setting targets off-patent products for which generic penetration does not reach the required level; it is limited to a handful of products. Me-too products will be handled with particular precaution, especially in terms of safety. Although a higher tolerance and easier administration are expected to be considered an advantage versus the appropriate comparator.

Under the new system, comparable medicines will be reimbursed at a similar level-but at a lower price. Real innovation will be priced higher than the appropriate comparator with a reimbursement level that could also be set above that of the comparator. Price negotiation will-similar to Germany-be carried out for innovative medicines, but only for those that bring at least a moderate added benefit over the comparator selected by the transparency commission.

Based on first pieces of information, early discussion with the commission will be highly advisable in order to adopt the right study design and appropriate comparator.

The Case for Change
The move towards a stricter system was originally triggered by the Mediator affair-a drug safety scandal which has allegedly claimed 500-2,000 lives. Other reasons for this upcoming change in France include the large number of drugs reimbursed by health insurance as well as the industry's innovation lag. The drop in the development of innovative medicines is illustrated by the decline in the number of drugs assessed for first inclusion in the reimbursement list and, more significantly, by the drop in the number of products granted an ASMR I, II and III (significant, important and moderate therapeutic improvement scores) since 2006. The number of dossiers reviewed for first inclusion in the reimbursement list decreased by on average 12.6% per year between 2006-11. Among drugs filed for first inclusion, the number of innovative medicines (ASMR I, II, III) hitting the market drop by 40% per year over the period, from 25 in 2006 to 2 only in 2011.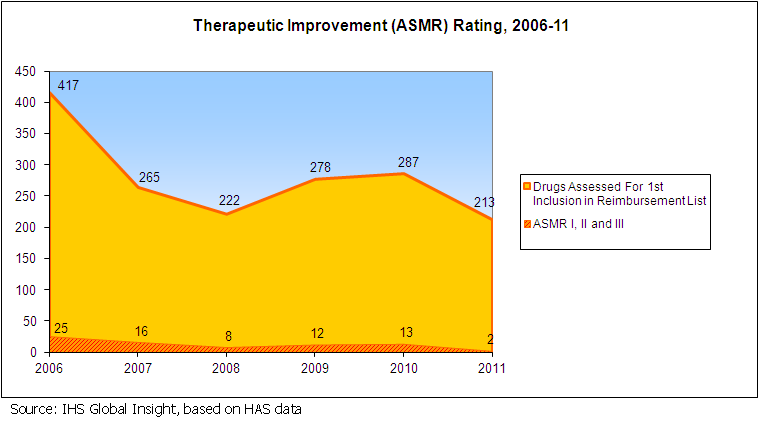 While the number of drugs recognised as innovative by the commission has been relatively low in recent years, reimbursement at 65% and 100% is disproportionally high. On average, over 80% of medicines assessed for first inclusion in the reimbursement list obtain top reimbursement level. Over 2006-11, between 1% and 6% of medicines reviewed got a high innovation score. This reached a record low in 2011 when about 99% of medicines assessed were deemed to bring no or minor improvement over alternatives available on the market.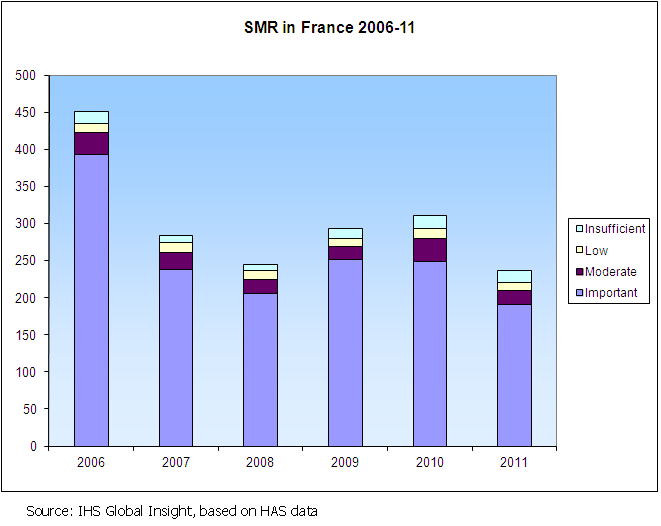 The Shape of Things to Come
The transparency commission hopes that its new ITR will be ratified as part of the 2013 healthcare budget. If this is the case, the HTA index could enter into force as early as January 2013, with quite a great deal of changes in sight for the pharma industry. The index has been tested on about twenty drugs in 2011; first results indicate that manufacturers will have to amend their development strategy to present data in line with what is expected by the commission. But in the majority of cases the ITR is in line with the ASMR rating - the main difference being that P&R will now be based on head-to-head trials against the standard of care whenever possible and that access to reimbursement will be denied for drugs that bring less benefit than the standard of care. On the funding front, levels of reimbursement should remain linked to the severity of the disease since reimbursement is set to be aligned to the comparators' reimbursement status if at least a comparable ITR is granted.

Posted 17 October 2012
RELATED INDUSTRIES & TOPICS