Customer Logins
Obtain the data you need to make the most informed decisions by accessing our extensive portfolio of information, analytics, and expertise. Sign in to the product or service center of your choice.
Customer Logins
Millennials: buying fewer new cars, but more brand loyal

A new study by the Pew Research Center on millennials (age 18-34, also known as Generation Y) provides financial data that support new vehicle registration data collected by IHS Automotive/Polk. According to the Pew study, millennials have more student loan debt, poverty and unemployment than both the preceding generations did at the same age, and, predictably, lower levels of wealth and personal income as well.
With less buying power, millennials have been less likely to purchase a new vehicle, and this is reflected in the new vehicle registration data. Only 11.2% of all new vehicle registrations in 2013 were to millennials, the lowest level in six years and down from 14.1% in 2008. Also, in each of the last ten months of 2013 this metric was down substantially from 2012, although the year-over-year difference narrowed in December. Whether millennials' waning interest in cars is caused by their dire economic conditions or merely correlated with them will not become clear until the millennials' finances improve. It is possible millennials may in fact be less excited by cars than their predecessors and instead be obsessed with the digital world (the Pew study says 61% of millennials sleep "next to" their cell phones).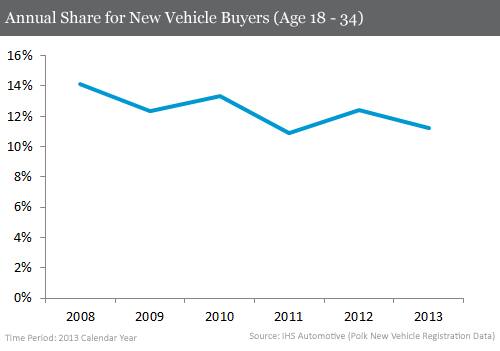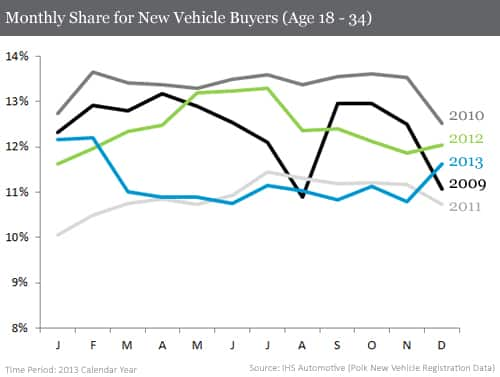 The Pew study also indicates millennials are more independent than their predecessors and less attached to or associated with institutions. Half describe themselves as politically independent and 29% do not associate themselves with any religion; these results are higher than those for any similar-age generation in the last twenty five years, according to Pew. While these results would suggest today's millennials are less attached to a particular brand of products including vehicles than their predecessors in prior generations, IHS/Polk loyalty data do not support this hypothesis. In fact, trended IHS/Polk loyalty data suggest younger buyers' make-level loyalty has been increasing over the past six years. For each of the three youngest age categories (18-24, 25-34, and 35-44), loyalty to a make has increased since 2008. While fewer millennials are buying new vehicles when compared to their predecessors, those who do are in fact more loyal to their original make.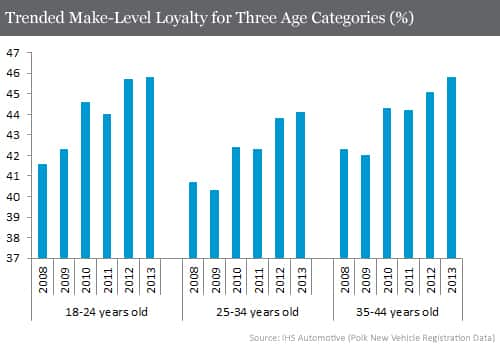 Tom Libby is manager, loyalty practice and industry analysis, IHS Automotive
Posted on March 21, 2014
RELATED INDUSTRIES & TOPICS