Customer Logins
Obtain the data you need to make the most informed decisions by accessing our extensive portfolio of information, analytics, and expertise. Sign in to the product or service center of your choice.
Customer Logins
Mexico's cargo disruption continues into 2021

Per Óscar del Cueto, the President of the Mexican Association of Railroads (Asociación Mexicana de Ferrocarriles: AMF), there were a total of around 170 days of rail blockades in Mexico from January-November 2020, the highest on record, compared with 64 in the whole of 2019, which have caused unprecedented disruption in Mexico this year.
Blockades by agricultural workers in Meoqui, Chihuahua lasted for 60 days, costing over USD1.2 billion in losses and disrupting supply chains for manufacturing hubs and US importers. Michoacán and Sonora have also been badly affected, with the most recent blockades on the Morelia-Lázaro Cárdenas route lasting 59 days and costing around USD40 million per day, according to the Mexican Confederation of Industrial Chambers (Confederación de Cámaras Industriales de los Estados Unidos Mexicanos: CONCAMIN).
Rising unemployment amid the economic recession, combined with ongoing concerns about environmental issues such as water scarcity and salary and working conditions, is likely to fuel continued protest blockades extending through 2021. The lack of alternative road transport pushing up costs, losses from perishable goods, factory stoppages because of lack of inputs, and greater vulnerability to theft while cargo is delayed are all likely to continue.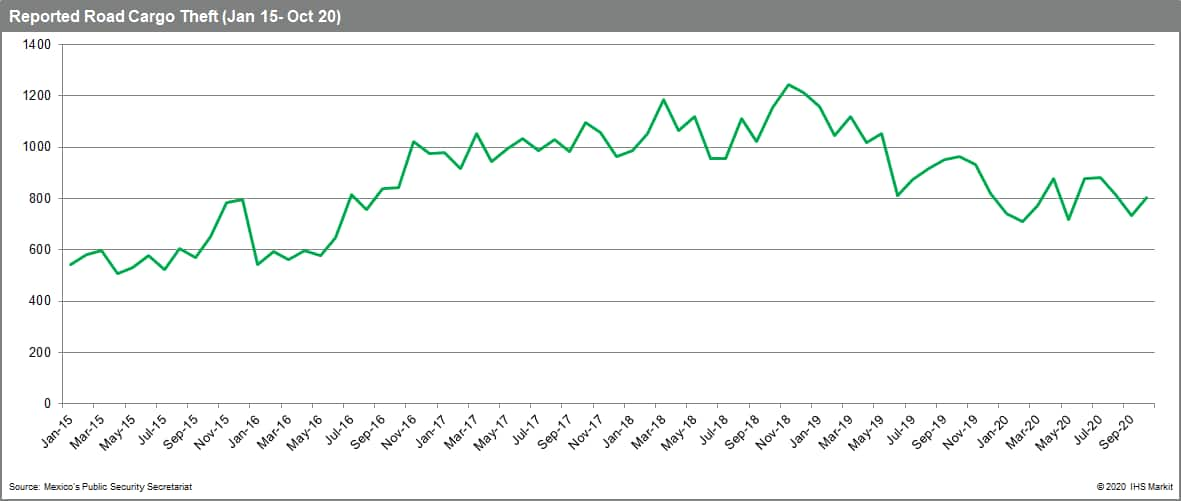 Protests at tollbooths will increase transport costs and delays for road cargo transport.
About 20-25 protest incidents occur at toll booths across approximately 10 states every day, according to the National Association of Road Infrastructure Concessionaires. Groups of 15-20 protesters typically take over a toll booth for the day, charging individual drivers an additional 'fee' on top of the official toll charge processed automatically by machines. Protesters are known to subject drivers and passengers to verbal or physical aggression and, in some cases, cause damage to vehicles if they refuse to pay the additional charge. The National Guard has highlighted ongoing incidents in Nayarit, Sinaloa, Sonora, Jalisco, Querétaro, Mexico City, Morelos, Chiapas, and Guerrero states, with Tlalpan and the Autopista del Sol in Guerrero particularly affected by recurring incidents.
Road cargo theft risks are rising in Jalisco and Veracruz states, despite an overall decline in national incidents.
Total road cargo theft incidents declined in January-October 2020 to 7,934 from 8,663 in the same period of 2019, according to government data. The significant decline in the volume of road vehicles because of coronavirus disease 2019 (COVID-19)-virus-related operational stoppages is likely to have contributed to this, as well as successful security operations at theft hotspots in Puebla state where the largest annual decline was reported. The highest number occurred in Estado de México (4,056), followed by Michoacán and Puebla states, with increases in Jalisco, Veracruz, and Chihuahua. The most targeted products are white goods, auto parts, electronic items, construction materials, food and beverages, medicines, and chemicals, according to the National Chamber of Cargo Transport (Cámara Nacional del Autotransporte de Carga: CANACAR). A moderate rise in the number of overall theft incidents is likely in 2021 due to more normal volumes of cargo vehicles on the roads. The Regulatory Agency of Railway Transport (Agencia Reguladora del Transporte Ferroviario de Mexico: ARTF) reported a 22% decline in reported rail cargo theft incidents in the third quarter of 2020 compared with the second quarter of 2020, with most incidents occurring in Jalisco, Coahuila, and Sinaloa states, targeting mainly auto parts (30%), consumer goods (19%), and grains/seeds (18%).
Pharmaceutical products and medical supplies have been increasingly targeted for theft since the COVID-19-virus outbreak in March.
The National Union of Pharmacy Entrepreneurs (Unión Nacional de Empresarios de Farmacias: UNEFARM)'s president Juvenal Becerra Orozco said that pharmaceutical cargo theft increased by 20% during Mexico's 'lockdown' period (March-May 2020). Since 4 October, there have been several high-profile robberies of medical supplies, including children's cancer medicine (Iztapalapa, Mexico City), influenza vaccinations (Nezahualcóyotl, Estado de México), and dialysis equipment (Cuauhtémoc, Mexico City). Immediate risks of armed robbery are higher for any medicines or equipment facing shortages (for example those for cancer, HIV, and antivirals), both while in transit and from storage facilities and pharmacies. It is also highly likely that future COVID-19 vaccines will be targeted for armed robbery in Mexico, affecting those transporting and administering the vaccine.
Indicators of changing risk environment
Increasing risk
Failure of the current dialogue process between the National Coordination of Education Workers (Coordinadora Nacional de Trabajadores de la Educación: CNTE) and the government would indicate likely immediate resumption of rail blockades affecting Lázaro Cárdenas port in Michoacán.
A second rapid increase in the number of COVID-19 infections in Mexico in 2021 would further increase demand for medical supplies and increase risks of pharmaceutical cargo theft.
Decreasing risk
Increased deployment of the National Guard to prevent takeovers of tollbooths would reduce cargo delays and additional charges on highways.
Greater federal government willingness to intervene to facilitate dialogue about localized environmental issues would reduce risks of protest blockades becoming prolonged (as occurred in Chihuahua and Sonora).
RELATED INDUSTRIES & TOPICS