Customer Logins
Obtain the data you need to make the most informed decisions by accessing our extensive portfolio of information, analytics, and expertise. Sign in to the product or service center of your choice.
Customer Logins
Mexico: A new market of farm-outs can unlock demand

The new government in 2018 closed the Mexican market for Bids and farmouts with a narrative of strengthening Pemex, turning its attention only to onshore and shallow water projects. Deepwater projects would become entirely depending of efforts from IOCs which in turn were placed against the wall with pressure from the Mexican government, which says it will only return with tenders when there is production in the areas already auctioned.
Mexican deepwater, people believe, have a lot of potential despite the many risks. In fact, an international company had never extracted oil in the Mexican seas, until Eni had its first oil in the Amoca / Mizton / Tecoalli project in 2019.
IOCs are starting to move faster. Exploratory drilling activities begin to take shape once rig contracts are signed. The long-awaited discoveries are beginning to appear, as in the case of Repsol, which recently made two deepwater discoveries: Chinwol-1 and Polok-1. The consortium, led by Repsol, is also formed by three other companies: PC Carigali, Wintershall DEA and PTTEP.
This is just an example of the win-win situation, where sharing both investments and risks helps getting to concrete results faster. A new market has formed. A new gateway for different international players is open. The companies, seeing all the risk associated with the exploration and development of their offshore projects, took farmouts as the way forward. A "parallel market" was created in the Mexican offshore in order to mitigate risk and share costs. Pemex initiated the movement in 2016 with the farm-out of Trion, that is nowadays the most advanced deepwater project in the country.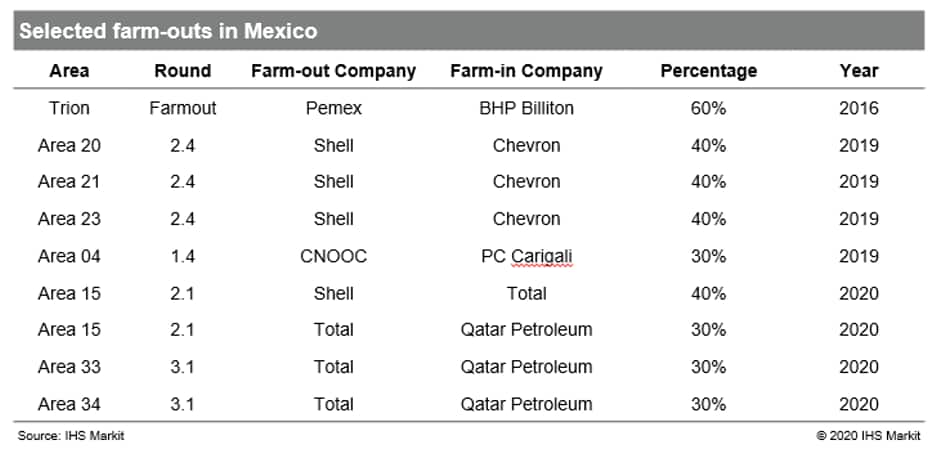 Figure 1: Selected farm-outs in Mexico
Shell, the company that won the most areas in the Mexican bid rounds, has already started to share its stakes, giving up part or all its rights in order to reduce both risks and costs. The company reduced its capex for 2020 by up to 25 percent and recently sold its remaining share of a shallow water block in Mexico, a clear sign of a portfolio optimization, giving preference to deepwater assets where the company has vast experience and can generate more value.
Other companies like CNOOC and Total are also opened for deals since they have another significant investment in Latin America like their projects in Guyana, where they have as benchmark ExxonMobil´s success with Liza. And there are interested parties, both big and small companies are interested in Mexican waters precisely because it is a prolific asset and with an extreme potential for productivity.
There is a gap of $27 billion dollars between investments approved in the tenders and those that were actually made. A total of 45 offshore exploratory wells are yet to be drilled. The current crisis, with the new level of oil prices and the drop in world oil demand, does not help in the pace that these investments should gain in Mexico.
The challenges for the largest operator in the country continue to increase. The financial situation has deteriorated and the capacity to finance new projects, whether onshore or offshore, in which the local industry already has the know-how to carry them out, has decreased. The development of deepwater projects by IOCs may be a small relief to alleviate the lack of investments that the Mexican supply chain was used to.
This "new market" of farm-ins and farm-outs can help unlock and accelerate 90% of the investments already approved, which, in turn, consider only the exploration slice of deepwater projects. With the acceleration of exploratory programs, there is an increased chance of new discoveries like that of Repsol, thus opening the vault for investments in large development projects.
What we see today is a "musical chairs" contest among international companies in search of a slice in a consortium. And that could be a starting point to minimize the potential 20% drop in investments accumulated until 2025 in the Mexican market with direct consequences to the local supply chain.
For more information on this investment analysis on the paper, Latin American costs review: A plot twist in the offshore Mexican novel, and read our other blog on Mexico offshore investments.
Renata Machado is a Senior Associate for the Energy Cost and Technology team at IHS Markit.
Marcos Lepore is a Research Analyst for Oil and Gas Markets at IHS Markit.
Posted 20 May 2020
---
Follow IHS Markit Energy
RELATED INDUSTRIES & TOPICS