Customer Logins
Obtain the data you need to make the most informed decisions by accessing our extensive portfolio of information, analytics, and expertise. Sign in to the product or service center of your choice.
Customer Logins
Market Access Lessons From Benlysta's Failure to Wow European Payers

15 May 2012
Gaelle Marinoni
GlaxoSmithKline's (GSK) Benlysta (belimumab) is the first therapy to be approved for the treatment of lupus in over 50 years. Yet, despite Benlysta's first-in-class status and the high unmet medical need associated with lupus, GSK is struggling to convince some of the top-5 European markets that its medicine is worth funding. So why is this and what can be learnt from GSK's difficulty in securing positive verdicts on its medicine?

Benlysta's Reimbursement Dossier
Benlysta is a human monoclonal antibody licensed as an add-on therapy in adult patients with uncontrolled active, autoantibody-positive systemic lupus erythematosus (SLE). In Germany, France, England, Wales and Scotland, GSK relied on the BLISS-52 and BLISS-76 clinical trials to support its pricing and reimbursement dossiers.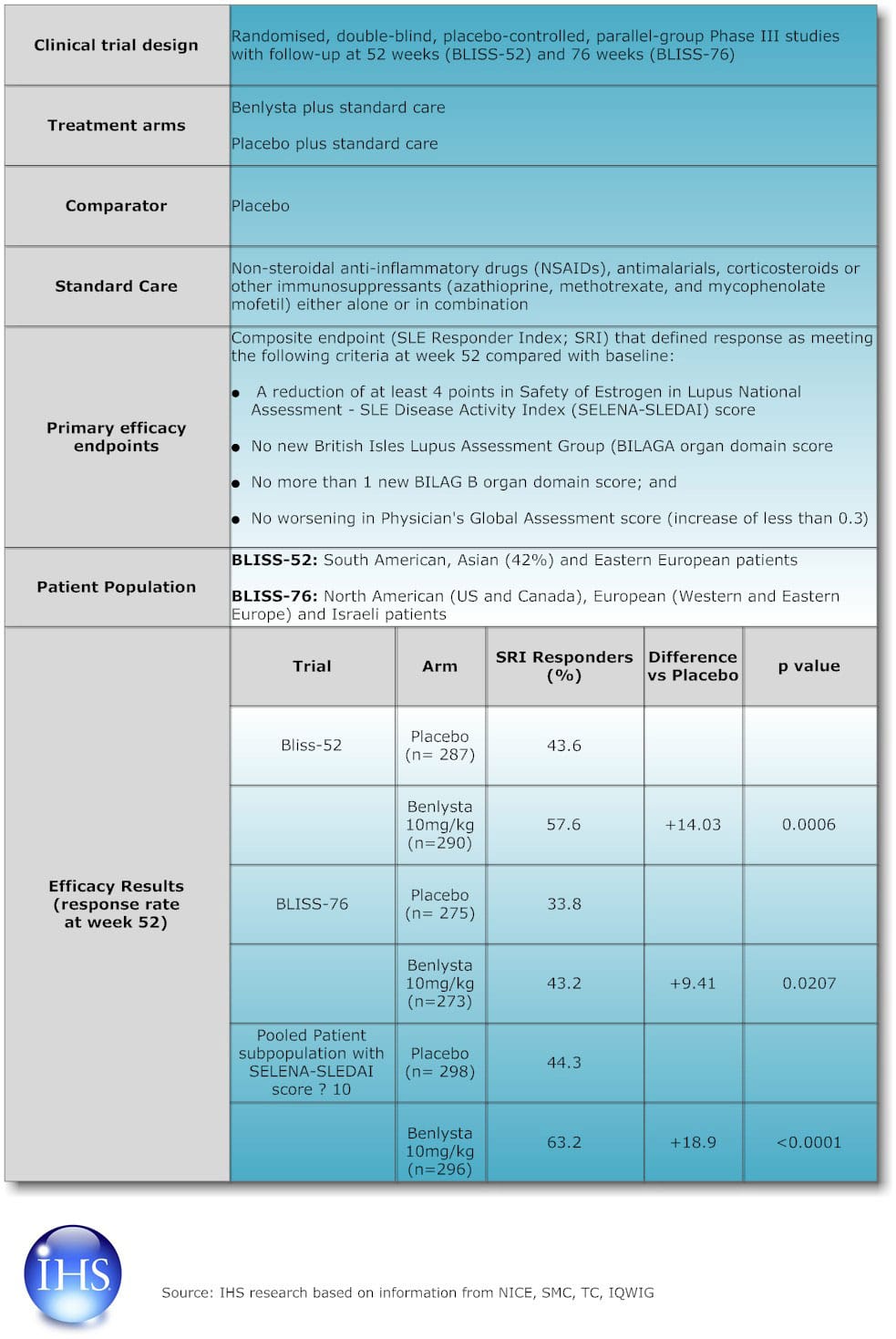 Table showing the Benlysta data submitted by GSK to national payers for pricing or reimbursement purposes.
European Payers' Verdict
Germany: IQWiG concluded that Benlysta brings no added therapeutic benefit in the treatment of SLE as GSK failed to provide the relevant data to assess the benefit of its medicine versus "optimised standard therapy". According to IQWiG, the BLISS-52 and BLISS-76 protocols regulated adjustments in standard-of-care regimen so tightly that investigators were prevented from optimising the standard care in enrolled patients. As a result, Benlysta may fail to qualify for pricing negotiations (i.e. it may be referenced priced) unless the G-BA grants it a final incremental benefit score other than that recommended by IQWiG.

England and Wales: NICE issued a negative final appraisal for the drug, despite the fact that GSK sought restricted reimbursement (exclusively for a patient subpopulation with high disease activity, identified post-hoc) and offered a discount on the list price as part of a patient access scheme (PAS). NICE mentioned uncertainties over: • The generalisability of the BLISS-52 trial to the UK patient mix and clinical practice • The use of the SELENA-SLEDAI score to identify the target reimbursement population as it is not commonly used in clinical practice • The nature of standard care • The lack of a comparison between Benlysta and rituximab (MabThera, Roche), which is routinely used off-label in UK clinical practice in the treatment of severe SLE

Scotland: The SMC recommended against Benlysta's use within the NHS Scotland based on the fact that the manufacturer's clinical and economic analysis was not sufficiently robust. GSK had also offered a PAS to the NHS Scotland.

France: The TC granted Benlysta an improvement in actual benefit (ASMR) rating of IV (minor improvement in terms of efficacy and/or reduced side effects) based on "modest" efficacy, uncertainties over long-term safety and over the generalisability of the clinical trial results to French routine clinical practice, as well as on a lack of data in patients with severe renal and neurologic forms of the condition.

While SLE is a rare disease and patients have limited treatment options, European payers have demonstrated they are unwilling to pay for a medicine that does not fit their idea of therapeutic value. In England, Wales and Scotland, this translates into a negative reimbursement recommendation, while in France and Germany this will probably translate into a price concession from GSK.

So What Can We Learn from the Benlysta Experience?
While GSK's clinical data did meet the information needs of regulators, it seems to have fallen short of the information needs of payers.

Based on research that we recently conducted on relative effectiveness assessment, we've identified five areas that are critical in order to meet the needs of payers: While it seems too late in the game to review Benlysta's late phase clinical trials, GSK has a number of options it can explore to address payers' uncertainties over its medicine and improve its market access outcomes. Indeed, our primary research with national payers demonstrates that they are willing to consider a number of options to plug the information gap in pricing and reimbursement dossiers.
Learn More in our New Study Our new study The New REAlity of Relative Effectiveness Assessment: International Comparison of Evolving Requirements is available now and you can download a free extract here.
Clinical trial design: the submitted clinical data must allow payers to effectively assess added therapeutic value
Endpoint selection: the clinical development programme must address payer-friendly endpoints, meaning that the effect on endpoints that matter to payers should be tested. If surrogate endpoints are used in the trials, they must be validated in clinical practice
Patient selection: the submitted clinical data must be aligned with the patient mix and clinical practice of the respective national payers
Use of mixed-treatment arm for standard care is best avoided
Need for systematic review of clinical trials
RELATED INDUSTRIES & TOPICS