Customer Logins
Obtain the data you need to make the most informed decisions by accessing our extensive portfolio of information, analytics, and expertise. Sign in to the product or service center of your choice.
Customer Logins
Marcellus Shale Pipeline Infrastructure Mushrooms – Blessing or Curse?

As a North America Energy Analyst, I closely follow the unconventional gas revolution in the US. For years, pipeline infrastructure bringing output to markets could not keep up with the production boom. Now, the country's most prolific shale gas play is seeing pipeline expansions and new-builds come onstream, but producers are hesitant to take full advantage of this development in a persistently uncertain natural gas environment.

The result? Despite increased pipeline capacity, a significant share of Marcellus shale gas production might not materialise in the medium-term, unless regulators approve significant LNG exports.

I see three main implications from the North-east pipeline capacity build-out:
US natural gas flow patterns will be altered significantly and bring the Northeast closer to self-sufficiency
Producers are likely , however, to be reluctant to actually flood the market with more shale gas over the next 15 months in order to avoid an increasing differential between Henry Hub prices and the costs involved in lifting shale gas
LNG exports could alleviate unabated dry gas oversupply in the US market in the medium-term (5 to 10 years), but the future of export terminal projects remains uncertain
A Shale Gas Giant in the Making In the Northeast of the US, a so far bound giant - the Marcellus Shale - is about to be unleashed as natural gas pipeline shipping capacity rises over the coming 15 months. About 1,000 drilled wells have been awaiting an infrastructure build-out in a region that has traditionally been supplied by Western US production. But the shale gas revolution has put natural gas self-sufficiency for the US North-east within reach. A key missing ingredient has been pipelines to connect production to markets used to seeing spiking demand and subsequent price hikes during harsh winters and hot summers. However, spreads between Nymex Henry Hub contracts and regional city gate prices have been narrowing in recent years as more shale gas output reaches consumers.

Pipeline Boom in the North-east US The US Energy Information Administration (EIA) indicates that 2.8 billion cubic feet per day (bcf/d) of new pipeline capacity, mostly through expansion projects, are currently under construction and expected to come onstream by the end of 2012. For 2013, an additional 3.8 bcf are possible in the North-east, however at varying project stages ranging from 'announced' to 'under construction'. While not all of the announced projects might materialise, the 2012 capacity addition alone would add about 4.4% to total US gas supply of 63 bcf in 2011. Expected 2012 and 2013 expansions together could thus technically add as much as 10.5% to US overall output over 2011 volumes. These calculations do not include other unconventional or conventional sources of dry natural gas that are likely to further boost US domestic production during that timeframe.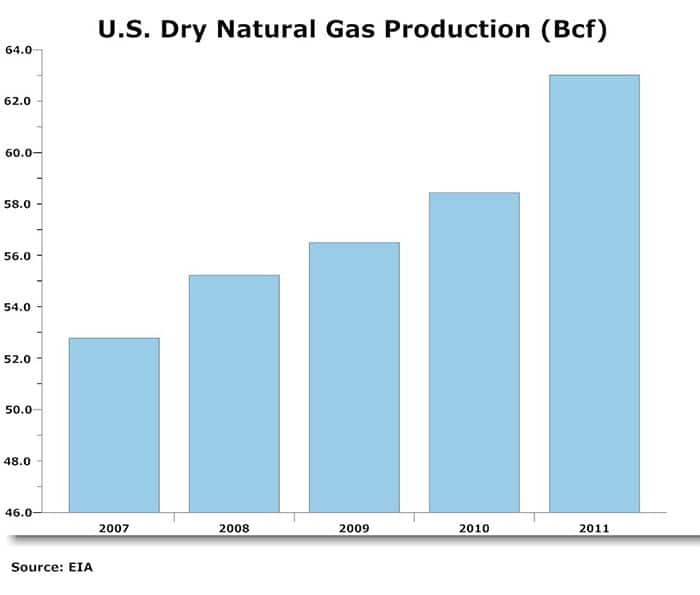 Blessing or Curse? For some Marcellus operators, such as Chesapeake Energy, Statoil, and Anadarko Petroleum, this outlook is good news. Idle wells will finally produce the gas they are sitting on and companies will see rising revenues from a long-delayed production area. North-east - Henry Hub price spreads will narrow further as ample supply in combination with relatively stable, yet cyclical demand will benefit end-users, also likely driving a regional increase in industrial gas demand. But not all is good. The new pipeline infrastructure alters conventional gas flow patterns across the US and leaves major pipelines like the Rockies Express (REX), commissioned in 2004 to supply the then energy-starved North-east, with reduced throughput. But what's more, the level of additional supplies from the Marcellus has the potential to keep Henry Hub prices at a level around or below many unconventional dry gas plays' break-even price.

As US gas demand growth lags behind the country's shale gas growth potential, LNG, with nearly 150 million tonnes per year of export capacity proposed, presents the best opportunity to move the market for natural gas. The results of a Federal review to determine the domestic economic implications and desirability the profound potential change in the US natural gas balance has been postponed until after the presidential elections. However, with key upstream and downstream business interests on opposites sides of the LNG export debate, market uncertainty may well continue even after we gain near-term political certainty and just how much Marcellus production will grow may be up in the air for some time to come.
---
Follow IHS Markit Energy
RELATED INDUSTRIES & TOPICS