Customer Logins
Obtain the data you need to make the most informed decisions by accessing our extensive portfolio of information, analytics, and expertise. Sign in to the product or service center of your choice.
Customer Logins
M&A – Megadeals will the trend continue?
From the US chemical renaissance inspired by shale, to the feedstock shift in Asia towards unconventionals, and the drop in competitiveness of the Middle East because of reduced ethane availability and higher prices, industry players have been prompted to look increasingly at M&A as a way to extend market reach, acquire technology and concentrate or extend their portfolio. Since 2012 the chemical industry has seen a rise in activity in the M&A market with deals seeming to peak in 2016, however as we move through 2017, activity still seems to be holding strong.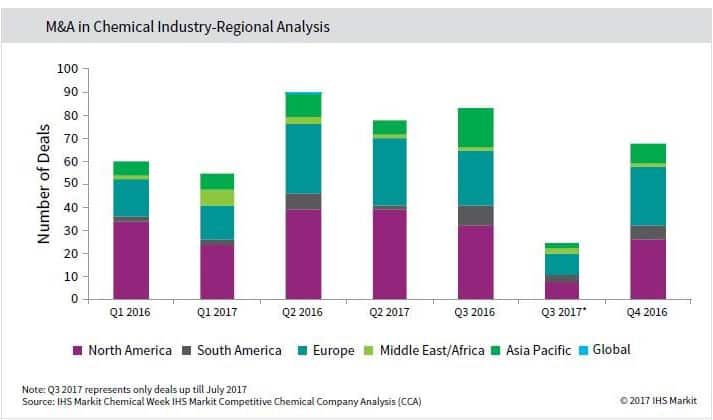 In the past 2 years, record M&A deals have included, Dow/DuPont ($69Billion), Bayer/Monsanto ($66Billion), ChemChina/Syngenta ($43Billion), Praxair/Linde ($35Billion) and Huntsman/Clariant ($20 billion).
These huge deals have mainly been driven by the need to create higher value within an environment that has been lacking in organic growth. Moreover, the combined companies will have a much stronger manufacturing and cost position.But with the pace of these megadeals seeming to increase, IHS Markit asks the question - where next? It is likely that we will see some further movement in the Middle East, as reducing feedstock availability sees players look further downstream in an effort to increase margins. Continuing cost and pressure from competitors will likely play out in further industry consolidation, with Middle East majors looking to take a positon in North America, or to acquire technology and market from struggling European producers. Examples of which include the takeover of the Lanxess business by Aramco as they continue to increase their Chemicals business and further SABIC investments in the US.
The European market is also ideal for US companies seeking inorganic growth opportunities, as European companies provide direct access to a developed market with symbiotic product applications, making the transition relatively easier.
With acquisitions being the normal route for sector leaders to seek growth, industries like chlor-alkali, coatings, gases and agriculture chemicals have seen a lot of top-heavy consolidation. Many of the deals have been transatlantic with focus on expanding the core business, rather than a foray into an entirely new business. However, transatlantic deals have not always been easy, primarily due to the differences between US and European business practices. The Linde-Praxair merger although completed, faced many complications relating to top-line management changes and changes to the locations of a large number of operations. The Bayer-Monsanto deal also faced a few headwinds but ultimately came through in late 2016 (though yet to close). The impact of cultural differences were prominent in the failed PPG Industries bid for Akzo Nobel, with some Dutch politicians and AkzoNobel's chairman denouncing the possibility of job losses and plant closures.
Activity in Asia continues despite the economic slowdown, consolidation of the Chinese industry and Chinese companies being driven by a hunger to invest overseas, keeps M&A activity buoyant into 2017. A drive for self-sufficiency in the Chinese chemical industry continues to push investment in foreign assets, not only to gain technology, but also in some cases to access feedstock. It is likely we will see investments move further up the value chain into specialty chemicals, with Chinese players extending their reach. Examples of which are the sale of BASF electrolytes manufacturing site in Suzhou to Shenzhen Capchem.
However as expected, the majority of the M&A activity in 2017 has taken place in North America and Europe, predominately in the specialties sector albeit at a somewhat lower value as the European industry continues to seek to compete globally and with concentration on high value products with notable movements in the coating and resin sectors.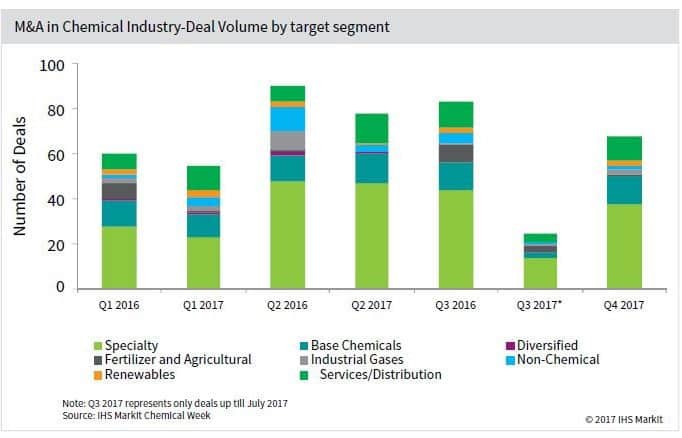 After years of overcapacity, high operating costs, and reduced demand in end-use markets, the chlor-alkali/vinyls (CAV) industry has improved competitiveness through active consolidation by the major players. The innovative deal between Dow and Olin and subsequent takeover of Axiall by Westlake have redefined the North America industry's competitive scenario with Olin emerging as the industry leader followed by OxyChem.
According to the IHS Markit Westlake/Axiall Competitive Company Analysis (CCA) report, the acquisition of Axiall has enabled Westlake chlor-alkali position, making it the third largest chlor-alkali producer globally. The company has also expanded its product portfolio through the acquisition, extending its product slate to chlorinated intermediates and inorganic caustics. In addition, the North America asset base which has access to low-cost energy, is leveraged to meet the demand of an energy intensive industry.
The IHS Markit CCA offering also provides detailed analysis of the eight major peer group companies in the chlor-vinyl sector, highlighting how mergers and regulatory activity have changed the competitive scenario. The transition has led to the closures of some older plants based on outdated technology, while the facilities that have survived are enjoying higher operating rates, increased market share and greater profitability.
Easily available financing for a short supply of attractive assets has made the chemical arena a sellers' market at present. Buyer's interest in niche, specialty businesses which are presently fetching high multiples verses commodity-oriented businesses will remain. The spate of big M&A's is also expected to drive divestiture activity in 2017 & 2018 with the companies realigning portfolios to counter anti-trust and financing issues.
Despite not being a record year for M&A deals, with several being pushing over into next year due to complexities, it is likely that the trend will still continue throughout 2017 into 2018. Uncertainty and economic slowdown means the businesses will still find it hard to create the required returns need to fully satisfy shareholders, and thus will continue to do this by investment. One question that must be raised is around having continued access to finance cheap, easy money that is steadily starting to disappear, and the signs of global interest rates increasing could stall some investment decisions. IHS ChemWeek recently cited Peter Young - president of boutique investment bank, Young and Partners (New York) as saying "Chemical industry debt and equity issuance was weak in dollar terms. Global non-debt bank financing was $7.2 billion, a large decrease from last year's pace when $45.9 billion was completed. Investment-grade debt raised was $6 billion of the $7.2 billion with high-yield a weak $1.2 billion. "Most of the slowdown in investment-grade debt was because many companies rushed to refinance before interest rates increased in December,"
With many analysts predicting that the megadeal trend is slowing down, companies may choose strategic acquisitions going forward given the uncertainty of the current economic and geopolitical environment. IHS Markit still sees plenty of opportunities for some bold plays in the industry with emerging markets continuing to looking attractive and major players spending time looking at investments in Africa, India.
A deep dive into company strategy is available via the IHS Markit series of Competitive Company Analysis (CCA) reports which assist in major strategic analysis and decision making. Visit www.ihs.com/cca to learn more.
John Barsby is Director, IHS Markit Chemical
Posted 7 December 2017
RELATED INDUSTRIES & TOPICS