Customer Logins
Obtain the data you need to make the most informed decisions by accessing our extensive portfolio of information, analytics, and expertise. Sign in to the product or service center of your choice.
Customer Logins
Luxury share of US auto market remains in 10-11% range

The competition in the luxury part of the U.S. new vehicle industry has perhaps never been as intense as it is right now, and, in a related trend, new product activity in this space is as frenetic as ever. BMW, Lexus and Mercedes-Benz continue to vie for luxury sales leadership with Audi and Cadillac aggressively trying to move up. Many of the luxury makes have been expanding into new segments, with such products as the Evoque, F-Type and CLA. There are other examples of this trend coming this year, including the ELR, Q3, A3 sedan, GLA, MKC, NX, Macan, RC, i3, 2 Series, 4 Series, X4, and X6. On top of this, yet another make will jump into the premium arena when Alfa launches the 4C this spring or summer. Given all of this activity, it would seem almost inevitable that the luxury makes in aggregate would be eating into the non-luxury piece of the pie and gaining share.
Surprisingly, that is not happening. As the chart below illustrates, the luxury market, whether analyzed as a combination of makes or segments, has not been gaining share over the past five years. It's share of the U.S. market has hovered in the 10.5%-11.5% range going back to at least 2008. (The results vary slightly depending on whether one defines the luxury market as a group of makes or a group of segments; the group of makes will include some models that do not fall into luxury segments, such as the Mercedes-Benz Sprinter, while the group of segments will include some models that are not part of luxury makes, such as the Chevrolet Corvette, Hyundai Equus and Genesis, Dodge Viper and Nissan GT-R.)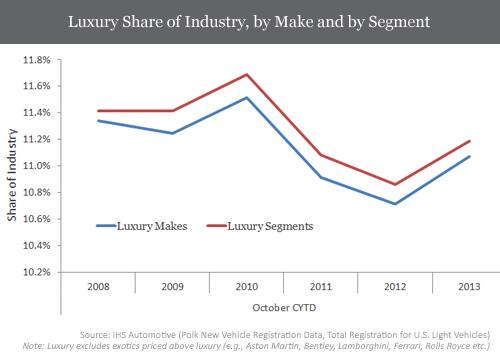 Several luxury makes have indeed been gaining share including Audi, Land Rover, Mercedes-Benz, and Porsche. On top of this, Tesla has gone from 0% a year ago to .12% of the industry this year (October CYTD). But at the same time, several makes have either lost ground or disappeared altogether. Lexus has slipped slightly while Lincoln and Volvo have lost quite a bit of share and Hummer and Saab have been discontinued.
The same pattern exists at the segment level. The biggest segment gainer in the luxury space is the compact crossover category, which has almost quadrupled from .3% of the industry to 1.16% now. The subcompact car category has also gained. On the other hand, four segments have slipped, including full-size SUVs and cars, midsize cars and compact cars. Generally segments made up of larger vehicles have lost share while the smaller-vehicle categories have grown.
There are (at least) two conclusions one can draw from these trends. First, while luxury makes may be pulling non-luxury buyers up into the luxury space via attractive lease programs, an equal number of luxury owners must be leaving the category. On a net basis then, luxury makes are conquesting owners from other luxury makes (assuming sales to used owners and other sources remain constant). And, secondly, as the large-vehicle segments gradually cede share to the small-vehicle segments, both dealer and OEM per-vehicle profits decline, suggesting less overall profit in the U.S. luxury market going forward. It's no wonder the leading luxury makes are increasingly focusing on China.
Tom Libby is manager, loyalty practice and industry analysis, IHS Automotive
Posted 7 January 2014
RELATED INDUSTRIES & TOPICS