Customer Logins
Obtain the data you need to make the most informed decisions by accessing our extensive portfolio of information, analytics, and expertise. Sign in to the product or service center of your choice.
Customer Logins
Low-power consumption: A new mantra, but also driving component obsolescence

With new product designs appearing on the market to keep up with advances in IoT, automotive, wearables, mobile, and computing, many devices and their components boast a vaunted new emphasis. The new mantra is low-power consumption, in keeping with current trends on power usage and utilization, in order to reduce heat, facilitate higher speeds, and improve reliability in devices and components, at the same time helping preserve sustainability efforts overall.
But while low-power consumption in devices is undoubtedly a boon to consumers, a challenge of a different order confronts chipmakers, device manufacturers, component suppliers, and the rest of the parts supply chain. In aiming for devices to successfully offer low-power functionality, parts manufacturers and suppliers have inadvertently caused a vexing development in parallel-one that is now resulting in some pointedly interesting component obsolescence trends.
The bottom line? Given the new demands in design to produce hardware and other gear featuring lower-power-consumption, more devices are now also being introduced at lower voltages.
Consider the FPGA
To illustrate the new lower-voltage dynamic at work today, one only has to look at field-programmable gate arrays (FPGAs)-integrated circuits designed such that the chips, after manufacturing, can be configured by designers or customers for their own use.
Until 1998, FPGAs operated exclusively at 5 volts, with no other lower-voltage versions available. Gradually in the 2000s, 3.3-volt FPGAs appeared, becoming the most prominently introduced components in 2005 as well as in 2009. By 2013, FPGAs operating at 2.5, 1.8 and 1.2 volts were the new stars-only to be overshadowed afterward by fresh upstarts possessing even lower voltage, at 1.0 volt and then down to 0.85 volt, as shown by the graphic below.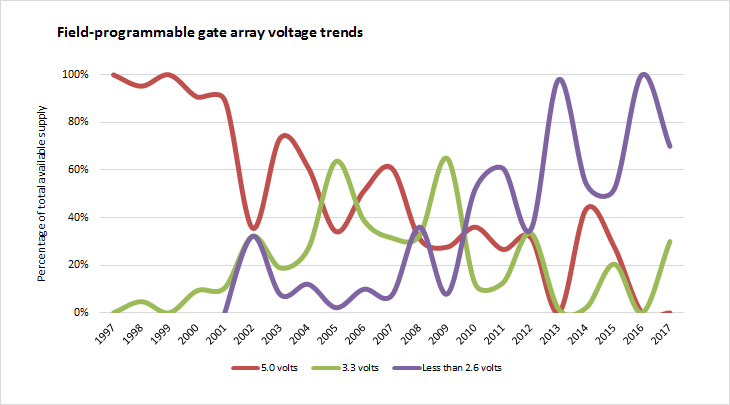 Note the clear downward trajectory in the graph for 5-volt devices from their peak in the late 1990s, with their supply and use diminishing in time up to the present. The same is true with 3.3-volt devices, as can be seen in the downward polynomial trend curve. Meanwhile, lower-voltage FPGAs, such as those less than 2.6 volts, have grown in popularity during the past 10 years.
For programmable logic devices, the same trend can be discerned in terms of part availability or part status, as shown in the graphic below.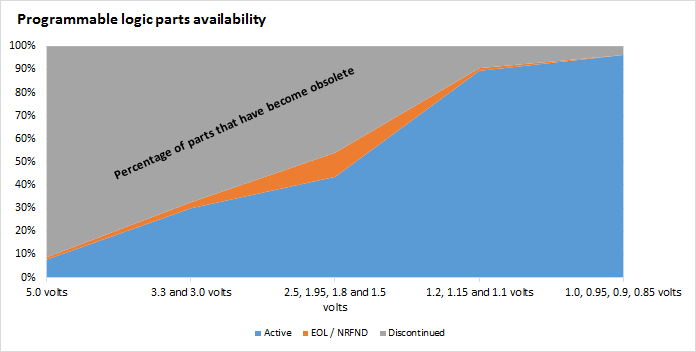 Lastly, this same trend-of higher-voltage devices finding their way into obsolescence, replaced by lower-voltage counterparts-shows up as well in microprocessors. Here higher-voltage devices are also phasing out in favor of lower-voltage replacements, such that almost no new microprocessors with a supply voltage greater than 2.5 Volts have been introduced since 2013 (see graphic below). Note that in 2014 almost 2,500 new microprocessor part numbers-the largest amount since 2006-had a nominal supply voltage of 1 volt or less.
Clearly, semiconductor manufacturers are reacting to the demands of the market calling for new and progressive designs-in this case, a heightened emphasis on lower-energy consumption. Such a sea change, in turn, will continue to create significant challenges relating to obsolescence, a tide that could well affect even the most well-established components and their makers. Part selection for new designs will also be critical all the way through the replacement of obsolescent parts, to ensure that components remain available throughout product life cycles.
The good news is that the IHS Markit Part Solutions offers world-class obsolescence-management software, along with the critical insights needed to manage transitions, to help companies navigate the challenges during these periods. For more details, visit https://ihsmarkit.com/products/electronic-parts-management-solution.html
Companies can also can also stay updated on market and semiconductor technology news, via https://technology.ihs.com/Research-by-Market/450482/semiconductors
Greg Wood is Director in the Electronic Parts business at IHS Markit
Posted 1 May 2017
RELATED INDUSTRIES & TOPICS