Customer Logins
Obtain the data you need to make the most informed decisions by accessing our extensive portfolio of information, analytics, and expertise. Sign in to the product or service center of your choice.
Customer Logins
Lingering proppant oversupply entails continued soft pricing, while suppliers strive to survive

02 July 2019
Brandon Savisky
Due to a lingering state of oversupply throughout the first half of 2019, proppant and sand suppliers have had to adapt to a "survival of the fittest" financial and operational landscape, while operators continue to enjoy the ongoing supplier power working in their favor.
Current conditions aside, IHS Markit believes both Northern White Sand (NWS) and regional/in-basin sands will reach a bottom toward the end of 2019-Q2 or very early 2019-Q3. In fact, some proppant suppliers may even begin to announce very slight price increases due to multiple contractual variables and often many diverse, situational circumstances throughout different basin destinations.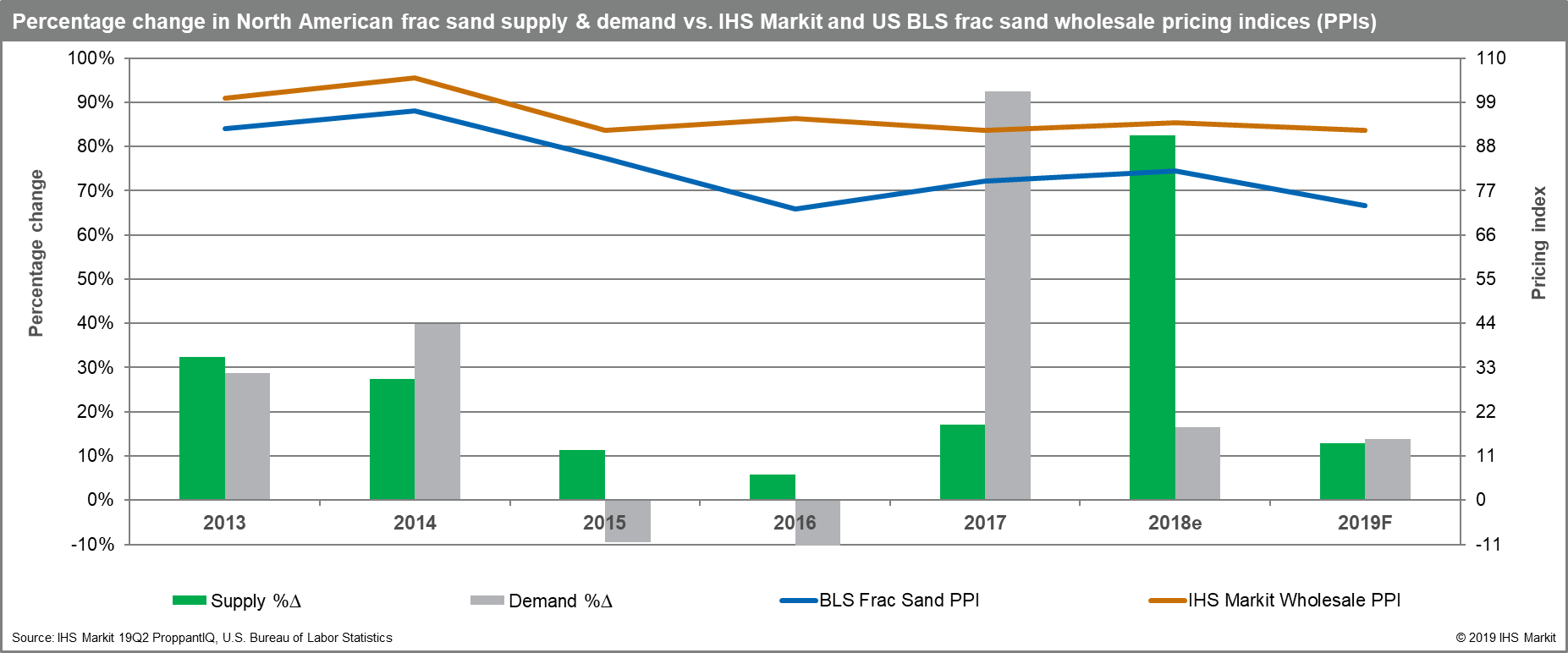 Figure 1: Annual percentage change of North American frac sand supply & demand versus IHS Markit and US BLS wholesale sand pricing indices
The drastic dichotomy of supply and demand from 2017 to 2018 was due to a mixture of market dynamics that created a perfect storm of quarterly market volatility, with highs and lows that have fundamentally remolded the traditional proppant market paradigm, into a regionally, logistics focused, and commoditized market. This is the current market operators' supply chains have adapted to - to minimize cost and nearly exploit all channels at all costs possible - and will continue to operate within at least through 2019 and into much of, if not all, 2020 unless commodity pricing rises substantially.
As market demand largely shifted from NWS to regional and in-basin sand sources from late 2017 and throughout 2018, sand supply severely outstripped demand in 2018 due to not only the hasty ramp up of regional/in-basin sand sources (mainly within the Permian), but also the tempering of operator activity caused by the constrained takeaway capacity in the Permian at the same time. These conditions led most sand proppant producers to focus on improving margins in nearly any way possible which has resulted in a laser-focused approach to 'right-sizing' production within the leanest and most cost-efficient facilities, mines, and plants, inclusive of idling capacity. Currently, we approximate the total US sand supply to be heavily weighted at 62% regional and in-basin sand, with more than one-third mined within the Permian Basin. We also approximate NWS to make up nearly 36% of the total US sand supply.
In past updates, we warned of high volatility in spot market pricing during these dynamic times throughout the second half of 2018 to the second half of 2019, with spot pricing still affecting overall average price and contract negotiations due to sand producers offloading inventory, "fire-sales," and other distress-related cash grabs. However, we now see a market pricing stabilization occurring throughout the second half of 2019 with flat to (very) slight price increases heading into 2020 for fine mesh frac sand, both NWS and regional/in-basin.
IHS Markit's Onshore Services & Materials' recent ProppantIQ report for the second quarter of 2019 monitors and forecasts proppant demand, supply, utilization, pricing, trends, and constraints across key North American markets. The report is available in its entirety on Connect™ for Onshore Services & Materials clients.
Learn more about our coverage of onshore materials, including proppant and pumping.
Brandon Savisky is a Senior Research Analyst at IHS Markit.
Posted 2 July 2019
---
Follow IHS Markit Energy
RELATED INDUSTRIES & TOPICS