Customer Logins
Obtain the data you need to make the most informed decisions by accessing our extensive portfolio of information, analytics, and expertise. Sign in to the product or service center of your choice.
Customer Logins
Life cycle approach on Scope 3 emissions key to auto sector decarbonization: analyst
As nations around the globe expend more attention than ever on reducing GHG emissions, recognition is rising that the transportation sector, especially light-duty vehicles, must do its part in the race to reach net-zero carbon emissions by mid-century.
Speaking at the IHS Markit "Climate readiness and the Journey to Net Zero" webinar on 16 June, IHS Markit CO2 Compliance Research Director Vijay Subramanian said the transportation sector accounted for about 24-25% of global GHG emissions in 2018 and 2019, with nearly 75% from road transport.
In response, US President Joe Biden has pledged to reduce GHG emissions by 50-52% economywide by 2030 from 2005 levels. The European Green Deal is aiming for a 55% GHG reduction by 2030 compared with the level in 1990. This deal includes a 90% reduction in transport sector by 2050, with the Europeans working to release their 2030 climate and energy framework package in July 2021, Subramanian said. China has pledged a 20% reduction from its peak emissions by 2035.
In an analysis of how global original equipment manufacturers (OEMs) are doing so far on reducing CO2 emissions, IHS Markit has found that they are well on their way to reducing Scope 1 and 2 emissions in the next decade, but Scope 3 is proving to be more elusive.
For OEMs, scopes 1 and 2 are related to manufacturing a car (fuel consumption in production and assembly, electricity, heating, cooling, and steaming for operations). Scope 3 involves upstream inputs like purchased goods and services and logistics, and most importantly, the operation and end-of-life treatment of the vehicle. The auto industry estimates Scope 3 emissions account for more than 80% of value chain GHGs, Subramanian said.
"What needs to change in Scope 3 is that life cycle assessments need to be incorporated, rather than tailpipe emissions analysis," Subramanian explained.
Life cycle assessment takes a well-to-wheel (WTW) look at all the inputs throughout the full vehicle cycle and fuel cycle. Under a WTW approach, the long-term benefits of the shift to electric vehicles (EV) becomes visible, he said.
Using European carmakers as the example, IHS Markit finds that manufacturing a battery electric vehicle (BEV) in 2020 generated about 8 metric ton (mt) of CO2-equivalent, compared with about 5 mt CO2-e for an internal combustion energy (ICE) vehicle. By the time that vehicle has reached 150,000 km (about 93,000 miles) of lifetime use, the equation has flipped, and the BEV has generated less than half of the emissions of an ICE vehicle.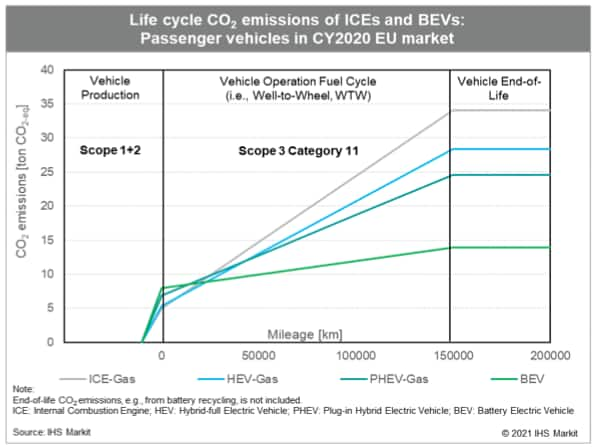 However, within the EU, Subramanian said, the projected overall emissions impact of an EV can vary widely, depending on the carbon intensity of the power that is being generated, which varies drastically in every member state, certain states being higher or lower than the EU average for total emissions from a BEV.
With France and Sweden able to generate electricity with a much lower carbon footprint than Poland or Germany, for example, governments must also grapple with how to decarbonize their power sector while also accommodating the shift to EVs, he said. Overall, for a BEV to be carbon neutral on a life cycle-based approach in Europe, a large shift towards renewables is needed nationwide.