Customer Logins
Obtain the data you need to make the most informed decisions by accessing our extensive portfolio of information, analytics, and expertise. Sign in to the product or service center of your choice.
Customer Logins
Lease penetration reaches eleven-year high
Retail lease penetration climbed to 30.2% this past January, meaning almost one of every three new vehicles registered across the industry was leased. This result was the highest of any January in eleven years, more than double the rate in January 2009 in the midst of the great recession, and 4.6 percentage points higher than just one year ago.
Clearly the luxury market plays a major role in the rise of leasing; the nine segments with the highest retail lease penetration in January were all luxury categories, led by two "gateway" segments -- the luxury compact and sub-compact car segments at 68.7% and 65.2%, respectively. Looking within the luxury compact car segment, five models had lease levels over 70%, including the Infiniti Q50, Lincoln MKZ, Lexus IS, Infiniti Q60 and Mercedes-Benz C Class, with the first two actually over 80%. name them) and three additional models had lease levels between 70 and 80% (name them).
These data have (at least) four implications. First, the rise in leasing moves emphasis away from MSRP and towards monthly payment and down payment, hence the enhanced focus on these metrics in luxury advertising. Second, brands with a strong relationship with their captive finance companies (captives) stand to benefit. Operating arms that are able to work together with their captives to create effective incentive and marketing programs focused on key products will have a competitive advantage. Third, obviously maximizing residual values becomes a high priority; those brands with the strongest images, lowest operating costs, highest quality, and superior results in the other areas contributing to residual values are in a position to potentially offer the most competitive monthly payments.
Lastly, those brands that are able to ride this wave of high lease rates will reap some subtle benefits as well. Specifically, IHS loyalty data indicate that lessees are consistently more brand loyal than purchasers (industry-wide lessee brand loyalty in January was 63.6% versus 49.7% for purchasers), and lessees return to market more quickly than purchasers (lessees who returned to market this past January did so 29 months after their prior transaction, versus 45 months for purchasers). This latter behavior over the long term leads to higher volume for both the retailer and the brand.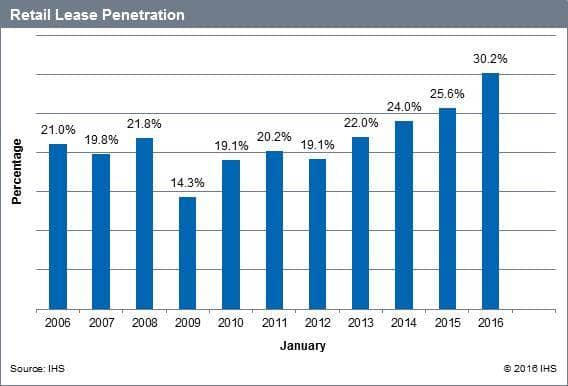 Tom Libby is Manager, Loyalty Solutions and Industry Analysis, IHS Automotive
Posted 19 February 2016
RELATED INDUSTRIES & TOPICS