Customer Logins
Obtain the data you need to make the most informed decisions by accessing our extensive portfolio of information, analytics, and expertise. Sign in to the product or service center of your choice.
Customer Logins
Latin America and the Iran-US conflict

Except for Brazil and Venezuela, most Latin American countries have stayed neutral over the attack that killed Iran's Islamic Revolution Guards Corps (IRGC) Qods Force (QF) General Qassem Soleimani. The main implication of the attack is the threatening of Brazil's trade with Iran, while increasing the risks of additional US sanctions against Venezuela, and the US taking a tougher stance on Argentina's efforts to reschedule its IMF liabilities if the country shifts its neutral approach towards supporting Iran.
President Jair Bolsonaro's open endorsement of the US government's action increases risks for Brazilian exports to Iran. His stance will also increase terrorist risks against US assets, but neither Hizbullah nor any radical terrorist group with presence in the triple border (Brazil, Paraguay, Argentina) area have carried out terrorist attacks in Brazil successfully. The US Embassy has issued an alert warning to its citizens in Brazil, but any Iran-sponsored attack would be unprecedented in the country. The most immediate effect is thus likely to be trade-related. Brazil exported USD2.1-billion worth of corn, soybeans, and beef to Iran in 2019 and the agribusiness sector has expressed concern about Brazil's close relationship with the US jeopardising such trade in future. State-run company Petrobras also has suspended vessel traffic in the Straits of Hormuz.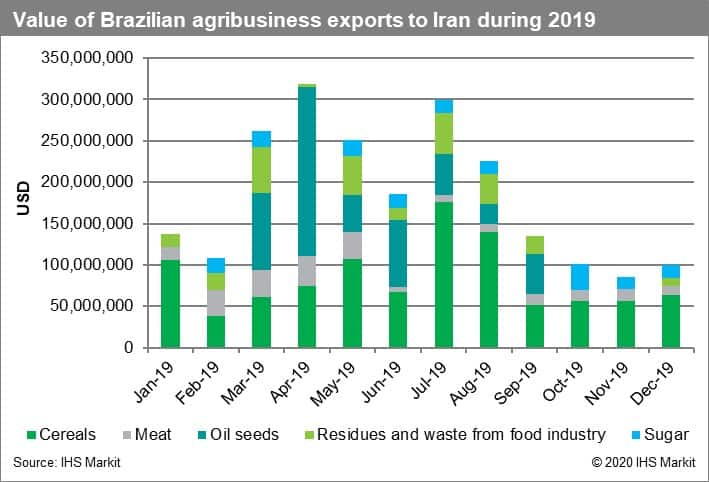 Argentina risks losing US support in debt renegotiations with the International Monetary Fund (IMF) if it is perceived to support Iran. Although the Argentine government has confirmed its position of neutrality, current vice-president and former president Cristina Fernández de Kirchner (CFK) promoted a friendly relationship with Iran while in office from 2007 to 2015, and significantly increased bilateral trade. This led to allegations, which she has denied, of the CFK government having covered up the 1994 Asociación Mutual Israelita Argentina (AMIA) bombing, particularly after the prosecutor leading the accusations died in unclear circumstances in 2015. It would be counter-productive for Iran to sponsor an attack in Argentina, where it has a potential ally. Argentina's neutral position, however, combined with a shift in its foreign policy favouring countries that antagonise the United States, is likely to displease President Donald Trump's administration, potentially leading it to take a tougher stance against Argentina during its debt renegotiation with the IMF, therefore hindering the process and further increasing default risks.
Hizbullah and Iran are likely to continue fostering their relationship with Venezuela, arguably their main ally in Latin America. The Venezuelan government has condemned the US action and sided with Iran. Hizbullah is often linked with Vice- President for Economic Affairs Tareck El Aissami. It operates in the country, allegedly running money-laundering networks. The US has previously expressed concern about provision of Venezuelan passports to Iranians and Syrians associated with the organisation. An attack in Venezuela is highly unlikely. However, the planning of an attack in Latin America or the US deemed to have received help from Venezuela would increase the likelihood of the US intensifying its current sanctions against Venezuela and channeling additional funds and support to back the pro-US political opposition. Neighbouring Colombia is a close ally of the US. Its intelligence services are strong and Colombian insurgent groups have not targeted the US embassy nor have been able to conduct a sustained campaign of attacks on key cities. The Venezuela-Colombia border, however, is highly porous and could allow any radicalised individuals to mobilise to Colombia or other parts of Latin America from Venezuela.
Paraguay's weak control in the tri-border area makes it highly vulnerable to a potential Iran-instigated attack on US assets. Interior Minister Euclides Acevedo has stated that the government will take the threat of an event such as the 1994 AMIA bombing seriously. Security has been improved, although no details have been unveiled. The tri-border area, where Hizbullah cells are present focusing mostly on smuggling and money laundering, is an area where cells could be further radicalised and ordered to carry out attacks against US assets in the region. There is no precedent for a successful attack, however, during the past 20 years.
A further increase in oil prices would provide economic and fiscal benefits to oil producers such as Colombia, Ecuador, Mexico, and Venezuela, while hurting oil importers. Oil production is essential to several Latin American countries economically and a further increase in oil prices because of an escalation of the Iran-US conflict would generate additional oil export-related and fiscal revenues. Conversely, net oil-importing countries would face increased import costs, hurting their economic growth and fiscal revenues; countries more exposed include Argentina and Peru, along with Central American and Caribbean states. If oil prices surge, it would increase the risk of protests over rising fuel prices and the associated reduction of living standards in these countries. For Brazil, a rise in oil prices will have a mixed effect; it will benefit state-run oil company Petrobras, but would likely translate into higher domestic fuel prices, exacerbating social protests through strikes by truck drivers.
Indicators of changing risk environment
Increasing risk
Iranian missile attacks in the Middle East or other action cause significant numbers of US fatalities, leading to additional US action against Iran and its proxies, and a re-escalation and widening of the conflict.
The US government presses Latin American countries to switch from a position of neutrality to one in which they would be fully aligned with the US and opposed to Iran.
Argentina, Brazil, and Paraguay are unable to work together to implement counter-terrorism related operations, including improved intelligence-sharing, in the triple-border area.
The Venezuelan government strengthens its bilateral relation with Iran, establishing new and deepening existing commercial relationships, which could be used for money-laundering and terrorism-financing activities.
US assets in Latin America suffer a terrorist attack, with the host country and the US accusing Venezuela of having provided logistical support.
Decreasing risks
President Bolsonaro in Brazil moves towards a position of neutrality to protect the interests of the country's agribusiness industry.
Argentina's debt renegotiations progress smoothly without hostile US intervention.
Iran issues statements clarifying that any future attacks against the US will be directed specifically at military targets, while ruling out terrorist actions by proxies, or states that it has taken sufficient "revenge action" to seek no further moves against US interests.
RELATED INDUSTRIES & TOPICS