Customer Logins
Obtain the data you need to make the most informed decisions by accessing our extensive portfolio of information, analytics, and expertise. Sign in to the product or service center of your choice.
Customer Logins
JOC Insights: US toy imports

12 December 2016
Mario O. Moreno
US toys TEU imports forecast to hit a six-year high
US containerized imports of toys as measured by TEU volume fell in the third quarter by only 1.3 percent year-over-year according to IHS PIERS data, after modestly increasing in the prior two quarters. The year-over-year comparison has been very tough year-to-date as import demand for Star Wars toys increased markedly in 2015 linked to the release of a new, long-awaited, Star Wars movie: "The Force Awakens".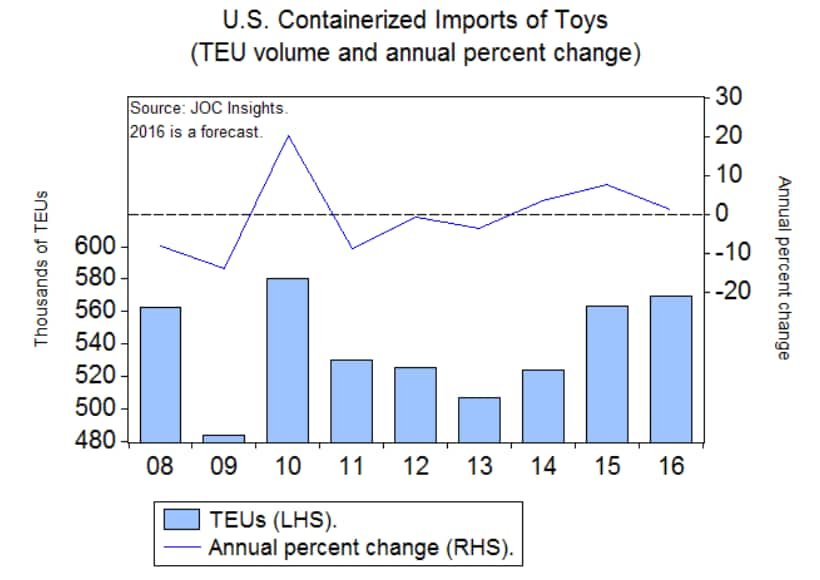 Demand for Star Wars toys carried momentum again this year. From January through September, total toys imports were up 0.8 percent, which is respectable given the strong growth seen last year. As in 2015, the major drivers of growth this year appear to be movie-related toys; for example, Disney's "Rogue One - a Star Wars story" - soon to be released on December 16. According to IHS PIERS seaborne database, several shipments of Star Wars toys and games were registered through September, although it is very difficult to exactly quantify the number of TEUs. Furthermore, a few shipments of toy trolls were registered in the third quarter, linked to the upcoming DreamWorks movie "Trolls". Lastly, strong shipments of toy princesses were registered year-to-date, possibly linked to Disney's upcoming movie "Moana", a Polynesian princess, and Disney's strong push of its Princess franchise.
I am anticipating US toys TEU imports will finish the year on a positive note, up between 1 and 2 percent, hitting a six-year high.
China's sourcing share merely unchanged year-to-date
By TEU volume, China (including Hong Kong) is the largest supplier of toys to the U.S., accounting for 88.0 percent of the market year-to-date through September, a market share merely unchanged compared to the same period in 2015. In 2007, however, the year before the Great Recession started, China held 93 percent of the market. China's goal of upgrading the value chain of its manufacturing sector certainly took a toll on toys export production over the last 10 years- albeit modestly. Nevertheless, China continues to hold a very large piece of the market, partly because of a well-developed supply chain network, despite rising production costs. The recent depreciation of China's renminbi is a bonus. Since the start of the year, the renminbi has depreciated 3.4 percent against the U.S. dollar through September 30, 2016.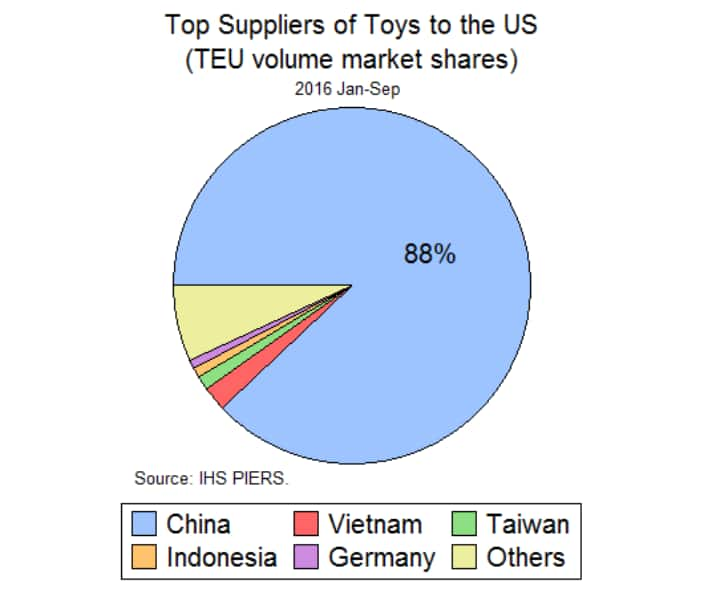 Toy shipments from China were up only by 0.4 percent year-to-date, while shipments from Vietnam were up 2.6 percent year-to-date. Vietnam's sourcing share continues to expand, albeit from a small base, from only 0.5 percent share in 2007 to 2.2 percent share year-to-date.
Los Angeles handled most inbound traffic of toys year-to-date
Year-to-date, from January through September, the Port of Los Angeles handled the most international inbound shipments of toys, with a 29 percent share of the trade in terms of TEU volume, up 3 percentage points from the same period in 2015. Long Beach followed with a 21 percent share of the trade, down by 2 percentage points from the same period in 2015. Seattle-Tacoma, NY-NJ, and Savannah each handled 11 percent of the inbound traffic.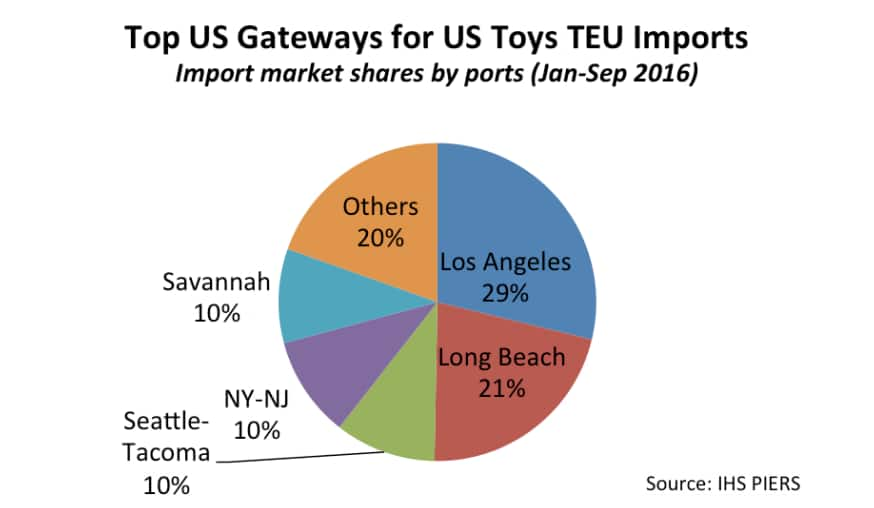 Learn more about how you can benefit from our import data.