Customer Logins
Obtain the data you need to make the most informed decisions by accessing our extensive portfolio of information, analytics, and expertise. Sign in to the product or service center of your choice.
Customer Logins
JOC Insights: US soda ash exports

09 November 2016
Mario O. Moreno
Global soda ash expanding at 4 percent a year over 2010-2015
Global exports of soda ash by ton volume have expanded at a compound annual growth rate of 4 percent between 2010 and 2015, with the US leading the gains, according to data from IHS Global Trade Atlas. Soda ash is a chemical commonly used in the manufacturing of glass, and also powder detergents.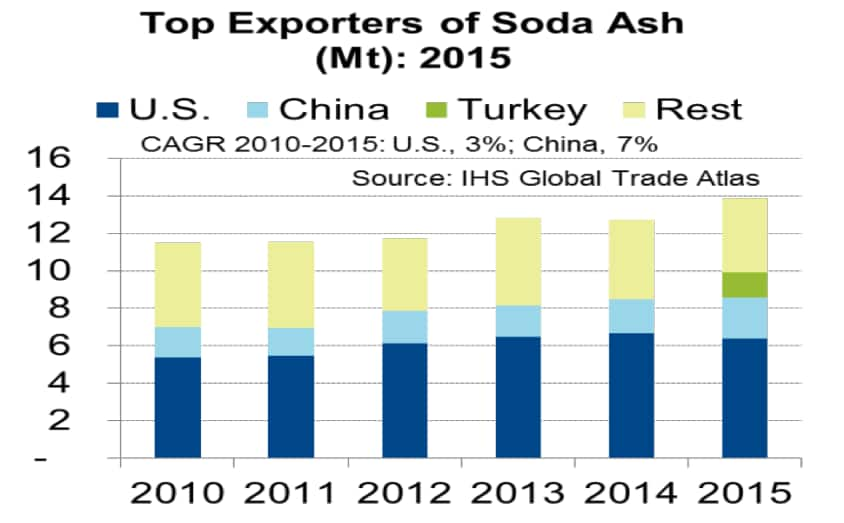 The US is by far the largest exporter of soda ash in the world, accounting for 46 percent of the global volume exported in 2015, followed by China (16 percent) and Turkey (9 percent). Turkey experienced a big jump in the rankings in 2015. Turkey hid its soda ash exports until last year, explaining why there appears to be a sudden sharp increase. Turkey had added 1 million tons of low-cost capacity in 2009, and from that moment their exports saw a fairly sharp increase. Most of Turkey's exports ended up in western Europe.
Turkey will add 3 million metric tons of new low-cost capacity in 2017-2018. This will be for export markets and will likely trigger the closure of some highcost plants in other countries. It will also mean that there will be an increase in the volume of soda ash shipped across the world (which is already high).
US soda ash exports grew at a compound annual rate of 3 percent from 2010 to 2015, and were mostly shipped via bulk. Meanwhile, Chinese exports of soda ash expanded at an annual rate of 7 percent over the same time period, mostly shipped via containers.
On the import side, demand is more broadly distributed with no country composing more than 10 percent of global import demand by ton volume, and the top 20 importing countries accounting for no more than 70 percent of global imports during the 2010 to 2015 period. The top five global importers of soda ash are Brazil, Mexico, Indonesia, India, and South Korea.
Brazil is the largest US seaborne export market
As of the end of 2015, Brazil was the largest US seaborne export market for soda ash, according to IHS PIERS data, accounting for 21 percent of the market, followed by Indonesia (9 percent) and Chile (7 percent). Brazil increased its demand for soda ash during the last five years despite adverse conditions in its manufacturing sector.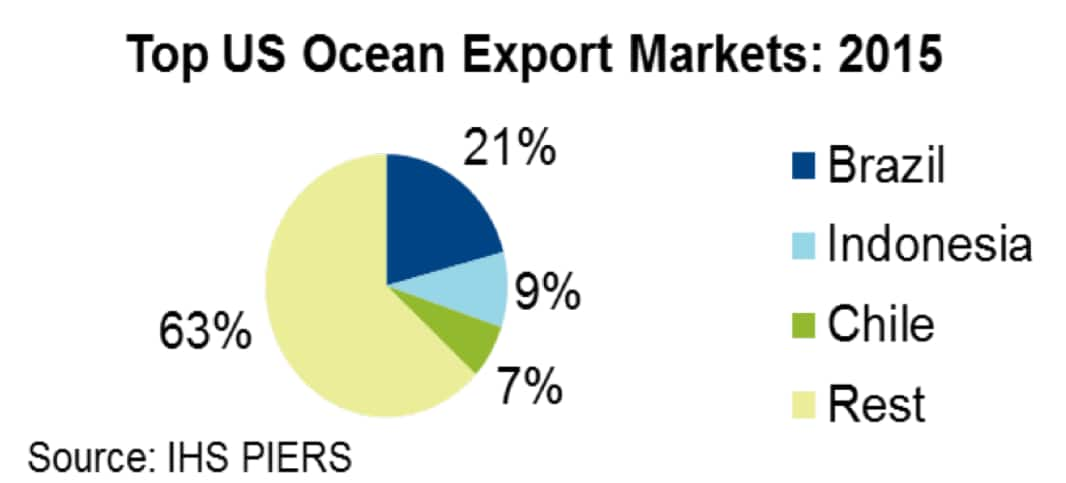 Portland and Port Arthur are the top discharge ports for soda ash
Portland and Port Arthur are the major US discharge ports for soda ash, according to IHS PIERS data, together accounting for almost 80 percent of annual exports. Portland is the larger of the two export ports, accounting for about 45 percent of export volume. Long Beach; Galveston; and Longview, Washington, are the other US ports with substantial soda ash export volumes. Containerized exports are more broadly distributed with Houston, Los Angeles, Long Beach, and Freeport, Texas, being the most significant ports.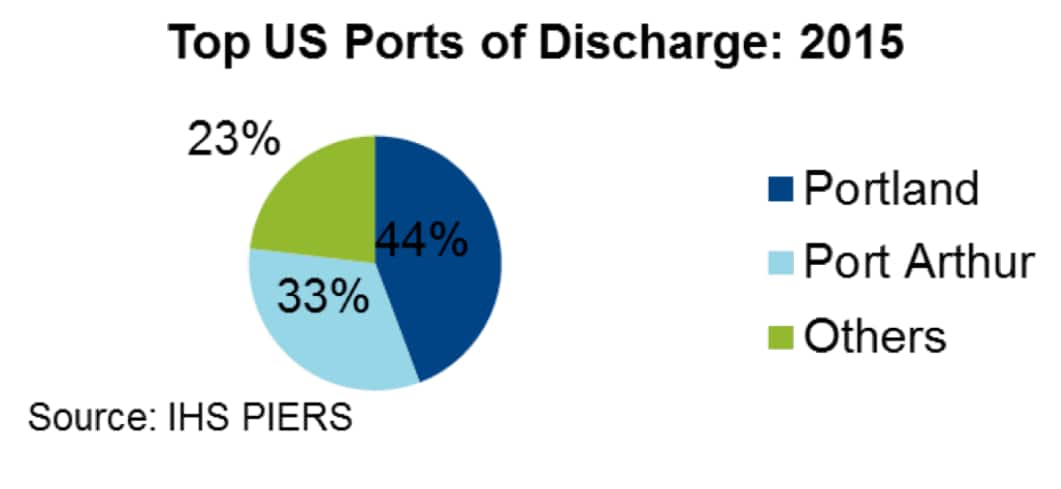 ANSAC (American Natural Soda Ash Corp.) is the largest exporter by far with more than half of the US export volume. Solvay, Searles Valley Minerals, and Tata Chemicals are other major US exporters of soda ash.
Learn more about how you can benefit from our export data.
RELATED INDUSTRIES & TOPICS