Customer Logins
Obtain the data you need to make the most informed decisions by accessing our extensive portfolio of information, analytics, and expertise. Sign in to the product or service center of your choice.
Customer Logins
JOC Insights: US furniture imports

23 September 2016
Mario O. Moreno
US furniture imports up for 19 straight quarters
US containerized imports of furniture as measured by TEU volume expanded in the second quarter of the year for the 19th consecutive quarter, year-over-year, driven largely by an improving home sales market on the back of low mortgage rates and respectable job gains. As demand for homes goes up, demand for furniture imports tend to increase as well.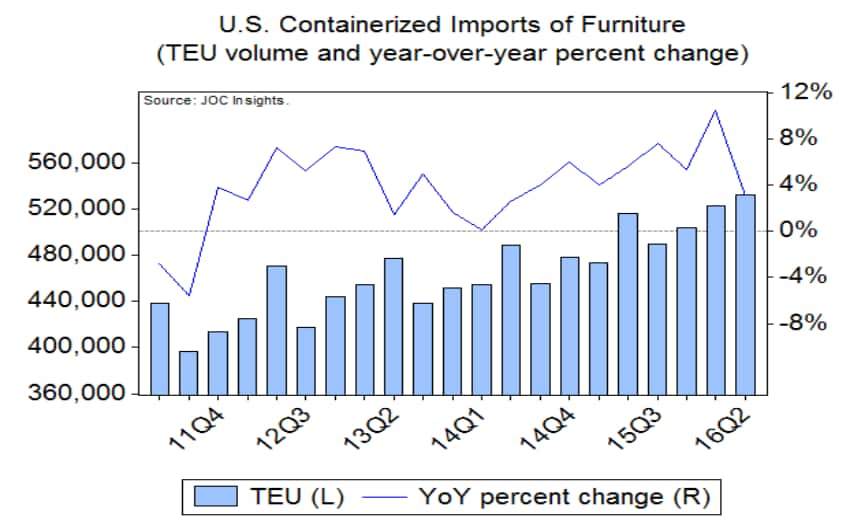 Year-to-date, from January through June, furniture imports were up 6.5 percent. If current trends continue, we can expect the TEU volume of furniture imports to rise again in 2016, this time for the 6th consecutive year.
China still the top supplier of containerized furniture to US
As measured by TEU volume, China is the largest supplier for US furniture imports, accounting for 66 percent of the market year-to-date through June, which is remarkable. China's sourcing share, however, has declined over the last 5 years; in 2010, China accounted for 69 percent of total US furniture imports. Partly because of rising wages and labor shortages, resulting in higher production costs for labor-intensive manufacturing, China has seen its export volume of low-value, labor-intensive goods decline over the last 10 years.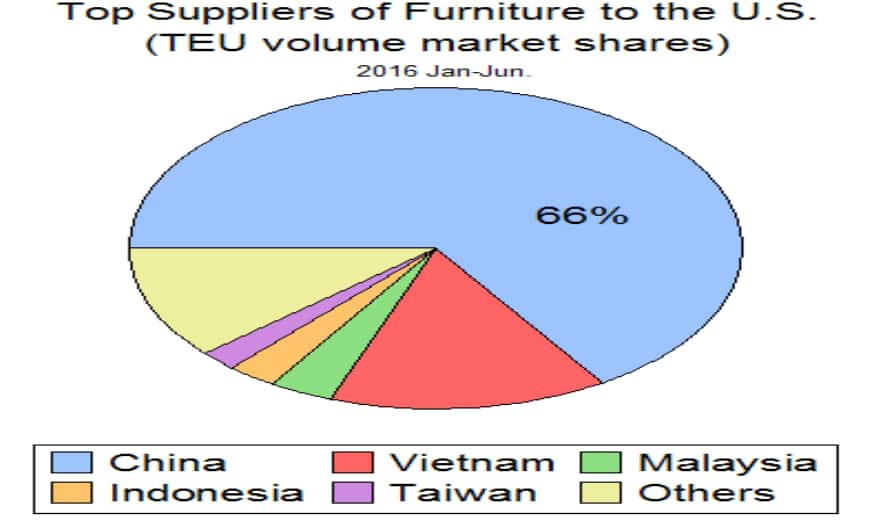 Conversely, second-ranked Vietnam has seen it sourcing share of furniture increase over the last 5 years, and is now holding 14 percent of the market, up from 10 percent in 2010. Thanks to lower production costs, labor force, and political stability, Vietnam has been able to increase exports of low-value, labor intensive goods to the US over the last 15 years, including apparel, footwear, and furniture. Nevertheless, thanks to increasing FDI and favorable wage differentials with manufacturing powerhouse China, the Vietnamese economy is gradually moving up the value chain.
US furniture imports from Mexico and Canada uneven for the last five years
Mexico and Canada also are top suppliers of furniture to the US, but they are not seen in the maritime data as the bulk of the NAFTA trade is via surface mode. In terms of metric ton volume, US furniture imports from Mexico and Canada have been very uneven over the last 5 years, with very modest growth rates in the last 2 years. This performance contrasts with what Vietnam is showing in terms of export volume to the US.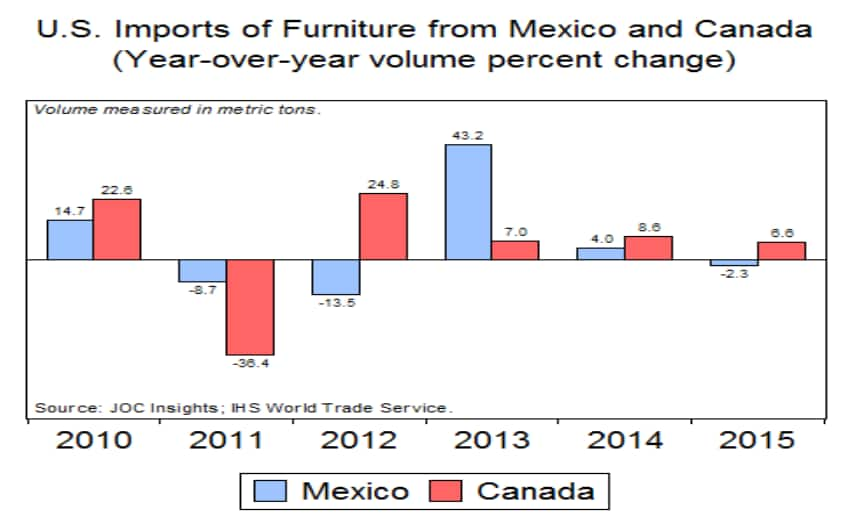 Learn more about how you can benefit from our export data.
RELATED INDUSTRIES & TOPICS