Customer Logins
Obtain the data you need to make the most informed decisions by accessing our extensive portfolio of information, analytics, and expertise. Sign in to the product or service center of your choice.
Customer Logins
Jet Fuel Demand Flies High, but Some Clouds on the Horizon

Air travel growth is set to continue its strong performance. The International Air Transport Association's (IATA's) mid-year economic report was for passenger traffic-measured in revenue passenger kilometers (RPKs)-to grow by 7% in 2018, after increases of 7% and 7.3% in 2016 and 2017, respectively, while freight, measured in freight ton kilometers (FTKs) is expected to grow 4% in 2018, down from 9% in 2017, which, for context, was more than double the 3.6% performance seen in 2016 and the strongest year since the rebound from the global financial crisis. It is little surprise then, that jet fuel has outperformed most other oil products in registering growth of over 4% in 2016 and 2017, and will continue to perform well, with average growth projected at over 2% to 2025.
From the mid-2020s, efficiency gains can be expected to accelerate, bringing growth to nearer 1% on an average annual basis by 2040. Although growth is expected in all world regions, OECD markets will no longer dominate longer term: from holding 65% of the jet fuel market in 1995, OECD's share is now down to 58%. By 2040, IHS Markit expects OECD to account for about 48% of world jet demand, as non-OECD begins to overtake OECD in the mid-2030s. Overall, jet fuel demand will rise from around 8% of total refined product demand in 2017 to over 10% by 2040, for a market size of 9.57 MMb/d compared with 7.43 MMb/d today.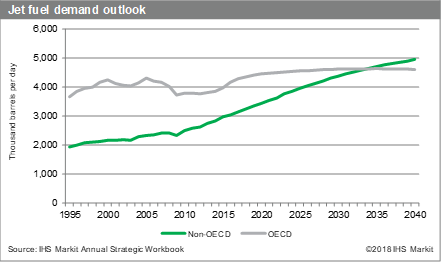 Download the insights article to read a full narrative of these key implications:
A fast-growing product: Jet fuel demand growth has comfortably exceeded 4% in the last
two years, in a refined product market that has been growing at just 1.3% overall, and jet
remains one of few products to show consistent gains through 2040, expected to average
1.4% per year over the forecast period.
Growth drivers: A combination of low oil prices and a rapidly expanding middle class are
driving major growth in passenger travel, and freight markets are booming on increased
world trade, particularly e-commerce. Supported by airport construction and expansion,
relief of capacity constraints in key regions can help secure future growth.
Downside risks include greater penetration of sustainable aviation fuels (SAF) and
efficiency gains, notably under initiatives like the Carbon Offsetting and Reduction Scheme
for International Aviation scheme starting 2021. Localized congestion and capacity
constraints, as well as alternative transportation modes, however, will temper prospects in
some regions.
Supply-side gains are to be expected, driven by new refinery builds in Asia and the Middle
East, but yields expected to be higher in Europe and North America also, as lower
availability incentivizes higher runs. Post-IMO, jet production-along with petrochemicals-
may well emerge as a potential route for 'future-proofing' older refineries.
Trade flows will be impacted by growing imbalances, and infrastructure requirements will
need boosting to cater to increased long-distance jet trade.
SAF will play a greater role in the fuel mix towards the end of the forecast period; however,
electric planes are unlikely to impact demand until after 2040.
Learn more about our coverage of the Refining & Marketing markets.
Sandeep Sayal is a Vice President of Research and Analysis on the Oil Markets, Midstream, Downstream and Chemicals team at IHS Markit.
Louise Vertz is a Directorof Research and Analysis on the Oil Markets, Midstream, Downstream and Chemicals team at IHS Markit.
---
Follow IHS Markit Energy
RELATED INDUSTRIES & TOPICS