Customer Logins
Obtain the data you need to make the most informed decisions by accessing our extensive portfolio of information, analytics, and expertise. Sign in to the product or service center of your choice.
Customer Logins
Japanese semiconductor companies continue to struggle in a very tough semiconductor market

28 March 2016
Jagdish Rebello Ph.D.
Len Jelinek, Hiroyoshi Takizawa and Jagdish Rebello, Ph.D.
2015 was a tough year for the semiconductor industry. Driven by the slowdown in the growth of the smartphone market and the contraction in the data processing and consumer electronics segments, IHS estimated that the total semiconductor market contracted by 2% to $347.2 billion.
The contraction of the global semiconductor industry in 2015 created another tough year for Japanese semiconductor companies. The challenging market environment, coupled with the 14% depreciation of the Yen, resulted in a less-than-stellar performance for Japanese semiconductor companies. IHS estimates that in 2015, the total revenue for Japanese semiconductor companies dropped by nearly 10% to $36.9 billion, down from $40.8 billion in 2014.
It is clear that the revenue decline for Japanese semiconductor companies has been accentuated by a depreciation in the exchange rate. The dollar-to-Yen exchange rate was 105.79 yen in 2014 and 120.77 yen in 2015. So when measured in terms of the Yen, Japanese companies' revenue has increased 3% since 2014, with 11 of the top 20 Japanese semiconductor firms (Sony, ROHM, Nichia, Sanken Electric, Sharp, Stanley Electric, Hamamatsu Photonics, Denso, Kodenshi, Hitachi Power and Shindengen) increasing their revenue in 2015 when compared with 2014.
Table 1: Semiconductor revenue of leading Japanese semiconductor companies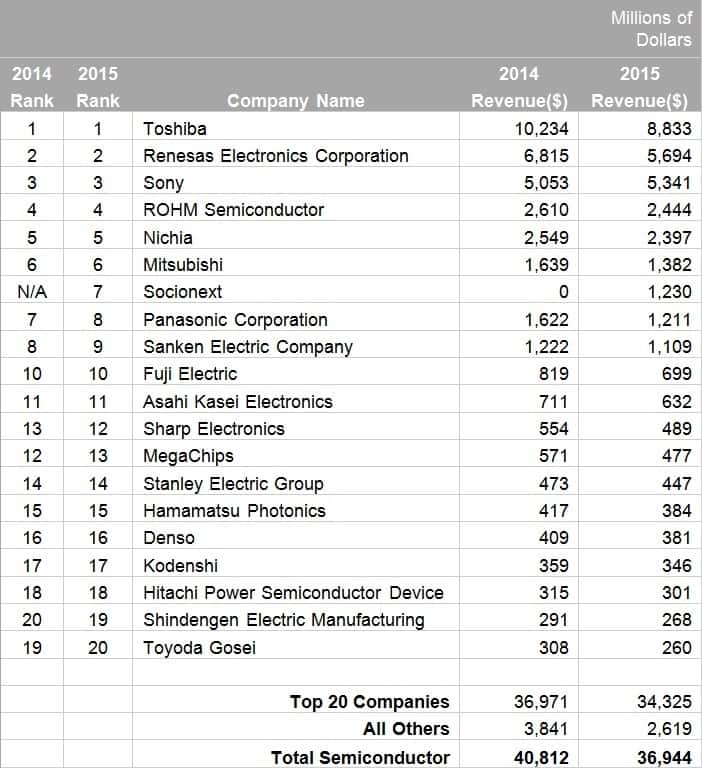 Semiconductor companies in Japan have for years focused their products and technologies on Japanese consumers. Japanese companies competed vigorously against each other to position themselves as the leading consumer solutions company. Unfortunately, as the consumer market declined both domestically and globally, the Japanese semiconductor companies failed to react. The result has been an industry caught up in a serious lack of technology, capacity and strategic focus.2015 is not a unique year in terms of poor performance for Japanese semiconductor companies. In fact, when measured in terms of dollars, Japanese semiconductor companies have struggled over the past few years, with Japan being the only region that has seen a continual decline in revenue since 2010.
This has resulted in Japanese semiconductor companies not being able to successfully develop competitive products to address the smartphone, wireless communications and the industrial automation markets — markets that had small positive growth rates in 2016. Japanese semiconductor companies have no presence in the smartphone baseband, application processor and connectivity market segments and very limited presence in the rest of the wireless communications market. So while global wireless communication semiconductor revenue increased 3% in 2015, Japanese companies' wireless communication semiconductor revenue decreased 11% during this same period.
But looking ahead, IHS expects that the wireless market will enter a period of very slow growth. IHS is not recommending Japanese companies start to pursue this market.
Even in the industrial automation market, Japanese companies — particularly those in the power semiconductor market — are not doing as well as expected despite growth in industrial applications. Japanese companies simply do not have the right products at the right price points and the right performance for these application markets. So while the global industrial electronics semiconductor revenue increased 0.6% in 2015, Japanese companies' industrial electronics semiconductor revenue decreased 5%.
But there are a few notable bright spots for the Japanese semiconductor industry. Of all the Japanese companies, Sony is the only one that increased its semiconductor revenue in 2015 in terms of USD. Sony's strong performance was driven by its imaging sensor business, which grew by almost 13% in 2015. Sony is ranked by IHS as the leading supplier of image sensors. Other strong Japanese semiconductor performers in 2015 were Nichia, ranked No.1 in light-emitting diodes (LEDs) with a market share of almost 13%, and Renesas Electronics, which is still ranked No.1 in the microcontroller (MCU) market. However, Renesas has seen its overall semi revenue drop by 16% since 2014.
Can the industry recover? Simply transitioning historical integrated device manufacturers (IDMs) to fabless semiconductor companies by spinning out manufacturing will not save the Japanese semiconductor industry. Japanese semiconductor companies must approach the current semiconductor market with a short-term tactical strategy while developing and executing a long-term strategic roadmap.
It is important to note that Japan has important strengths overall (not just semis) in the automotive and industrial equipment areas. It would make a lot of sense for them to develop strategic partnerships with companies — and especially Japanese companies — to pursue growth in this area. Renesas has a big business in MCUs for automotive. It would be good to look at their positioning in the automotive area and develop analysis that might point the way to a brighter future for Japanese companies in this area.
To be successful in 2016 and beyond, IHS believes that Japanese companies must focus on certain key market segments that are poised for growth and in which these companies can leverage their strengths to establish market leadership positions. In the short term, Japanese companies should focus on winning domestic automotive semiconductor opportunities. With a strong automotive presence in Japan as well as globally, Japanese companies have the ability to sustain a strong market share in the automotive industry. In addition, companies like Renesas and Nichia must leverage their leadership positions in the MCU and LED markets to take advantage of growth in the Internet of Things (IoT) and solid-state lighting markets.
Longer term, the solution for the Japanese semiconductor companies is not as simple. The development of evolutionary consumer electronics continues to be a major challenge. Wireless handsets and mobile PCs have saturated the global market. Japanese semiconductor companies must look toward the development of a longer-term application that will provide a high value-added solution if they are to emerge again as leaders within the semiconductor market.
Japanese companies have a tradition of developing consumer-related products. They understand the dynamics of a fast-changing market. What they must do is harness those skills on adding value to products that will solve not only needs in Japan, but transition easily to other regions in the world. Is IoT the solution? Unless Japanese companies can band together to deliver a common technical solution that is easily adopted across multiple platforms, their solution will look like the current wave of independent offerings that are disappointing the consumer.
Innovation is the key to the future success of the Japanese semiconductor industry, but the innovation must be globally accessible; otherwise, Japanese companies will simply be doing what they always have done — developing exceptional technologies and products that service a very closed market. A focused strategy is critical for the survival of the Japanese semiconductor industry.
Jagdish Rebello, Ph.D. is a Senior Director for Cloud and Computer Electronics with IHS Technology
Posted on 28 March 2016
RELATED INDUSTRIES & TOPICS