Customer Logins
Obtain the data you need to make the most informed decisions by accessing our extensive portfolio of information, analytics, and expertise. Sign in to the product or service center of your choice.
Customer Logins
Islamic State weakened in the Philippines

On 16 October Defence Secretary Delfin Lorenzana confirmed that the Philippines army snipers had killed Isnilon Hapilon and Omarkhayam Maute during an assault on militants in Marawi city on Mindanao island. Hapilon was the 'emir' of the Islamic State's forces in Southeast Asia ('Sunrise Province' - although yet to be officially designated as such by the Islamic State) and leader of a dominant Abu Sayaf Group (ASG) faction based on Basilan. Maute commanded the eponymous group, along with his brother Abdullah, which with the ASG occupied Marawi city in May. The Islamic State has yet to release an official statement acknowledging the deaths. On the following day President Rodrigo Duterte declared Marawi "liberated" but a military spokesperson estimated that up to 30 militants remain with 20 hostages and fighting continues.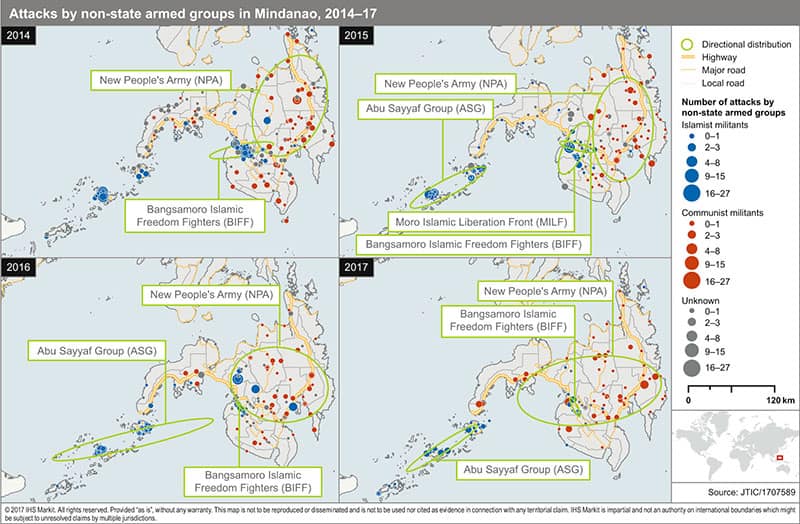 Succession
Hapilon and Maute were easily the most influential jihadist commanders in Southeast Asia. Hapilon was largely responsible for forming the Islamic State-affiliated coalition that besieged Marawi, bringing together his ASG faction, the Maute Group, Ansarul Khilafah Philippines (AKP), the Bangsamoro Islamic Freedom Fighters (BIFF), and Katibat Marakat al-Ansar. He had been a part of the Moro National Liberation Front in the 1980s before leaving the group to join the ASG around 1995, rising through its ranks to become a senior commander. In this capacity, he conducted training exercises with Moro Islamic Liberation Front (MILF) fighters, the Indonesian Darul Islam and Jemaah Islamiyah networks, and managed the competing ambitions of various ASG faction leaders. The five-month battle for Marawi reportedly began as a defence of Hapilon after a security force attempt to capture him. Omarkhayam and his brother Abdullah Maute, however, were the primary commanders during the siege. The men had lived in the city for most of their lives and came from a wealthy local family that had built a network of ethnic-Moro militants opposed to Filipino rule in southwestern Mindanao. The brothers leveraged their strong relationships in Lanao Del Sur to increase recruitment prior to the siege and developed knowledge of the city that allowed them to quickly take strategic positions in preparation for the military's assault. The Philippines army reports that Abdullah Maute is among the remaining militants in Marawi.
On 19 October the presidential palace also confirmed the killing overnight of Hapilon's deputy and, according to local sources, only trusted lieutenant, Mahmud Ahmad. The Malaysian was responsible for the Islamic State's finances and recruitment in Southeast Asia, particularly active in Malaysian and Indonesian jihadist networks and also Bangladeshi ones. He competently built financial links with Katibah Nusantara, the Malay-language battalion of the Islamic State in Syria and Iraq. He also had theological credibility, holding a doctorate in religious studies from the University of Malaysia in Kuala Lumpur. But it would have been difficult for him to execute Hapilon's role as commander without any official governance role conferred by the Islamic State, retain the loyalty of Islamic State aspirants in the region or be able to consolidate the various factions of ASG. After Ahmad it is unclear who could succeed Hapilon. Abdullah Maute is the obvious candidate to now lead the Maute Group, having earned credibility for his role in Marawi. However, his support base is almost exclusively in Lanao del Sur. Like his late brother, Omarkhayam, Abdullah does not have significant ties to the Islamic State in Syria and Iraq and is unlikely to be able to secure funding, arms, or even operational guidance.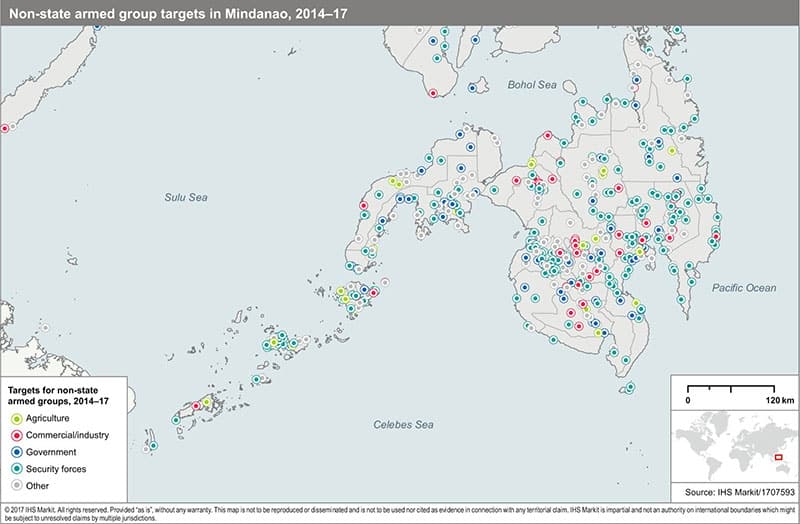 Outlook and implications
The killing of Hapilon and Maute is likely to delay an official Islamic State designation of a Southeast Asian wilayat until - and if - a new leader is found and his credibility established. According to Filipino daily The Inquirer on 18 September, the Philippine military estimates only 40 foreign fighters were among those in Marawi, most from Indonesia or Malaysia with some Arabs, Chechens, Indians, and Yemenis. Meanwhile, authorities in the Philippines, Malaysia and Indonesia have not released any statements that suggest Marawi has attracted a large influx of new recruits from Southeast Asia. The Philippines army has also deprived militants of a base in Marawi - and more importantly, the powerful symbol of held territory - and continued operations by ground forces and airstrikes in Mindanao will probably prevent militants from quickly re-establishing themselves, regrouping in Basilan, or on other islands in the Sulu Sea. Joint operations by Filipino, Indonesian, and Malaysian navies there have also curtailed financing through kidnap for ransom.
As fighting in Marawi winds down, the deaths of the most influential jihadist militant commanders in the region are likely to weaken the organisation and therefore capability of these groups to mount sustained, planned assaults that would allow them to hold territory, even in the Maute stronghold of Lanao del Sur. Security forces across Mindanao will remain at risk of attack from ethnic-Moro militants, who will also mount indiscriminate small arms attacks on civilians in Zamboanga and southwestern Mindanao. But within the one-year outlook the New People's Army will continue to dominate terrorism in the country with more frequent small arms and IED attacks on security forces, agribusiness and unprotected infrastructure like power towers, mostly in Caraga, Davao, and Northern Mindanao regions. In the period between September 2016 and September 2017, the Jane's Terrorism and Insurgency Centre (JTIC) attributed 165 attacks resulting in 83 non-militant fatalities to the NPA, compared with 129 attacks and 125 non-militant fatalities for militant Islamist groups active in Mindanao in the same period. The Marawi offensive has significantly increased the share of militant Islamists for both fatalities and attacks, with the NPA likely to retain a more consistent operational tempo as the situation in Marawi returns to normal. The Islamic State's aspirations in the Philippines will now depend on whether jihadist groups in influential social media feeds convincingly present the five-month (so far) occupation of Marawi as a demonstration of capability that rallies regional jihadists and whether these militants can be organised into an effective coalition by an authoritative new leader. Credible reports of the number of foreign fighters attracted to the region will be key.
Keerti Rajan, Head of Desk, Country Risk - Asia-Pacific at IHS Markit
Posted 24 October 2017
RELATED INDUSTRIES & TOPICS