Customer Logins
Obtain the data you need to make the most informed decisions by accessing our extensive portfolio of information, analytics, and expertise. Sign in to the product or service center of your choice.
Customer Logins
Islamic State activity after Baghdadi

Nine months after the end of the Islamic State's so-called 'Caliphate' in March 2019, when the jihadist group lost its final remaining territory in Baghuz, it remains active across much of the territory it formerly governed in Iraq and Syria. It continues to conduct a campaign of sophisticated improvised explosive device attacks, assassinations, and hit-and-run raids against any actor attempting to govern Sunni Arab-majority territory.
The overall level of Islamic State activity has remained relatively stable since the end of the Caliphate in March 2019. The group's activity does not yet appear to have been significantly affected by events such as the killing of 'Caliph' Abu Bakr al-Baghdadi in October 2019, or the partial withdrawal of US forces from northern Syria to make way for Turkey's incursion into northern Syria. This is in line with IHS Markit's previous assessment that the structured organization that was necessary for its governance project has fractured into a more decentralized array of local factions, which now operate largely independently under the umbrella label of the Islamic State.

Iraq's central provinces remain the center of gravity for the Islamic State's ongoing insurgency. Since the end of the Caliphate, 69% of Islamic State activity recorded by IHS Markit was in Iraq, compared with 31% in Syria. The provinces most affected are Diyala, Ninawa, and Anbar in Iraq, and Deir al-Zour in Syria, where the Islamic State poses a severe risk to security forces, transportation, and critical infrastructure. Attacks consist primarily of raids against security forces, and the use of improvised explosive devices (IEDs), often concealed in cars or motorcycles, to target political offices, police stations, and security checkpoints in urban areas. There is also a severe risk to critical infrastructure, including oil and gas installations, and to all ground cargo.

The Islamic State will maintain the local support base it needs to sustain and grow its insurgency in the three-year outlook. The Islamic State's jihadist ideology remains prevalent among Sunni Arab communities in the more conservative tribal areas of Iraq and Syria. These militants are the most capable fighting force defending the Sunni Arabs against the increasing Iran-backed Shia influence. Although IHS Markit has not yet recorded any significant increase in the frequency of Islamic State activity, there are indications that the group's capability is increasing in eastern Syria, where hit-and-run attacks in December and January succeeded in overrunning and temporarily holding several government outposts in Deir al-Zour province.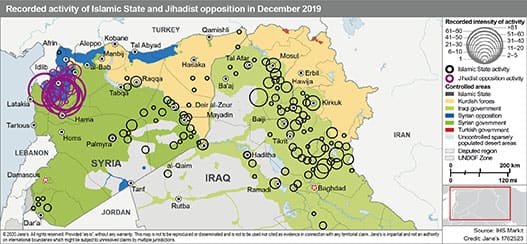 Indicators of changing risk environment
Increasing risk
The United States withdraws training and air support for the Iraqi government, reducing the ability of the Iraqi security forces to control the Islamic State insurgency.
Islamic State prisoners and their families currently held in Kurdish detention centers in northern Syria are released or escape, returning to their hometowns to support the insurgency.
The US completes its withdrawal from Syria, enabling Iranian-backed forces to cross the Euphrates to take control of Syria's eastern oil fields, and pushing Sunni Arab tribal forces towards reconciliation with the Islamic State to fight a common enemy.
Decreasing risk
Turkey expands its incursion into northern Syria, in an attempt to incorporate Syria's Sunni Arab tribes along the Euphrates river and deter an Iranian-backed Syrian government advance.
An agreement between the Iraqi government and the Kurdistan Regional Government that allows for security co-ordination between ISF and Peshmerga, particularly in border areas where neither force has a presence.
RELATED INDUSTRIES & TOPICS