Customer Logins
Obtain the data you need to make the most informed decisions by accessing our extensive portfolio of information, analytics, and expertise. Sign in to the product or service center of your choice.
Customer Logins
Is another Gen 7 TFT-LCD fab closure imminent in Korea?

The price of liquid-crystal display (LCD) TV panels has been rapidly recovering since the third quarter of 2016 after being depressed since the second half of 2015, causing concerns about the market overheating. Panel prices usually rise and fall in a one-year cycle, so the recovery this time in less than a year is surprising.
In the wake of volatility affecting currency in the emerging markets during the first half of 2015, panel pricing started to retreat in the latter half of the year. Pricing remained low until the first half of 2016, causing most panel makers to post losses.
But since the second half of this year, pricing has bounced back rapidly, driven mainly by hikes in the price of 32-inch panels from Chinese panel makers and also by fast migration to larger TV sizes. Overall, TV panel sizes are estimated to have increased by nearly three inches in 2016 from last year, much faster than the one-inch gain a year on average usually recorded.
The unprecedented fast growth in panel size has sharply increased area capacity consumption among panel makers, resulting in an imbalance in panel supply and demand. According to the Large Area Display Price Tracker, this is the main reason behind the recent rise in panel price. The following graph shows the quick rebound in panel prices over the last year.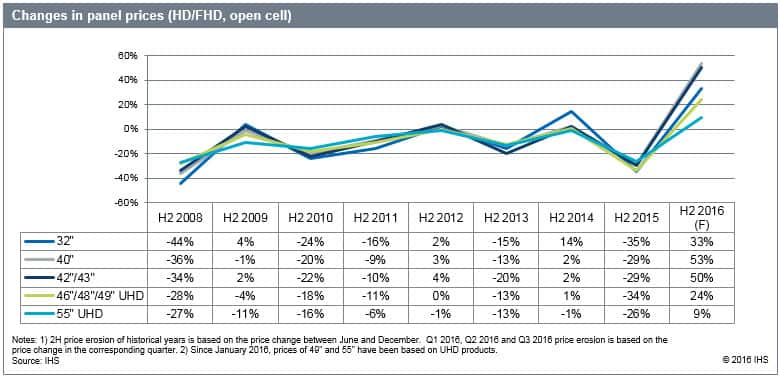 As the year comes to a close, all eyes are now on next year's TV panel supply-demand condition, which greatly affects pricing trends. Because of this, it is very important to make the correct forecasts now on anticipated supply and demand, especially as IHS Markit believes that the current shortage in TV panel supply will be aggravated next year.
Amid the ongoing migration to larger TV sizes, panel makers have been reducing output of the 32-inch to boost production of larger-sized panels and generate higher profitability. Meanwhile, Chinese panel makers initially intending to increase TV panel production by annual double-digit rates are now shifting strategies, expanding instead the production of IT displays in 2017 to diversify portfolios away from focusing on TV screens alone toward more panels for notebook PCs and monitors. All these moves are expected to further tighten TV panel supply next year.
However, the most important event that will affect TV panel supply and demand next year will be top global panel maker Samsung Display's decision to shut down its L7-1 line, which is responsible for a majority of the global supply of 40-inch thin-film transistor (TFT) LCDs. The L7-1 is a Gen 7 TFT LCD fab turning out glass substrates measuring 1870 x 2200 millimeters for 40-inch TV panels.
Early this year, no one predicted Samsung would shut down the L7-1 fab. Given that more TVs are adopting 40-inch panels and shifting away from 30-inch screens, Samsung Display's latest decision may seem hard to understand. But the company's decision comes as it prepares for growing demand for organic light-emitting diode (OLED) displays. However, instead of new lines being built for OLED panel production to meet the anticipated rise in demand, it makes more sense for Samsung to convert one of its old TFT LCD fabs to OLED production. Since Samsung Display has been producing LCD panels at the L7-1 for more than 10 years, the company seems to have decided to convert the line into an OLED fab earlier than expected, in a move to tighten its grip on the OLED panel space. This way, Samsung Display is opting to focus on more promising business rather than seeking immediate gains.
Whatever the reason, shutting down the L7-1 fab producing Gen 7 or larger-sized panels will clearly have a large impact on the global TFT LCD panel market. The fab accounts for 3-4% of global TFT LCD capacity, according to the Large Area Display Production Strategy Tracker.
The closure decision immediately spurred concerns over not only tighter supply of 40-inch panels for the midterm and the longer term, but also of possible shutdowns involving other larger-sized panel-making fabs, including Samsung Display's L7-2 line. There was good news initially with information that new panel fabs in China are slated to kick off in the latter half of 2017, allaying jitters and indicating that an imbalance in the supply and demand of 40-inch TFT-LCD panels could ease later next year. But if Samsung Display decides to also shutter its L7-2 line, the resulting misalignment in supply and demand would then last much longer, extending until 2018. Together the L7-1 and L7-2 fabs can be considered as twin fabs in South Korea, so speculation I is understandable that Samsung Display might restructure L7-2 after shutting down the L7-1 line.
Yet there are three reasons to believe why Samsung Display will not close the L7-2 fab.
First, burgeoning demand for 75-inch or larger-sized TFT-LCD panels requires the operation of the L7-2 line, which primarily produces these super-large panels. 
As shown in the following graph, the 75-inch TFT LCD panel market is expected to grow at double-digit rates every year. For 2017, annual demand for the 75-inch TFT LCD is forecast to exceed 1 million units—a volume large enough so as to not be ignored by Samsung. For a company that supplies large and high-end panels to many premium electronics brands across the world, it will not be easy to give up the lucrative opportunities presented by 75-inch panel production. On this point then, the company is more than likely to maintain its L7-2 line, which is optimized for Gen 7 panels, in a bid to keep its lead in the 75-inch or larger-sized panel market.
Second, the L7-2 line is capable of producing not only amorphous silicon (a-Si) TFT panels used for TVs but also of panels featuring PLS—plane to line switching—TFT technology used by high-end monitors. In order to enable the supply of high-end monitors utilizing PLS TFT panels, the L7-2 fab should remain open.
Finally, steady demand for 40-inch TFT-LCD panels will also prevent closure of the L7-2 line at any time soon. Even after the L7-1 shutdown, Samsung Display is expected to continue to supply 40-inch panels to key customers. The L7-2 will be Samsung's only fab capable of manufacturing 40-inch panels after the L7-1 closure, with the L7-2 projected to produce about 5 million 40-inch TFT LCD panels annually. Considering the 20 million 40-inch panels that Samsung produces annually, 5 million is a relatively small amount—but large enough to make a huge difference if the company continues to provide the panels. In particular, the continued supply of 40-inch panels should help Samsung Display keep its customers who still need the panels, and for Samsung to maintain leverage during negotiations with panel buyers.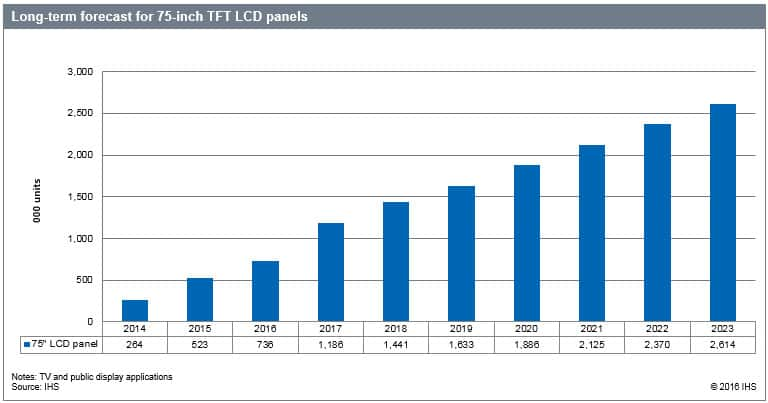 Compared to the closure of the L7-1 dedicated to the production of 40-inch TFT LCDs, shutting down the L7-2 will have a bigger impact on both Samsung Display and the panel market. All told, there is no reason for Samsung Display to risk losing its leading position in the market by closing down its L7-2 line.
And instead of shutting down the L7-2, the company is expected to utilize the fab more actively to reform its panel line-up and business portfolio—all part of an effort for Samsung Display to further improve competitiveness in the panel industry.
David Hsieh is Director of Analysis & Research within the IHS Technology Group at IHS Markit
Posted 8 December 2016
RELATED INDUSTRIES & TOPICS