Customer Logins
Obtain the data you need to make the most informed decisions by accessing our extensive portfolio of information, analytics, and expertise. Sign in to the product or service center of your choice.
Customer Logins
Ireland's Offshore Basins: Can Past Disappointments Lead to Future Success?

Offshore Ireland has nearly 50 years of exploration history. The last licensing round held in 2015 saw a significant increase in the interest of the exploration potential in the Irish offshore. Licences were picked up by majors including ExxonMobil, ENI, CNOOC, Equinor and Woodside and smaller independents including Europa, AzEire and Predator.
To date, a total of 26 discoveries have been made from the drilling of 189 E&A wells offshore Ireland. Drilling commenced in the 1970's and a total of 65 E&A wells were drilled during the decade. The first discovery, Kinsale Head, was made in 1971. Drilling activity decreased slightly in the 1980`s with 59 wells drilled. The 1990's and 2000's saw the drilling of 30 wells and 28 wells respectively and since 2010 a total of 7 wells have been drilled offshore. Most of the drilling activity to date has focused on the Celtic Sea area. More recently companies have started exploring further offshore in the deep waters of the Porcupine Basin. However, success has been limited so what does the future hold for Ireland`s offshore?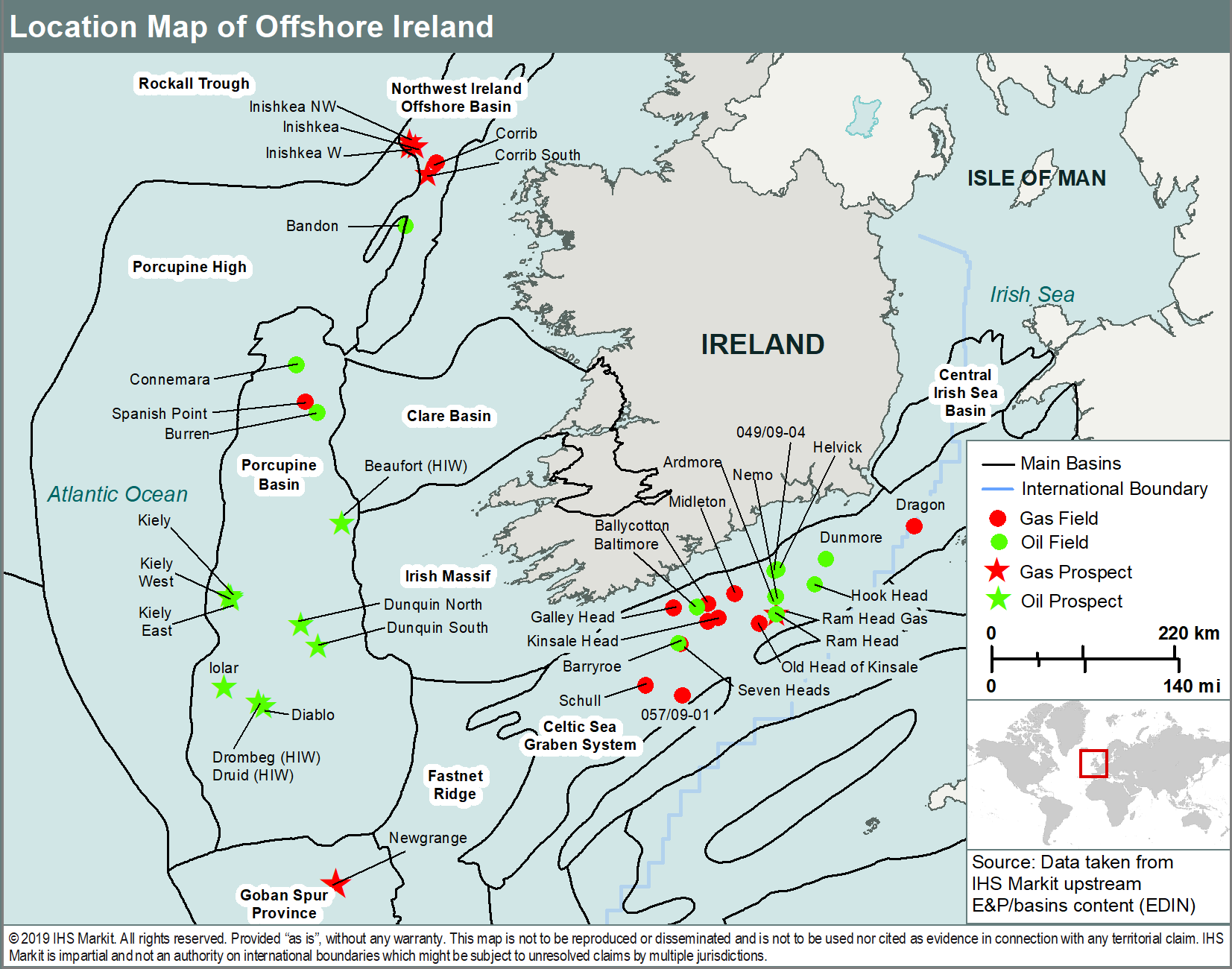 Figure 1: Offshore Ireland Fields and Prospects Map.
Regional Geology
The five main offshore basins of Ireland comprise the Celtic Sea Graben System, Central Irish Sea, Rockall, Porcupine and Northwest Ireland Offshore. These extensive Mesozoic basins are subdivided into several smaller rift basins: Slyne-Erris, Goban Spur, Kish Bank and the North and South Celtic Sea basins. This article will discuss the Porcupine, Northwest Offshore Basin and Celtic Sea Graben System. These basins evolved in response to three phases of basin development occurring in the Permian-Triassic, Mid-Late Jurassic and Cretaceous to Cenozoic ages.
Field History of the Porcupine Basin
Several plays have been identified within the Porcupine Basin, ranging from Jurassic through to Cretaceous and Cenozoic in age, with a focus on both structural and stratigraphic plays. Three discoveries - Burren (1978), Connemara (1979) and Spanish Point (1981) have been made in the northern part of the Porcupine Basin. The Burren exploration well targeted an Upper Cretaceous reef and Upper Jurassic sandstone play and was drilled by Phillips Petroleum. Connemara and Spanish Point have reservoirs of the Steerdagh submarine fan sa­ndstones and fluvial sandstones of the Minard Formation. The hydrocarbons are trapped in tilted fault blocks and capped by Lower Cretaceous Shales. Over the years, the ownership of these discoveries has changed, however, to date all three discoveries are yet to be developed.
Impact of 2015 Atlantic Margin Licensing Round in the Porcupine Basin
Recent exploration in Ireland has focused on the Porcupine Basin. Even before the 2015 Atlantic Margin licensing round big companies were entering the Irish offshore with the likes of Woodside, Cairn and Kosmos picking up acreage in the basin. But, it was during the 2015 Licensing Round that interest increased. A total of 28 Licensing Options were awarded across the Porcupine Basin (and further north) to majors ENI, BP, ExxonMobil, Equinor, Woodside and CNOOC and smaller independents including Europa, AzEire and Providence. This was the largest number of awards in any Irish round to date (PAD 2016).
The surge in interest was driven by a combination of new seismic data, technological improvements and new thinking. Early exploration activity was focused on large Jurassic and Triassic fault blocks. However, improvements in seismic technology and improved coverage have allowed shallower and far more subtle features to be identified. Therefore, potential exists in both large traditional structural targets and also stratigraphic plays. Discoveries in other parts of the Atlantic Margin in West Africa and Canada have also shown the potential that exists in different plays in the Irish offshore.
The success of the round is an indication of the potential of the frontier Irish Atlantic Margin, particularly the prospective Porcupine Basin. Seismic acquisition has already commenced but drilling is not required to take place on the new acreage before 2021. To date 6 seismic surveys have been shot across 2016, 2017 and 2018 within the Porcupine Basin.
In the Southern Porcupine Basin (SPB), three high impact wells have been drilled over the last 6 years: Dunquin North in 2013 (ExxonMobil), Druid/Drombeg in 2017 (Providence Resources) and Iolar in 2019 (CNOOC). All three wells failed to encounter hydrocarbons.
The Dunquin North well targeted a Lower Cretaceous isolated carbonate build up. The well was spudded in April 2013 and encountered a porous carbonate reservoir ~245m thick but it was water bearing. Providence thought the presence of gas chimneys associated with the targeted structure is evidence of trap failure. The Druid/Drombeg 2017 well targeted two separate stratigraphic objectives within a single vertical well. The Druid prospect comprised two Paleocene deep-water sandstone fans located at ~4,000m. The fans were thought to be 85m thick with porosities of 30%. Drombeg was interpreted as a Lower Cretaceous sandstone deep-water fan, located at 5,000m thought to be 45m thick with 20% porosity. Both targets were dry. Seismic analysis and spectral decomposition identified an erosive channel cutting the Druid fans suggesting the channel was backfilled with mudstone, thus providing an effective trap and seal. However, Providence thought that the failure of this backfilling mudstone led to the reservoir being water wet. Further upside at the well location exists in the Diablo target however this wasn't tagged by the exploration well. The third and most recent well drilled in the SPB was CNOOC's Iolar well in May 2019. Iolar was interpreted as a pre-syn rift Jurassic structural closure on the western flank of the basin. The main objective was the Middle Jurassic (Kenmare Formation) with secondary targets in the Upper Jurassic (Bantry Group) and Cretaceous submarine channel complex (Greensand Formation). These targets were predicted to be sourced and sealed by the Kimmeridge Clay Formation. However, in August 2019 it was confirmed that the well was a dry hole.
Even though recent drilling activity has yielded disappointing results, potential remains in this significantly underexplored basin, with several high impact wells scheduled in the coming years.
Woodside is potentially looking to drill the Beaufort prospect in FEL 5/13. Beaufort is a stratigraphic trap with an Upper Jurassic reservoir charged by the Kimmeridgian-Tithonian aged source rocks. The overpressured Upper Jurassic and Lower Cretaceous Shales provide ideal conditions for the stratigraphic trapping and sealing of the reservoirs. Upside in the acreage consists of the underlying Walton prospect. Woodside may look to drill a well in 2020 and has been actively farming out the prospect.
Following the unsuccessful Dunquin North well, attention has turned toward the southern structure. ENI plans to drill an exploration well on Dunquin South in FEL 3/04 in 2020. Dunquin South has a similar Cretaceous carbonate reservoir to that of Dunquin North, but the fluid escape features seen above Dunquin North are absent at this location. Dunquin South has a resource estimate of 1.4 Bboe.
Further prospects identified within the basin include Avalon. Avalon, an analogue prospect to Druid and adjacent to Dunquin North, is interpreted to be a Paleocene north-south orientated basin floor channel sand system. Providence predicted that the system is sourced from the north with shales becoming localised towards the south.
Kiely, Kiely West and Kiely East are three large tilted fault block structures with Middle Jurassic marine sandstone reservoirs, located within the FEL 2/13 licence. These prospects are sourced and sealed by Kimmeridge Clay formation. The 43/13-1 well located within FEL 2/13 proved that the source rock was oil-mature down-dip. Europa have a site survey planned for 2020 and are seeking a farm in partner.
Field history of the Celtic Sea
The North Celtic Sea Basin hosts three producing fields (Kinsale Head, Seven Heads and Ballycotton) and several discoveries. Kinsale Head was discovered in 1971. Marathon Oil drilled and successfully tested the seismically defined shallow anticlinal Lower Cretaceous feature. This was a surprising discovery as the first well was drilled slightly off structure but encountered oil and gas shows within the Greensand and Wealden reservoirs. The field came onstream in 1978 and has been a key domestic gas producer for Ireland. Operator, Kinsale Energy confirmed that production will cease in 2020/21. It is expected that well abandonment and decommissioning operations will commence in 2021. The operator has estimated that Kinsale Head has produced in the region of just under 2 Tcf of gas, making it the largest Cretaceous gas discovery offshore Ireland to date.
The Seven Heads gas field was discovered in 1974 by Marathon's wildcat 48/24-1, which encountered gas within the Lower Cretaceous and Wealden reservoirs. At the time of discovery, it was not considered to be commercial and therefore did not come onstream until 2003. The field was tied-back to the Kinsale Head facilities.
Ballycotton, a field also analogous to Kinsale Head was discovered by Marathon in 1989 and has a Lower Cretaceous reservoir with a shallow anticline. It was brought onstream in 1991 and continues to produce.
In 1995 Kinsale Head Southwest was discovered and subsequently tied into the Kinsale Head development, coming onstream in 1999. In 2001 the field was redeveloped as a gas storage facility. Further development in 2006 enabled the storage facility to receive gas from the onshore network.
Looking forward in the Celtic Sea
Beneath the Kinsale Head Southwest field in the Lower Cretaceous stacked Lower Wealden and Purbeckian sandstones lies the Barryroe oil field. Barryroe has remained undeveloped since its discovery in 1973. However, current operator Providence Resources has been attempting to mature the development. In 2018 it signed a farm-out agreement with APEC Energy Enterprise to develop the field. In September 2019 a site survey for development drilling was undertaken.
Another discovery, Ram Head, was made in 1984 by Marathon with well 49/19-1. The discovery is now operated by Predator and the company has announced a potential appraisal programme on the discovery. The company is looking to re-enter 49/19-1 to test the discovered gas to understand the scope of a potential development. Predator state that a reservoir engineering study shows development potential of 10 wells with a recovery of 1 Tcf of gas over an 11-year period.
Field History of the Northwest Offshore Ireland Basin
The Northwest Offshore Ireland Basin is subdivided into the Slyne and Erris sub-basins. The Slyne sub-basin hosts the Corrib gas field. First discovered in 1996 by Enterprise Energy it is the largest gas discovery since Kinsale Head. The successful discovery proved the highly porous and permeable nature of the Triassic Sherwood sandstone reservoir. The Carboniferous coals charged the Triassic reservoir and the halite Merica Mudstone group sealed the Corrib anticline, creating a four-way dip closure. Shell acquired Enterprise in 2001. The Dutch major encountered issues developing Corrib but finally bought the field onstream in December 2015. At peak production Corrib has produced approximately 96% of Ireland's gas demand. Subsequently Shell exited Corrib in 2016 and Vermillion became operator.
Corrib's success led to further exploration interest within the Slyne sub-basin (Figure 2), and several prospects have been identified. The Corrib South prospect owned by Predator is located 20 km south of Corrib and has the same Triassic Sherwood sandstone reservoir. Corrib South is estimated to hold resources of 424 Bcf and could be tied into the Corrib infrastructure. Key risks include the seal effectiveness and hydrocarbon migration. A potential well is planned for 2020.
Europa has a number of prospects in the area. In FEL 4/19 lies the Inishkea prospect. Inishkea is a large fault-bounded, pre-rift Triassic prospect mapped on 3D data. Its located 11 km northwest of Corrib and also has a Triassic Sherwood sandstone reservoir. The prospect has best resource estimates of 968 Bcf and is understood to be sourced from the Carboniferous and sealed by a combination of the Triassic Uilleann halite and also fault seal. The key risk with Inishkea is seal effectiveness due to Mid-Cretaceous inversion causing shortening and salt movement throughout the area, leading to the removal of approximately 1 km of overburden. The absence of a gas chimney associated with Inishkea compared to Corrib is likely to de-risk this prospect. Europa has been attempting to farm out the prospect with a view to drill a well in 2020. Inishkea West and Northwest provide exploration upside in the licence. GIIP for all prospects in FEL 4/19 is estimated to be 2,363 Bcf. Further exploration upside exists within Europa's acreage in the form of Corrib North, another Triassic Sherwood sandstone structure.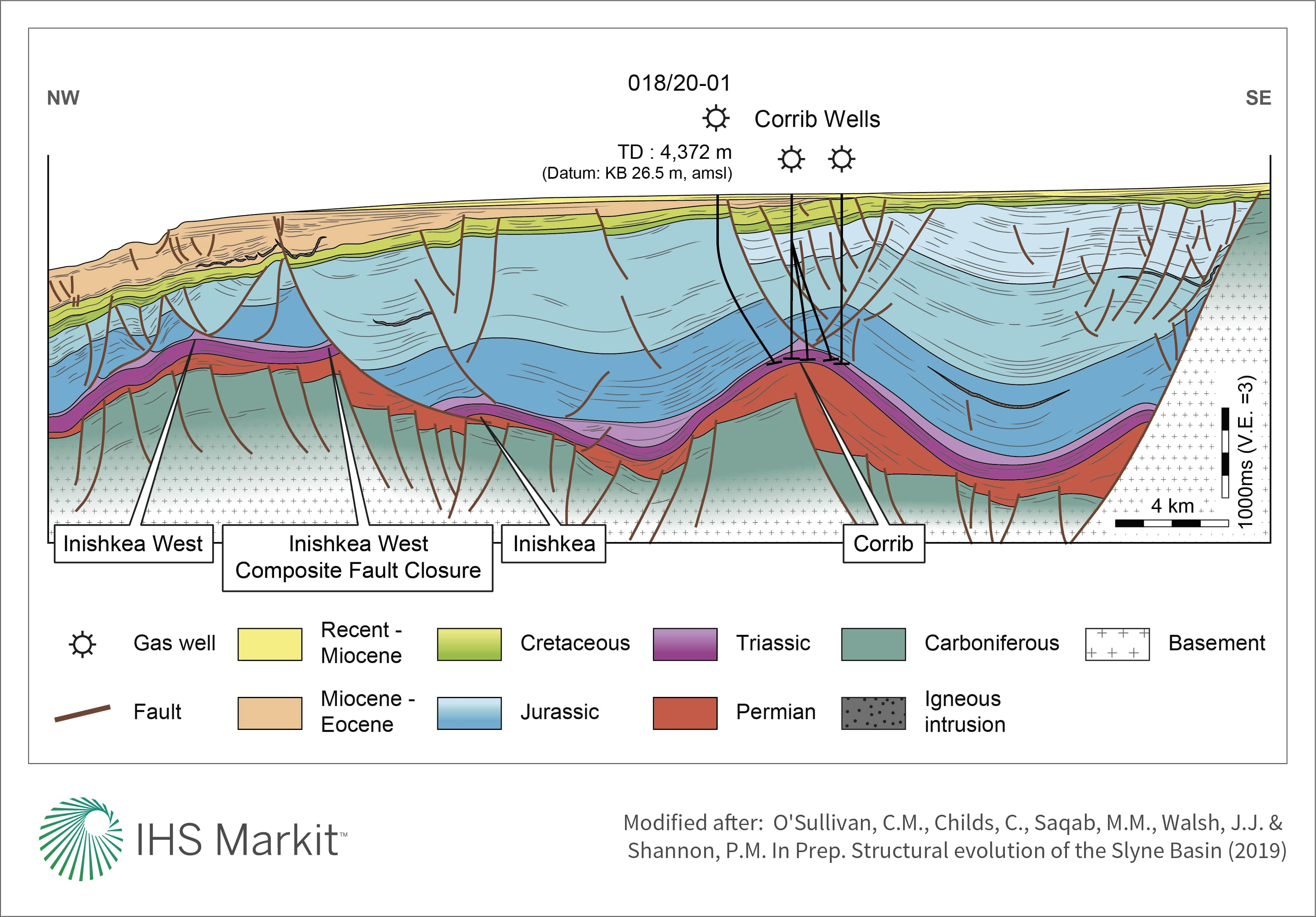 Figure 2- Petroleum Play of Inishkea and Corrib.
Outlook
Further exploration activity is required to unlock the hydrocarbon potential of off­shore Ireland. With many of the Licensing Options being converted in to Frontier Exploration Licences from the 2015 li­cence round, it is hoped that further ex­ploration activity is on the horizon. More exploration is required to prevent Ireland's energy security from becoming increas­ingly strained as producing fields such as Kinsale Head approach abandonment. As Corrib begins to decline Ireland will need to either replace this domestic gas supply or become increasingly reliant on imports. This coupled with the Climate Energy Emergency Bill which was put forward through Dáil Eireann has put the future of the oil and gas industry under scrutiny. The Taoiseach Leo Varadkar, recently put forward his proposal at the UN Climate Action Summit to phase out oil exploration in Irish waters, in order to achieve carbon neutrality by 2050. The Government confirmed that companies can continue to explore for natural gas as it sees gas playing a role in Ireland's Energy security for years to come. The Irish Offshore Operator Association has announced: "that existing explora­tion licenses will be unaffected and the Government announcement only relates to future licenses not those granted in the 2015 Licence Round". Thus it is clear that the Government's proposals "will relate to future applica­tions" and that "existing licences will remain valid". IOOA, Chief Executive Officer, Mandy Johnston said: "It is important that further clarity is given on how the Government's proposal for future licencing rounds will be im­plemented as a representative body investing considerably in offshore Ireland we are seeking a meeting with Minister Canney at the earliest possi­ble opportunity".
With drilling activity planned for 2020 and companies working up their 2015 licence round acreage, there is the po­tential for future discoveries to address Ireland's falling gas production. Despite the optimism, the Irish operating environ­ment comes with its challenges, such as a lack of transport infrastructure and high deep-water drilling costs. Although more than half of the Licensing Options awarded during the 2015 round have been progressed to Frontier Exploration Licences it will be drilling results that ultimately determine its success. Ireland now needs proven commercial discoveries.
Gain additional insight into offshore basins, licensing rounds, exploration history and more with Upstream Intelligence Solutions from IHS Markit.
Posted 11 November 2019
RELATED INDUSTRIES & TOPICS