Customer Logins
Obtain the data you need to make the most informed decisions by accessing our extensive portfolio of information, analytics, and expertise. Sign in to the product or service center of your choice.
Customer Logins
IoT: Never more exciting, but are there too many platforms?

Digital Orbit is an executive briefing from IHS Markit that tracks how six transformative technologies are disrupting life and industry. In the fourth installment of this series, we examine the phenomenon that has changed life as we know it—the marvel we call the internet of things, or IoT.
Of the six transformative technologies studied by Digital Orbit, the internet of things, or IoT, was among those considered readiest for adoption by industries, a distinction it shared with Artificial Intelligence as well as Cloud & Virtualization.
The high placement of IoT shouldn't come as a surprise. The technology is mature, having been around for more than a decade. It has proven usability with a wide range of established use cases. And it has never been easier to connect an appliance, a sensor, a public resource like a streetlight, or any of the myriad "things" making up the vast IoT universe.
Ten years in the making, IoT is at its most active and exciting period today. The technology is starting to show real results, with new players taking advantage of infrastructure to now change the script—how things are being run—in various major markets.

Success in several measures
The key results in Digital Orbit include scores that employ the two critical measures of readiness and impact—the first to evaluate how prepared a technology is for adoption by industries, and the second to determine how a technology will change an industry. Within those two measures, IoT scored high in criteria like affordability, implementation, and applicability.
In affordability, price pressure is leading to a drop in Application Enablement Platform (AEP) pricing, with many AEP vendors, including large cloud vendors, willing to treat IoT as a loss leader or tradeoff to lure customers and potential clients to subscribe to their other cloud services. Hardware has also become more cost-effective in recent years: average selling prices (ASP) for 2G modules will fall to under $3 in 2019, nearly a 50% decline from levels just three years ago, with ASPs for Narrowband (NB) IoT modules that enable cellular devices and services just slightly higher.
Industry investment and executive leadership support for IoT implementation is also high, with a relatively lofty number of IoT projects having moved from pilot or proof-of-concept stage to full deployment.
The applicability of IoT is likewise high across a range of industries, including many verticals with substantial addressable markets. The consumer market is the most advanced—and saturated—of the IoT markets, yet still has sizable potential for dramatic expansion in upcoming years as IoT moves further into the home. For its part, the consumer automotive industry continues to use IoT applications to create differentiation, such as in infotainment or concierge services, as well as to meet government regulatory requirements, like eCall in Europe.

Two concerns: monetization and security
Despite the various positive indicators of IoT readiness for industry adoption, many organizations struggle with two specific issues: monetization and security.
For countless firms, the question of how to monetize IoT solutions and justify the investments involved is a worrisome matter. Nearly 60% of respondents in the Key Influencer Survey of Digital Orbit believe that existing business models need to be improved so that the full value of integrating IoT into a business can be captured, as shown in the graphic below.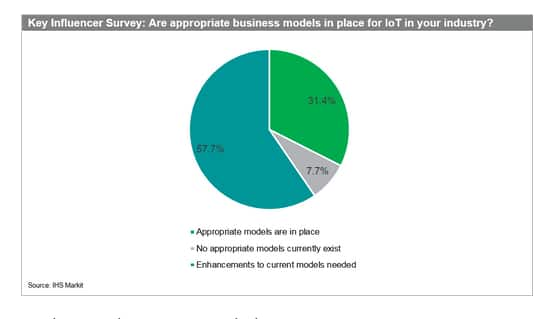 Security is the other measure that decreases IoT's overall readiness for adoption. Integrating IoT into the technology base and operations of an enterprise significantly changes the organization's risk profile, since the "attack surface" for bad actors is greatly expanded. The number and diversity of devices also pose new challenges for enterprise IT management, given hostile attacks that can be mounted not only against an enterprise's own assets but also on poorly secured third-party devices being used, such as what occurred with the destructive Mirai botnet in 2016.

Market consolidation is needed for real growth
In the glow of public fascination and captivation with all things IoT, it is easy to forget that the "brains" of IoT lie in software rather than in hardware, with the software platform responsible for connecting, delivering applications, and extracting and managing data as well as value. This explains why the creation of a widely adopted platform is deemed the holy grail of IoT.
To date, 250-300 different IoT platform types have emerged and are now flooding the market. And even though valuations associated with platforms have been high, this is also an area where some of the mighty—like GE Predix and Samsung Artik—have fallen. Meanwhile, cloud providers such as AWS, Microsoft, and Alibaba are using their might to provide offerings that possess the potential to disrupt highly established players in manufacturing and other industries.
Could consolidation among platform providers be next? The next 12-18 months will bear some serious watching.
For more details, visit our Digital Orbit section, where you can also download a free white paper.
Josh Builta is senior principal analyst for transformative technologies at IHS Markit.
Matt Short is senior research director for IoT at IHS Markit.
Posted 6 May 2019