Customer Logins
Obtain the data you need to make the most informed decisions by accessing our extensive portfolio of information, analytics, and expertise. Sign in to the product or service center of your choice.
Customer Logins
Invisible fingerprint sensors: a step up in smartphone design

A new trend in smartphone design-and one that may become an innovation-is the removal of the home button in the smartphone.
Traditionally, the "home button" in smartphone design plays the role of a fingerprint sensor to unlock the phone's operating system. Therefore, removing the home button can be considered a major step in the evolution of smartphone screen design, in line with other design facets such as the incorporation into new smartphones of a full-screen display, edged corners for a more high-tech appearance, and edge curves for a bezel-less design.
All of these design innovations, IHS Markit believes, may appear in the Samsung Galaxy S8 smartphone, a product that the South Korean electronics giant says it will announce in late March 2017.
In the case of Apple's iPhones, Samsung's biggest rival in the global smartphone market, the invisible fingerprint functionality could be achieved through the use of AMOLED panels for new iPhones, a step up from the iPhone's current LCD display.
All told, there are two methods to achieve the invisible fingerprint: the silicon base and the display base. Smartphone brands, touch controller integrated circuit (IC) makers, and display manufacturers are working to develop a display-based fingerprint sensing technology given its advantages over silicon-based fingerprint sensing.
In the former, authorized users are identified through biometric sensors, with biometric personal identification (BPID) serving as a critical authentication method for protecting a user's privacy. In contrast, a silicon-based capacitive fingerprint sensor is limited to a single fingerprint and has a fixed sensing location.
The latest improvement to fingerprint-sensing modules is an under-glass design, which hides a silicon-based sensor die beneath the cover glass. The design requires silicon-based fingerprint sensors that are stronger in transmitting signals and are more sensitive, to enable the transmission of signals through the cover glass. A notch or a wider blind via (shown in the image below) on the cover glass reduces the thickness above the sensor die, but it also increases the cost of the cover glass finishing and could well reduce the strength of the cover glass.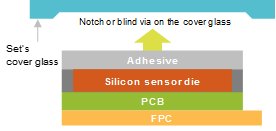 To be sure, the technology for silicon-based sensors is mature, and the sensors are not only widely adopted but also dominant in area type. Yet there are disadvantages to these sensors, including the need for a fixed sensor area on the set, the high cost involved for multiple fingerprints, and poor aesthetics in general unless an under-glass design is used.
This is why brands, controller IC makers, and panel makers are now working on the technology for display-based fingerprint sensors, which feature a variable sensing area for greater flexibility, as well as multifinger input assigned through the OS for more convenience. Furthermore, display-based fingerprint sensors are invisible and do not affect the appearance of the set. Display-based sensors may also be more affordable than their silicon-based counterparts.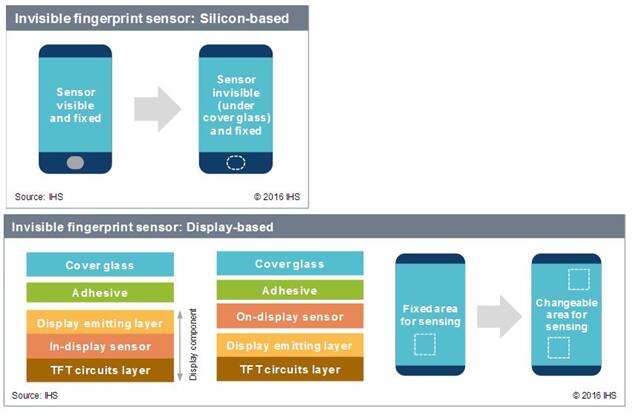 There was much talk in 2016 among controller IC makers and panel makers about display-based fingerprint sensor design, but very few details were disclosed at that time because the technologies were immature. Apple, which had been granted critical display-based fingerprint patents by the US Patent Office in 2015 and 2016, still uses for its current iPhones silicon-based Touch ID-now in its second generation but originally developed by AuthenTec, a company it had acquired in 2012.
While more than 50% of Android smartphones are equipped with fingerprint sensing functions, Apple is aggressively pursuing display-based fingerprint sensing as a technological advancement. Apple's patents cover both on-display and in-display designs, which are helpful clues to the future of its display-based solutions.
More details of these advancements will be explored in the IHS Touch Panel Market Tracker.
David Hsieh is Director of Analysis & Research within the IHS Technology Group at IHS Markit
Posted 14 March 2017
RELATED INDUSTRIES & TOPICS