Customer Logins
Obtain the data you need to make the most informed decisions by accessing our extensive portfolio of information, analytics, and expertise. Sign in to the product or service center of your choice.
Customer Logins
Investor confidence increases as renewable power grows more competitive

The drumroll of positive news about the falling cost of renewable power and the opportunity to meet the world's growing electricity demand with cleaner sources keeps getting louder, as recent reports from the International Renewable Energy Agency (IRENA) and the American Council on Renewable Energy (ACORE) indicate.
The cost of renewable sources of energy continued to fall in 2020, making them the cheapest source of power, according to a report by IRENA, "Renewable Power Generation Costs in 2020," released 22 June.
Meanwhile, ACORE reported that optimism about prospects for renewables in the US is at an all-time high for both investors and project developers, as they anticipate a rebound from a challenging 2020 due to the COVID-19 pandemic and the extension of tax credits for new installations.
IRENA: Cheaper than coal
IRENA said the share of renewable energy that achieved a lower cost than the most competitive fossil fuel option, which is coal, doubled in 2020 to 162 GW, or 62% of total renewable power generation. Since 2010, IRENA estimates 644 GW of renewable power has been added globally at a cost below fossil fuel options.
In 2020 compared with 2019, IRENA said the global weighted-average levelized cost of electricity from concentrating solar power fell by 16%, onshore wind by 13%, offshore wind by 9%, and solar photovoltaic technology by 7%.
"Today, renewables are the cheapest source of power," said IRENA Director-General Francesco La Camera in a statement. "Renewables present countries tied to coal with an economically attractive phase-out agenda that ensures they meet growing energy demand, while saving costs, adding jobs, boosting growth, and meeting climate ambition."
With costs at such low levels, renewables increasingly undercut the cost of existing coal-fired plants, the report said. More than 800 GW of existing coal-fired capacity could be replaced with cheaper renewables, which would reduce power generation costs by more than $32 billion annually and avoid around 3 gigatons of CO2 emissions per year, the report said.
"Low-cost renewables give developed and developing countries a strong business case to power past coal in pursuit of a net-zero economy," the report said. "Just 2020's new renewable project additions will save emerging economies up to $156 billion over their lifespan."
Low-cost green hydrogen within reach?
IRENA's outlook for 2022 estimates global renewable power costs will fall even further, with onshore wind becoming 20% to 27% lower than the cheapest new coal-fired generation option.
Another key finding is that PV costs are now so low—3 cents/kWh and lower in Qatar and the United Arab Emirates—that they might be able to support the types of hydrogen projects that are being proposed in many parts of the world. "Surprisingly, values below 2 cents/kWh are not impossible, even if they were unthinkable, even a few years ago," IRENA said. "These very low solar PV price levels imply that low-cost renewable hydrogen may already be in reach."
IRENA put the potential cost of hydrogen with ultra-low-cost PV power as low as $1.62/kg of hydrogen. "This compares favorably with the hypothetical cost of natural gas steam methane reforming, with today's carbon capture, utilization and storage, costs at between $1.45/kg and $2.40/kg," it said.
According to IHS Markit estimates, the cost of producing green hydrogen from splitting water molecules by electrolysis that is powered by renewable electricity is $4-$5/kg. In comparison, the cost of producing "blue" hydrogen from fossil fuels equipped with carbon capture or from renewable natural gas captured from landfills is estimated at $1.50/kg-$2/kg, said Alexander Klaessig, research director for IHS Markit's Hydrogen and Renewable Gas Forum.
Abu Dhabi-based IRENA is an intergovernmental organization that supports countries in their transition to a sustainable energy future.
ACORE: Optimism in US
With utilities recognizing the benefits of adding renewables capacity, investors in the US are more optimistic than ever about placing their money in the sector, according to a report from ACORE, "Expectations for Renewable Energy Finance in the US: 2021-2024," released in mid-June.
In a survey of investors and power developers, ACORE found record-high levels of confidence in the future of renewable energy and energy storage. For the renewable energy sector, investor confidence in the industry's potential through 2024 increased by an average of eight points to 87 points (out of 100), and developer confidence increased by nine points to 85 points. For storage, investors rated their confidence at 85, and developers at 82.
This came despite a COVID-19-related drop in investment, ACORE said. The US renewable generation sector attracted $54.4 billion in asset finance investment in 2020, a 12% decrease from 2019, with wind power seeing the biggest dropoff.
This is expected to turn around this year. "More than two-thirds of surveyed investors (68%) report plans to increase their investments by more than 10% this year compared to 2020," ACORE said. "Notably, 70% of companies that invest greater than $100 million annually plan to increase investment by more than 10% compared to last year."
Also, 94% of investors rated the US as "attractive" for renewables investments, compared with other countries, and 71% of them said they expect the US to remain attractive or become more attractive over the next four years.
Developers also reported that they are planning to move aggressively. "All the companies that operate renewable energy businesses with revenues greater than $1 billion plan to increase their activity," ACORE said.
Developers cited the extensions of federal tax credits for renewables in December 2020 as a key development. As part of a COVID-19 recovery bill, Congress extended a series of tax credits for developers of solar, wind, fuel cell, geothermal, biomass, incremental hydroelectric, and other renewable energy projects.
Depending on the type of project, a developer can qualify for a tax credit for projects started by 31 December 2021 or a later date, with a sliding scale of the amount of the credit based on timing of construction and the type of investment. For example, the investment tax credit for offshore wind projects that start construction as late as 2025 is 30%, and solar projects started in 2020-2022 qualify for a 26% credit.
Survey respondents said the most popular investment areas for the next three years are energy storage and utility-scale solar. Other forms of solar, as well as offshore and onshore wind, rated highly as well, while emerging technologies such as green hydrogen and wave power rated lower in the relatively short-term period.
One impediment for developers is finding a partner to take advantage of the tax credits. "Investors and developers continue to report shortages in tax equity in 2021, as also observed in ACORE's 2020 surveys. Forty-six percent of investors and 35% of developers indicate that tax equity availability has either 'decreased' or 'significantly decreased' within the past year," ACORE said (see graph). "By contrast, 50% or more of investors report an increase in the availability of each of the other surveyed financing sources."
To some extent, this reflects that investors' tax liability—which could be reduced by credits purchased from renewables' developers—fell due to the economic downturn from COVID-19, ACORE said. As it has said in the past, ACORE believes switching the tax credit to a direct-pay subsidy that is not dependent on linking to an investor's or buyer's tax liability would incentivize additional renewable power investment.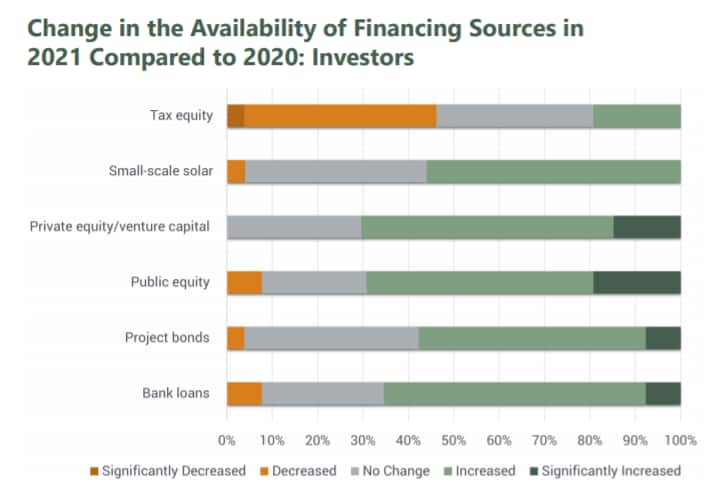 Source: ACORE
While noting overall positives for renewables and energy storage, ACORE also observed that the industries have a long way to go to meet the US' needs in the energy transition. For example, the US storage sector attracted $1.2 billion, and electric vehicle infrastructure another $800 million—both of which are records—but ACORE added that "grid-enabling technology sector continues to fall below its potential."
The same can be said for the power grid itself. ACORE estimated that utilities invested $1.9 billion to connect renewable generation in 2020, up from $1.2 billion in 2019. But ACORE said a report last year from the American Clean Power Association shows $89 billion will be needed for transmission lines between 2020 and 2030 to reach 50% renewable generation in the US.
Includes reporting by Abdul Latheef, OPIS.
RELATED INDUSTRIES & TOPICS