Customer Logins
Obtain the data you need to make the most informed decisions by accessing our extensive portfolio of information, analytics, and expertise. Sign in to the product or service center of your choice.
Customer Logins
Interview: "To get financing to cocoa farmers, you need to organize the data"

Lack of transparency in the cocoa value chain hinders local farmers as well the environment. However, with better management of data, this can bring real benefits to Ivory Coast's cocoa farmers and effectively transform the supply chain, according to Kleos Advisory UK.
Currently Ivory Coast produces around 45% of the world's cocoa (an estimated 2.2 million tonnes in 2018/19 according to IHS Markit) and the value chains that manage the cocoa flows are highly complex. These include numerous players, from the local buyers, to the grinders, trading houses and offtakers. But within these value chains the country's 600,000 cocoa farmers are essentially invisible. Kleos Advisory UK indicated that at least three quarters of Ivorian cocoa production is not traced back to its source, with most being sold in bulk shipments to offtakers by local aggregators (intermediares).
However, farmers' invisibility in the value chain also has indirect impacts, denying farmers access to lending, insurance and training. For commercial banks, who have no information about the cocoa farmers, their farms or cocoa earnings, most farmers are effectively unbankable. And the little financing they do receive is drip fed to them by the cooperatives or by microfinance institutions, Kleos Advisory UK explained.
The inability to link the cocoa to the farmer raises huge questions about the sustainability of the cocoa sector. When we buy a bar of chocolate, how do we know for certain that the cocoa in it was not produced with child labour or environmental damage? This is a major issue in Ivory Coast where an estimated 500,000-700,000 tonnes of cocoa (18.5% of national production according to Kleos Advisory UK), is being produced illegally in protected forest areas, causing devastation to the local ecosystem.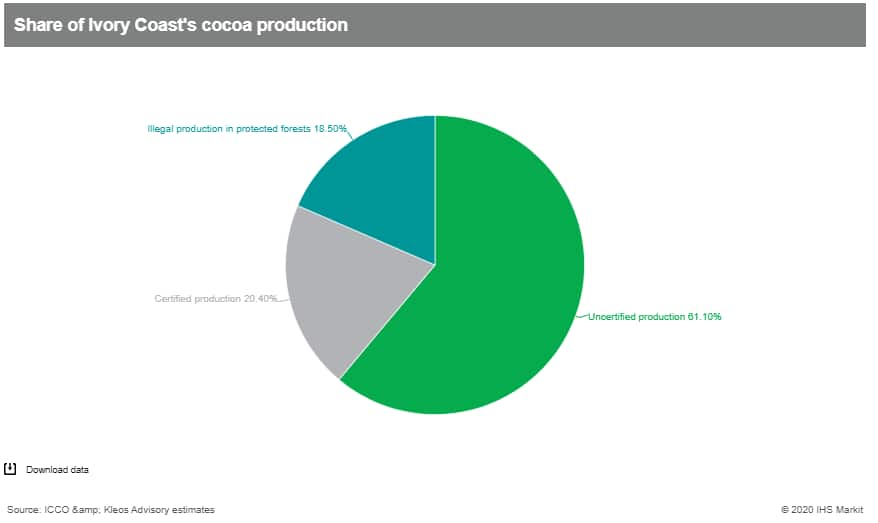 Therefore, the key to overcoming these challenges is simply better use of data, Tedd George, Chief Narrative Officer at Kleos Advisory UK outlines. "If you want to get financing to cocoa farmers, it's about how you organize the data." IHS Markit spoke to George who has been working with Fairtrade and pushing the digital agenda. He discusses his latest project and how its outcome is expected to aid cocoa farmers.
This is the third part from this interview. The first covered the impact of Covid-19 on the sector as well as the upcoming elections in Ivory Coast. The second discussed the implementation of the Living Income Differential (LID).
Q: So how did you start working with Fairtrade?
Fairtrade launched an IMS (Internal Management System) project a few years ago, but it proved hard to implement. So they brought me in last year saying, 'what can we do to advance the IMS project?' I went out to Ivory Coast and visited a bunch of cooperatives. My key finding is that the coops have the data, but it's all over the place. It's a complete mess. On the laptop, in another spreadsheet, in someone's head. But I saw it, the data is there. Which means that if you manage this data correctly, everyone is bankable.
You have the ability to prove whether you have a high incidence of child labour i.e. "the kids are here, the farm is here, the nearest school is 20 miles away, bam, there's the problem". You can prove if the production is on protected forest land, we've got GPS mapping of farms linked to the cocoa they produce, which can prove it wasn't on protected land. There are even ways, if you're clever with the data, to heat map the yields of all farms in a particular area. You can have a look and say: 'Hold on, why does this farmer have yields twice as high as others around him?' Probably because he's mixing uncertified beans with certified production. Or the guys' a genius! In which case, go back and work out what he's doing. And get everyone else to do it. There's so much you can do with the data. And in particular, financing for the farmers, for the co-ops etc etc.
Q: So how are you proposing to carry out this project?
So after completing a scoping report I proposed for Phase 2 we run a pilot in 3 different groups of cooperatives. The first group will be cooperatives which are quite advanced with digitalisation but which are doing little with the data they have. Here we would help with getting the most out of the data, from data mapping to automated reports, tracking and alerts.
The second group are cooperatives that have barely started on the digitalization process. Like a greenfield site almost. They need an IMS system, they are supposed to have one, but they have made little real progress. So the idea is that we come in and say 'We're going to turbo charge your IMS process and get you over the line'.
The 3rd group will already use an IMS system, but not theirs own. So they use, let's say, Olam's system or Cargill's. So, even though on paper they have a great IMS, they're like 'Oh that engineer they hired does it and he sits over there and he just does it all', but where's the data? 'We don't know, we just send it to Olam or whoever'. Fire and forget.
So the idea is to take a different approach to those three types of coops and also come up with a model. So, we go to the coop and say: "Where are you with your data management? Are you nowhere? Are you somewhere? Have you done a lot of work but are getting no value from it?' Then we build a roadmap for where they want to get to and train them. But the key thing is for them to have ownership of the system, to how to use that data in order to get funding for yourself, for the farmers, forestry protection and off-taker agreements etc.
Q: So at what stage is the project currently?
I am pitching with several partners* for Phase 2 which will comprise the pilot in six cooperatives in Ivory Coast over a six-month period. The pilot will start with a full data mapping and audit of all of the data they have, and from this construct an IMS. It could be that they are quite developed and only need help in tweaking the IMS and adding more value. Or they've got nothing and we develop a roadmap to get there. Should the pilot prove successful, Phase 3 would roll out to 40-50 cooperatives in Ivory Coast, and potentially many more in subsequent phases.
Q: How will this all benefit cocoa farmers?
Where I see the real potential for this project is in addressing a major problem for the cocoa sector: banks generally don't fund farmers or the agricultural sector. They always come in at the point of aggregation, such as the trader or processor. Because you've got a flow there and it's easy to take control of it and put security around it. But if it's a farmer, they're like, 'I know nothing about this farmer, nothing about his background and if it doesn't work out, how do I get my money back?' So you basically get zero lending from banks into co-operatives and then to farmers.
What I hope by the end of this project is that coops with functioning and fit-for-purpose IMS will be able to say, 'We've got 6,000 farmers and here is 3 years of data on them, here are their cocoa deliveries, their payments/repayments, you know where the farm is, you know they're compliant with environmental standards'. Ok, let's lend them some money. Banks might start by taking risk on 50% of the lending that the coop makes to the farmers. But over time they should be able to lend directly to farmers, having the visibility over the flows to provide sufficient comfort.
The central point to make is that the data is out there - on cocoa, the farmers and their farms. If this data can be properly managed then it opens real possibilities for funding to flow into the part of the agricultural value chain where it is really needed: the start.
*Farmstrong are the local partners on the ground, PCR & AgriVanguard on the IT side/all the software.
---

RELATED INDUSTRIES & TOPICS
{"items" : [ {"name":"share","enabled":true,"desc":"<strong>Share</strong>","mobdesc":"Share","options":[ {"name":"facebook","url":"https://www.facebook.com/sharer.php?u=http%3a%2f%2fihsmarkit.com%2fresearch-analysis%2finterview-to-get-financing-to-cocoa-farmers-you-need-to-organi.html","enabled":true},{"name":"twitter","url":"https://twitter.com/intent/tweet?url=http%3a%2f%2fihsmarkit.com%2fresearch-analysis%2finterview-to-get-financing-to-cocoa-farmers-you-need-to-organi.html&text=Interview%3a+%e2%80%9cTo+get+financing+to+cocoa+farmers%2c+you+need+to+organize+the+data%e2%80%9d+%7c+IHS+Markit+","enabled":true},{"name":"linkedin","url":"https://www.linkedin.com/sharing/share-offsite/?url=http%3a%2f%2fihsmarkit.com%2fresearch-analysis%2finterview-to-get-financing-to-cocoa-farmers-you-need-to-organi.html","enabled":true},{"name":"email","url":"?subject=Interview: "To get financing to cocoa farmers, you need to organize the data" | IHS Markit &body=http%3a%2f%2fihsmarkit.com%2fresearch-analysis%2finterview-to-get-financing-to-cocoa-farmers-you-need-to-organi.html","enabled":true},{"name":"whatsapp","url":"https://api.whatsapp.com/send?text=Interview%3a+%e2%80%9cTo+get+financing+to+cocoa+farmers%2c+you+need+to+organize+the+data%e2%80%9d+%7c+IHS+Markit+ http%3a%2f%2fihsmarkit.com%2fresearch-analysis%2finterview-to-get-financing-to-cocoa-farmers-you-need-to-organi.html","enabled":true}]}, {"name":"rtt","enabled":true,"mobdesc":"Top"} ]}