Customer Logins
Obtain the data you need to make the most informed decisions by accessing our extensive portfolio of information, analytics, and expertise. Sign in to the product or service center of your choice.
Customer Logins
Interview Article: Ecuador aiming to double cocoa production in next seven years

Still the world's third largest cocoa producer, Ecuador sets its eyes on doubling its output in seven years, according to cocoa producer association, APROCAFA.
With yearly production levels of around 320,000 tonnes, Ecuador's ambitious plan revolves around its use of cocoa clone CCN-51; a high-yielding variety which has allowed the country to triple its cocoa volumes over the last decade.
APROCAFA president, Jorge Marún Ramírez, spoke to IHS Markit about this, as well as how Ecuador has coped during Covid and what steps it is taking to help the sector.
Q: Would you consider the Ecuadorian cocoa sector to be in a state of crisis?
Well, we can't really say that the sector is in a state of crisis. In general terms, cocoa prices on the New York Stock Exchange have remained at levels within the average of recent years and the climate has been favorable for a good harvest. But, with the arrival of the Covid pandemic, what we had was a slowdown in the supply chain, but this was corrected relatively quickly.
But we are experiencing a world crisis of an economic, psychological and social order. All of Latin America has been severely affected. But the agro-export sector, which has never stopped and is a source of foreign exchange and income for a large number of farmers in Latin America, remains active and awaits a change in the perception of consumers that differentiates us from the rest of cocoa producers in the world. We firmly believe in our cocoa as a quality and sustainable product. This, and as mentioned, other products in the agro-industrial chain, were and are important components for economic development, especially during the pandemic in Ecuador.
However, an issue that can be felt in Ecuador is the lack of liquidity, in particular by local traders and exporters.
Q: Has the Ecuadorian government taken to steps to help the sector?
Ecuador does has a Program for the Competitive Improvement of Cocoa (PMC) and its Derivatives that was elevated to public policy by the President of the Republic. This Program sets certain objectives to be met, but does not define the policies for the sector. This year the cocoa production unions have been working together with the Ministry of Agriculture and Livestock to propose those policies that must be incorporated into the PMC and that address issues of financing, productivity, associativity, promotion and defense of our products and sustainability.
In addition, APROCAFA is currently part of the PMC, representing the producer sector and for the first time our proposal to have a National Guild of Cacao Producers in Ecuador is being formalized. We are giving legal life to this union, which could mean a milestone in the cocoa industry and in Ecuadorian history. Finally the producer sector will have a voice that makes itself heard, in order to correctly direct public policies for the benefit of the cocoa sector in the country and likewise it will be a union that spreads the message abroad and exhorts consumers to differentiate that Ecuadorian cocoa is premium and sustainable.
Q: Do you think Covid-19 will seriously affect global cocoa consumption/prices?
We see that cocoa grinds have been decreasing, which makes us think of a slowdown in world demand for cocoa, but prices have not collapsed due to a number of other factors and speculation. The most serious thing is the decrease in demand in gourmet and niche markets such as certified and organic cocoas with the respective dramatic drop in price differentials for these segments. Nevertheless, we expect grindings to pick up again as the economies of the countries begin to be activate again. I don't have a crystal ball, but as mentioned previously, prices have been more or less constant and keeping within the same average of the last few years. They are at a stable level (around USD2,400 per tonne of cocoa) and I believe that it will remain at those levels.
Q: What are your thoughts on the Living Income Differential (LID) established by African producers? Can it be maintained throughout the pandemic?
I can't tell you precisely if the market will maintain it successfully or not. What we are aware of is the gap that exists between the LID and the differentials that are negative in Ecuador. I think we have to work to get the message to consumers, Ecuador is a country that does not deforest, with very rigid environmental and labour laws, where the question when seeing a child is not whether he works in plantations or not, on the contrary the question is what year will they be studying at school or college? Our country has very strict labour laws that penalize those who do not comply with the affiliation of their workers to social security or do not pay the benefits of the law. We have one of the highest wages in Latin America and we are the only country where 15% of company profits are distributed to workers. So why does the consumer punish the best cocoa in the world in quality and sustainability?
Q: But volumes of Ecuadorian cocoa have come a long way in the last decade, haven't they?
Yes, Ecuadorian cocoa production has been growing at an accelerated rate. In the last 10 years we've gone from producing 100,000 to 320,000 tonnes. This growth is mainly due to the effort that producers have made in developing technologies that allow us to have better yields that at the same time still manage to be sustainable. Because that has always been a problem with Ecuador and for global cocoa. Ecuador has had its ups and downs in terms of cocoa production. I have lived, from my own experience, during times when we have planted cocoa and later we have had to change the cocoa plantations for other crops because it has not been profitable. But about 30 years ago, the new CCN-51 (Colección Castro Naranjal) cocoa variety was introduced in Ecuador. This a high-yielding cocoa has allowed Ecuador to have that rapid production growth. Where you can achieve high yields that allow producers to survive precisely during difficult times, i.e. in periods of low prices.
Q: But does CCN-51 have the same quality as the traditionalnacionalvariety?
Well, after carrying out some studies, we discovered that we have come to obtain the genetic characterization of cocoa and can pinpoint exactly its origins; i.e. whether it is either criollo or trinitarian cocoa, both of which are considered Fine & Flavour cocoa by the whole world and the ICCO. So genetically CCN-51 has the potential to become Fine & Flavour cocoa. Now what we have managed to develop are the proper fermentation techniques. Because all cocoa has different characteristics and requires different fermentation protocols. The problem was, 30 years ago, the correct way to ferment the CCN-51 was not known. And the CCN-51 has a peculiarity. It has much more pulp compared to the nacional type that was cultivated before along the equator. Then, the same process of fermenting implemented for nacional was used for CCN-51 too. And this ultimately produced a very acidic and astringent cocoa. Because, having more pulp, fermentation has two stages. The first is to convert that pulp or the sugar in that pulp into alcohol. Then the sugars are transformed into ascetic acid. That then enters the bean and reacts with all its entities inside which gives the origins of that chocolate flavor. As it had a lot of pulp and a lot of ascetic acid, it stayed inside the bean and it resulted in a more bitter taste. And what we found out is that we had to get rid of a large part of that pulp before starting the fermentation process. Leaving a sufficient quantity to allow the bean to demonstrate all its characteristics.
Q: So is Ecuador more focused on quality or quantity now?
What we have realized and what we have been able to influence, is that we have 500,000 hectares of cocoa planted area in Ecuador, but with an average productivity that is low. In other words, Ecuador has the potential without sowing more area. Which is the way that volumes have been growing in other countries, which is the case in Africa, in many places it has been deforested to be able to plant cocoa. Instead, Ecuador with its 500,000 hectares and with all the technology that has been developed, has been able to boost production. If a good technology transfer program is implemented, which is what APROCAFA is there for, Ecuador could double its productivity. As specialist producers, we achieve productivity of 2.2,2.3,2.5 tonnes per hectare and the country's average is 2.6. So there is definitely room to grow without increasing the planted area by improving the infrastructure of small farmers and by training them we can get much more cocoa and do it with quality.
Q: So, essentially a bit of both?
Yes, to increase (production) and improve (quality) too. But we have to enter into a process of strengthening associativity because there are 140,000 cocoa producers in the country. And it is a challenge to transfer technology to 140,000 individual producers, because the dispersion of producers in rural areas is very large. So the only way to do it is by grouping these producers through associations, reaching them, also with the support of the national government to increase the infrastructure necessary for there to be an adequate harvesting process.
Q: So by when could cocoa production double?
We believe that in 7 years we can have that goal accomplished. Currently production levels are at around 315/320,000 tonnes, so in 7 years we want to reach 700,000 tonnes. This year we think we'll will be over 330,000 tonnes.
Q: So do you have a similar growth target for exports?
As representatives of the producer sector, if demand is constant and is increasing and accelerating, as it has in the last 10 years, we are on the right track so that in 7 years we can double our production and therefore an increase in exports cocoa and semi-finished products. Our optimal climate, bean quality, and sustainable competitive characteristics have led the largest cocoa exporters to invest in our country, which is why it is a great opportunity for the entire sector.
Currently Ecuador only converts 1% of its production into chocolate, so the idea is for this percentage to also increase. So let's hope that the local industry absorbs more of that production growth to export more chocolate from Ecuador. I believe that Ecuador has become a benchmark for cocoa and is a showcase for the world.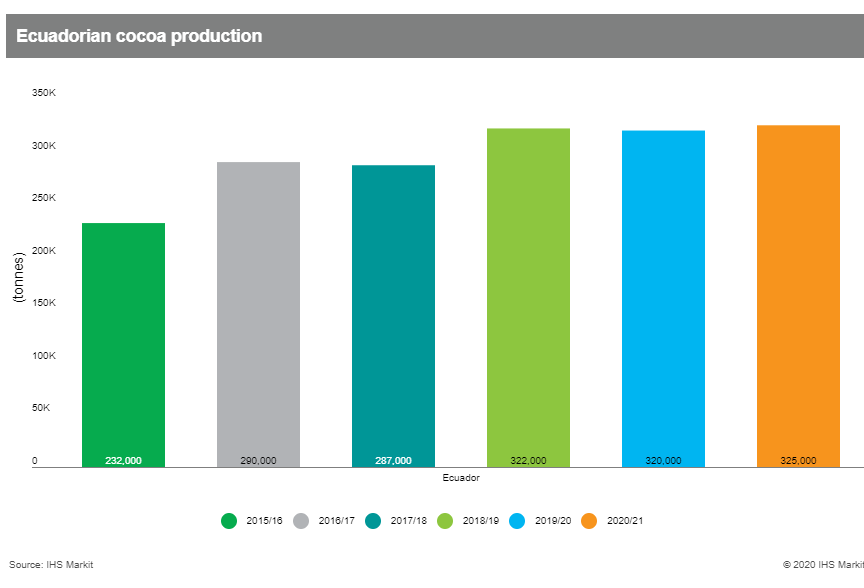 ---

RELATED INDUSTRIES & TOPICS
{"items" : [ {"name":"share","enabled":true,"desc":"<strong>Share</strong>","mobdesc":"Share","options":[ {"name":"facebook","url":"https://www.facebook.com/sharer.php?u=http%3a%2f%2fihsmarkit.com%2fresearch-analysis%2finterview-ecuador-aiming-to-double-cocoa-production-in-next-se.html","enabled":true},{"name":"twitter","url":"https://twitter.com/intent/tweet?url=http%3a%2f%2fihsmarkit.com%2fresearch-analysis%2finterview-ecuador-aiming-to-double-cocoa-production-in-next-se.html&text=Interview+Article%3a+Ecuador+aiming+to+double+cocoa+production+in+next+seven+years+%7c+IHS+Markit+","enabled":true},{"name":"linkedin","url":"https://www.linkedin.com/sharing/share-offsite/?url=http%3a%2f%2fihsmarkit.com%2fresearch-analysis%2finterview-ecuador-aiming-to-double-cocoa-production-in-next-se.html","enabled":true},{"name":"email","url":"?subject=Interview Article: Ecuador aiming to double cocoa production in next seven years | IHS Markit &body=http%3a%2f%2fihsmarkit.com%2fresearch-analysis%2finterview-ecuador-aiming-to-double-cocoa-production-in-next-se.html","enabled":true},{"name":"whatsapp","url":"https://api.whatsapp.com/send?text=Interview+Article%3a+Ecuador+aiming+to+double+cocoa+production+in+next+seven+years+%7c+IHS+Markit+ http%3a%2f%2fihsmarkit.com%2fresearch-analysis%2finterview-ecuador-aiming-to-double-cocoa-production-in-next-se.html","enabled":true}]}, {"name":"rtt","enabled":true,"mobdesc":"Top"} ]}