Customer Logins
Obtain the data you need to make the most informed decisions by accessing our extensive portfolio of information, analytics, and expertise. Sign in to the product or service center of your choice.
Customer Logins
India election results

Results from India's parliamentary elections were counted on 23 May. Prime Minister Narendra Modi was re-elected for a second term, with his Bharatiya Janata Party (BJP) securing a majority in the parliamentary lower house with 303 of 543 seats, exceeding the simple majority mark by 31. Modi will formally undertake his second term on behalf of the National Democratic Alliance (NDA), but the BJP's tally ended its need to rely on allied parties. Parliamentary opposition will be led by the Indian National Congress party, but its 52-seat representation will significantly limit its capacity to block the government's legislative agenda.
The significant victory margin will enable Modi to retain a BJP-dominated cabinet, and key senior cabinet changes are likely. Modi is likely to make senior cabinet changes for his second term, including to the Finance, Defense, Home Affairs, and External Affairs portfolios (see below). The Congress party's president, Rahul Gandhi, lost his seat in Amethi, Uttar Pradesh (historically held by former Congress prime ministers) to the BJP's Smriti Irani. This symbolic victory increases the likelihood of Irani receiving a preferred cabinet post, probably Minister of Human Resource Development or Minister of Communications and Information Technology.
Modi is likely to increase the consolidation of executive power in the Prime Minister's Office (PMO) during his second term. Modi is highly likely to continue leading policy formulation from within the PMO, irrespective of the NDA's lack of a majority in the parliamentary upper house (where it holds 102 of 250 seats). In Modi's first term, several key items of legislation passed the lower house with the BJP's simple majority but stalled in the upper house. A similar pattern is likely to occur within his second term, as the prime minister is reportedly eager to increase his personal control over the policy agenda and is uninclined towards consensus-building with the opposition to assist policy passage. Modi is also likely to leverage his position as Chair of the Appointments Committee of the Cabinet to extend the PMO's influence through making appointments across ministerial departments and other independent institutions, a precedent already established in his first term.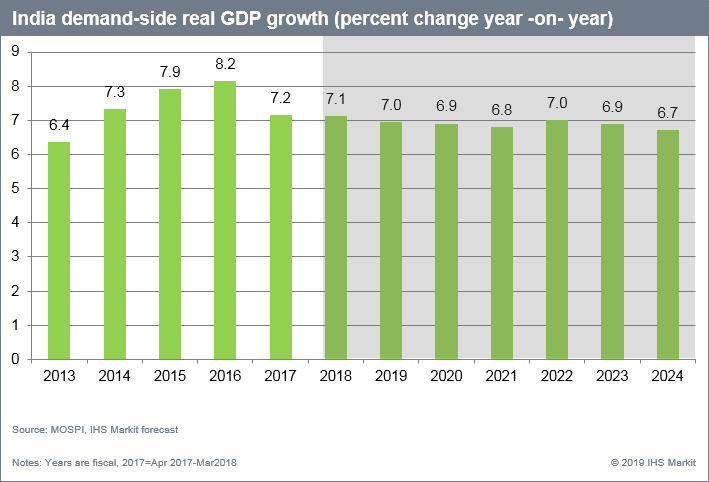 Modi will prioritize measures to stimulate growth and will seek increased central bank alignment with government policymaking. Modi's economic policy will continue to focus on maintaining strong economic growth and job creation. This is likely to lead to an expansion of already announced policies within infrastructure investment, Goods and Services Tax rationalization, amendments to the Insolvency and Bankruptcy Code, and financial-sector regulation. Political influence over the Reserve Bank of India (RBI) increased markedly with the replacement of Governor Urjit Patel by Shaktikanta Das (who is reportedly close to Modi) in December 2018. Tighter control over the RBI is highly likely to continue, with RBI policy in turn being receptive to and aligned with government policy. In particular, dividend payments to the government from the RBI's 'surplus reserves' are likely to be increased.
Policy continuity is very likely, with Modi focusing on progressing flagship schemes and developing new technologies. Modi's policy agenda in his second term is likely to include a renewed drive to progress flagship schemes. The 'Make in India' scheme will seek to expand India's manufacturing exports and encourage foreign investment inflows, particularly in sectors like construction, pharmaceuticals, defense manufacturing, and electronics. Under the 'Digital India' scheme, Modi is likely to increase regulation that grants preferential treatment to local firms in e-commerce, online payments, and 'over-the-top' online streaming services, with increased demands for data localization in related sectors. There is also strong intent to introduce data protection and privacy legislation. In addition, there is growing momentum to shift automotive production away from conventional automobiles while boosting the adoption of electric vehicles. Within the term of the next administration (and beyond), automobile companies are likely to come under tight regulation, with higher taxes to deter conventional automobile production and increased subsidies to incentivize electric vehicle manufacturing.
Indicators of changing risk environment
Increasing risk
The BJP failing to back regional parties' policy agendas in parliament would encourage state-level policymaking by these parties instead, thus potentially fracturing the regulatory landscape.
Increased interference in RBI policy could increase banking-sector risks and hinder efforts to improve transparency and asset quality in the financial sector, with the government instead seeking funding support for policy initiatives. This approach could also reduce international investor confidence in India.
Decreasing risk
Congress failing to form a workable post-election alliance with key regional parties in states like Uttar Pradesh, Maharashtra, Telangana, and Karnataka would reduce the opposition's role in parliament even further.
The regional YSR Congress Party of Andhra Pradesh - which holds 22 seats and is currently unaligned - joining the NDA would further improve coalition stability.
Follow our ongoing global elections coverage and access our continually updated Global Election database.
RELATED INDUSTRIES & TOPICS