Customer Logins
Obtain the data you need to make the most informed decisions by accessing our extensive portfolio of information, analytics, and expertise. Sign in to the product or service center of your choice.
Customer Logins
Impact of New Plastics Regulation in China

China has cumulatively imported about half of the global plastic waste over the past few decades. Concerns of plastic waste polluting landfills and rivers in China have become increasingly acute in recent years. In 2013, China introduced a policy/operation referred to as the "Green Fence" designed in part to improve the quality of the plastics waste coming into the country. Five years later, China launched the "National Sword Campaign", which effectively banned the importation of plastic scrap from other regions. As a result, China's total polyethylene (PE) and polypropylene (PP) plastic waste imports in 2018 tumbled by 99% versus 2017, or the equivalent of nearly 3.2 million tons according to trade data sourced from the Global Trade Atlas (GTA). Domestic recycling facilities were also put under active supervision in order to assure that regulations were strictly enforced. Licenses to operate these recycling facilities were either canceled or suspended for facilities failing to comply with the stricter regulations.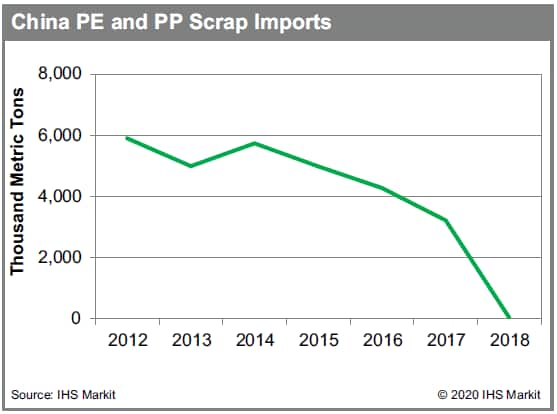 The National Sword Campaign was touted as a key component in the over-arching plan to reduce plastic waste in China. In recent years, China has invested in the promotion of reusable shopping bags, plastic waste related education, and the implementation of strict regulations around trash-sorting. During this time, plastic waste levels have increased exponentially, driven in part by the rapid development of e-commerce businesses.

As of January 19, 2020, the Chinese government decided to take an additional step in its quest to combat plastic waste, announcing a new set of stringent regulations focused on reducing plastic consumption in different industry sectors. These regulations are scheduled to be phased in with specific goals set by the end of 2020, 2022 and 2025. The details of the policy are listed below:

Prohibited plastic products in production and sales:

Sales and production of plastic shopping bags with thickness less than 0.025mm (25 microns) and polyethylene agricultural mulch film with thickness less than 0.01mm (10 microns). The timeline for this particular action is not yet clearly specified in the official Chinese document.
Plastic medical waste (syringe, pouches, etc.) is prohibited from being recycled and converted into a new plastic product. The timeline for this particular action is also in question and not clearly specified in the official Chinese document.
Production and sales of disposable foamed plastic tableware, cotton swabs, and personal care/beauty products containing plastics beads will be prohibited by the end of 2020.
Sales of personal care/beauty products that contain plastic beads are prohibited by the end of 2022. It is assumed that the gap between production and sales restriction dates is designed to allow time for existing inventories to be sold.
100% ban on importation of plastic scrap.
Prohibited or restricted use of plastic products:
Non-degradable plastic bags - Usage will be reduced/prohibited in stages. By the end of 2020, in the four municipalities (Beijing, Shanghai, Tianjin, Chongqing), the capital city of each province, and other yet to be determined cities, the use of non-degradable plastic bags in shopping malls, supermarkets, pharmacies, bookstores, catering packaging, and various exhibition conferences will be banned (thicker bags above 25 microns are assumed to be included). By the end of 2022, the regulations will be extended to all areas above the prefecture-level (prefecture refers to cities ranking below a province and above a county) and coastal counties before extending out to smaller regions by the end of 2025.
Single-use tableware - Non-degradable plastic straws utilized in the catering industry will be banned nationwide while non-degradable plastic tableware will be prohibited for cities in the prefecture-level and above, by the end of 2020. By the end of 2022, the rules will be extended to counties in an effort to reduce the consumption of non-degradable plastic tableware in the catering industry by 30%.
Single-use plastics supplies in hotels - Single-use plastics supplies such as toothbrushes, slippers, personal care items contained in plastic bottles, etc. are prohibited from being offered in nationwide star-rated (larger, mainstream) hotels by the end of 2022 before the policy is extended to all hotels, taverns, B&B, etc. by 2025.
Delivery plastics packaging - Non-degradable plastic packaging bags and single-use plastic woven bags in postal delivery offices in Beijing, Shanghai, Jiangsu, Zhejiang, Fujian, Guangdong, and other major provinces will be banned by the end of 2022. The use of non-degradable plastic tapes will also be restricted by the end of 2022. The same scope will be extended to postal offices nationwide by the end of 2025.
In addition, the Chinese government has also listed other terms designed to strengthen the policy. Plastic regulations are expected to be incorporated into laws but there are no specific details available at this time. The government will set a standard evaluation system to verify that key manufacturers are following the specified requirements. Companies involved in illegal production, sales, and use of banned plastics will be reported for investigation and be added to the "dishonesty record", which would jeopardize their business. In addition, the government plans to create more relevant infrastructure in public places, encouraging consumers to use degradable bags or paper bags in lieu of disposable plastic shopping bags. The government will also support research and technology development in related fields to help achieve targeted goals. Now the key question is: What are the implications of these policies on the plastics value chain? The answer will not be easily quantified as there are many variables that could play a part in affecting the overall outcome.
Relative to demand, the banning of polyethylene (PE) shopping bags and agricultural mulch film that are less than a specific minimum thickness would mean thicker bags and films will be produced in the near-term if alternative material solutions are not developed for these applications. Restricting the uses of disposable plastics bags will likely lead consumers to adopt alternative materials such as reusable PP woven and nonwoven bags as a replacement. Although there is discussion around degradable plastics replacing PE and PP demand for single-use applications, there is still a lack of clarity regarding what is considered acceptable as degradable under the new rules. This dilemma stems from some known degradable products currently available in the market that are produced using virgin resins mixed with additives to become degradable, while there are also materials considered to be naturally degradable such as Polylactic Acid (PLA). Costs are always an important factor in any business decision. The current economics associated with the production of biodegradable plastics (whether blending additives with virgin resin or using inherent biodegradable materials like PLA) have yet to achieve desirable economies of scale and therefore remain expensive relative to conventional PE and PP virgin resins. Until biodegradable technologies mature and become cost-competitive, most of the goals around the use of biodegradable materials appear unrealistic and are therefore unlikely to significantly impact near term resin demand despite the Chinese government's bold attempt to encourage the transition to biodegradable materials designed to replace single-use plastics in 5 years. The impact on PE demand from the restrictions on disposable tableware products in hotels and catering takeaway businesses may also not be significant as most cutleries and food packaging for delivery orders in China are produced with polystyrene. PP is used for making single-use plastics straws, but the volume is considered small and not expected to have a significant impact.
However, these policy changes do have major potential effects on other regions. The National Sword Campaign has effectively blocked scrap imports from other regions since 2018 and has been a huge, demand driver for virgin PE and PP as much of the scrap demand has been replaced by virgin products; now with the adoption of this latest policy and given the very competitive local markets for virgin resin in China, other net export regions could face additional challenges beyond the existing global oversupply conditions if China's demand for virgin PE is reduced. IHS Markit will continue to monitor this very dynamic situation as any reduction in plastics consumption will require a combination of changing consumer buying patterns, technological breakthroughs, and significant infrastructure investments.

IHS Markit offers a long-term outlook on supply and demand globally and on a country level, along with a live capacity database and trade flow analysis on a country-to-country basis in our World Analysis service. In addition, the World Analysis also provides 10-year price and margin quarterly updates for North America, West Europe, and Asia.
RELATED INDUSTRIES & TOPICS
{"items" : [ {"name":"share","enabled":true,"desc":"<strong>Share</strong>","mobdesc":"Share","options":[ {"name":"facebook","url":"https://www.facebook.com/sharer.php?u=http%3a%2f%2fihsmarkit.com%2fresearch-analysis%2fimpact-of-new-plastics-regulation-in-china.html","enabled":true},{"name":"twitter","url":"https://twitter.com/intent/tweet?url=http%3a%2f%2fihsmarkit.com%2fresearch-analysis%2fimpact-of-new-plastics-regulation-in-china.html&text=Impact+of+New+Plastics+Regulation+in+China+%7c+IHS+Markit+","enabled":true},{"name":"linkedin","url":"https://www.linkedin.com/sharing/share-offsite/?url=http%3a%2f%2fihsmarkit.com%2fresearch-analysis%2fimpact-of-new-plastics-regulation-in-china.html","enabled":true},{"name":"email","url":"?subject=Impact of New Plastics Regulation in China | IHS Markit &body=http%3a%2f%2fihsmarkit.com%2fresearch-analysis%2fimpact-of-new-plastics-regulation-in-china.html","enabled":true},{"name":"whatsapp","url":"https://api.whatsapp.com/send?text=Impact+of+New+Plastics+Regulation+in+China+%7c+IHS+Markit+ http%3a%2f%2fihsmarkit.com%2fresearch-analysis%2fimpact-of-new-plastics-regulation-in-china.html","enabled":true}]}, {"name":"rtt","enabled":true,"mobdesc":"Top"} ]}