Customer Logins
Obtain the data you need to make the most informed decisions by accessing our extensive portfolio of information, analytics, and expertise. Sign in to the product or service center of your choice.
Customer Logins
IHS Markit Daily Global Market Summary - 6 April 2020

Equity markets remained very upbeat today as data indicates that the spread of COVID-19 is slowing in parts of Europe and leaders there are evaluating plans to safely roll back some safety measures, while the US is bracing for what is expected to be one of the most challenging weeks since the pandemic began. Oil markets remained in limbo today, as the prospects of significant production cuts that emerged late last week are still being debated by the global oil producers.
Americas
1. US equity markets closed significantly higher today; Russell 2000 +8.2% (-31.8% YTD), DJIA +7.7% (-20.5% YTD), Nasdaq +7.3% (-11.8% YTD), and S&P +7.0% (-17.6% YTD).
2. President Trump's tweet last week provided an impression of relative alignment between the oil market's three heavyweights on a path toward a return to management, and in particular between Saudi Arabia and Russia. Over the past three days, however, clear signs of strain in the relationship remain apparent. Russian President Vladimir Putin and the Saudi energy and foreign ministers traded tit-for-tat pointed comments seeking to blame the other for responsibility for the previous deal's breakdown. The other leg of the management revival stool that remains unresolved is the status of the US and how it will be integrated (if at all) into any management framework. (IHS Markit Energy Advisory's Roger Diwan)
3. Crude oil closed -6.9%/$26.40 per barrel, as it gradually sold off for most of today and dipped below the 2 April intraday 'tweet peak':
4. To gauge how well different companies are able weather the crisis, IHS Markit's Energy Advisory group published a report today that scored and ranked producers based on a combination of their financial strength and acreage quality. (IHS Markit Energy Advisory's Raoul LeBlanc and Justin Jacobs)
Strong resiliency requires both financial strength and good rock working together. This favors larger independent E&Ps who came into the crisis on a relatively stronger financial footing and have acquired superior acreage over the years.
While a large number of companies are in a vulnerable position with prices below $40/bbl, the impact on total spending is skewed by their smaller size. The least resilient 50% of firms in the index, for instance, account for only about 30% of the total capital spending of the entire group of 57 companies.
5. IHS Markit's CDX North America High Yield Index closed -82bps/701bps spread (live intraday price), which is the best single day performance since 24 March when it tightened 142bps (that followed its weakest close of 866bps in almost nine years on 23 March):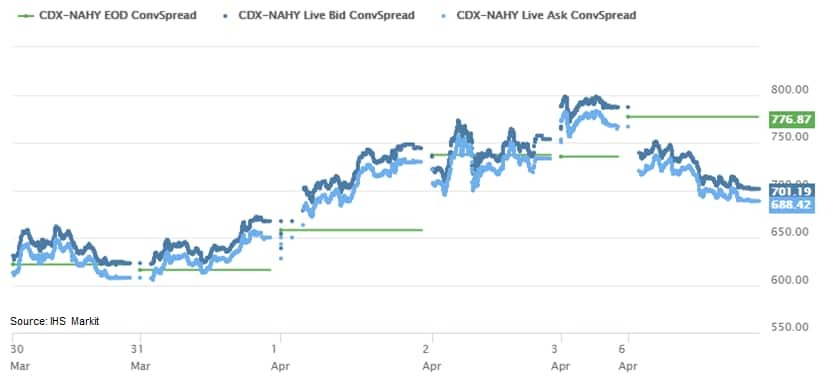 6. Mercedes-Benz has announced that it will extend its employees' collective vacation in Brazil until 2 May 2020, reports Automotive Business. This will result in complete stoppage of its production lines in Brazil. The automaker also announced that it will negotiate with alternative worker unions to adjust costs. According to the source, approximately 10,000 employees are on collective vacation. (IHS Markit AutoIntelligence's Tarun Thakur)
7. With voluntary reprofiling for foreign legislation US dollar-denominated public-sector bonds stalling, Argentine authorities are expected to unilaterally extend maturities for the public debt issued under local legislation. Argentina's government's struggles to roll over foreign legislation-issued bonds through a voluntary debt exchange is the driver of the new debt reprofiling plan; similar to the twice reprofiled LETES (Treasury Bills), which are currently due by the end of August 2020, the government will unilaterally extend the maturity of US dollar-denominated bonds issued under local legislation. After missing its self-imposed deadline on 31 March, Minister of Economy Martín Guzmán acknowledged the difficulties in achieving an agreement with foreign legislation bondholders and noted that talks would continue, but set no official deadline. Moreover, Guzmán seemed more amicable and discussed grace periods given the extenuating circumstances. (IHS Markit Economist Paula Diosquez-Rice)
8. The impact of COVID-19 was particularly noticeable for Argentina's and Ecuador's already distressed sovereign bonds last month according to data from Markit iBoxx USD Emerging Markets Sovereigns & Sub-Sovereigns Capped Index. The below chart compares Latin America sovereign and sub-sovereign average yields for bonds maturing between 2025-2030 on the first and last days of March (keeping in mind that yields generally improved the days following the March 23 intra-month peak):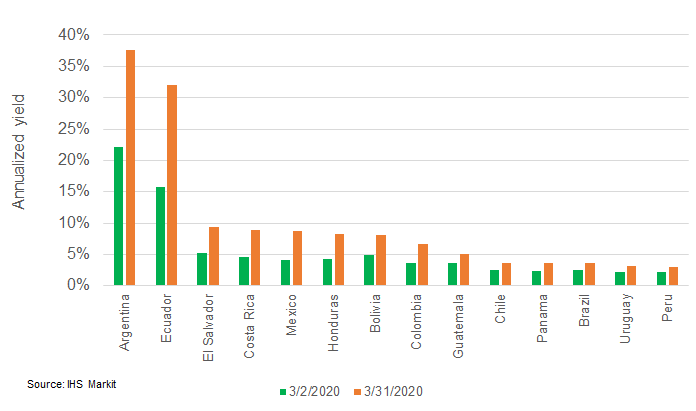 9. Volkswagen (VW) has announced new 0% interest and payment-support incentives for US customers, enabling buyers to defer the first payment on a new vehicle purchase for up to 180 days. The program from Volkswagen of America and Volkswagen Credit began on 3 April and is initially set to run through 30 April. VW will offer 0% financing for 72 months -shorter than the 84-month terms offered by similar incentive schemes from General Motors (GM), Fiat Chrysler Automobiles, and Nissan - and no payments for 90 days for new vehicle buyers in the United States, as well as payment relief for existing owners affected by the coronavirus disease 2019 (COVID-19) pandemic. (IHS Markit AutoIntelligence's Stephanie Brinley)
10. 10yr US govt bonds closed weaker on the day at +8bps/0.68% yield.
Europe/Middle East/ Africa
1. According to recent media reports, the possible next steps in partly unwinding the restrictions in many European countries are now taking shape. For example, the head of Italy's Civil Protection Agency, which is co-ordinating the national response to the outbreak, has talked of a 'phase two' lockdown beginning in May. In Spain, while the shutdown has been extended for another two weeks until 26 April, the prime minister has talked of a 'new normal', with restrictions on non-essential work, including manufacturing and construction, potentially to be lifted after Easter. (IHS Markit Economist Ken Wattret)
2. Iraq's Basra Oil Company has asked operators to consider cutting upstream investment spending by 30%, and suggested that it may seek reduced or delayed payments for the first half of the year, as the government - already in political limbo - faces the double blow of a growing health crisis and cratering oil revenues. In a letter sent to international oil companies (IOCs) operating in Basra province, the regional operating company expressed concern about future crude exports, noting that these could face "some problems" going forward. (IHS Markit's Mariam Al-Shamma)
3. Turkey's Akbank has reportedly secured a USD560-million 367-day loan in two tranches of USD246 million and EUR284 million (USD306.8 million). The all-in cost was Libor +2.25% and Euribor =2.00%, according to BNE Intellinews. The roll-over ratio on the loan was 80%. The cost of the loan was lower than the cost of the March 2019 rollover, which was Libor +2.5% and Euribor +2.4%. (IHS Markit Economist Alyssa Grzelak)
Ziraat Bank (USD1.4 billion), Ziraat Katilim (USD250 million), and Vakifbank (USD1.1 billion) also have maturing syndicated loans that are in the process of being rolled over.
Yapi Kredi (USD1 billion), Garanti (USD784 million), and Isbank (USD1.03 billion) have syndicated loans maturing in May.
On a remaining maturity basis, the Central Bank of the Republic of Turkey (Türkiye Cumhuriyet Merkez Bankası: TCMB) reports that the country's banks have USD80.9 billion of external debt maturing this year.
4. Brent oil -2.3%/$33.34 per barrel.
5. 10yr European govt bonds closed mixed; Italy -4bps, France -2bps, Spain -1bp, Germany +1bp, and UK +2bps.
6. European equity markets closed much higher on the day; Germany +5.8%, France +4.6%, Italy/Spain +4.0%, and UK +3.1%.
Asia-Pacific
1. People's Bank of China (PBOC) announced reduction of reserve requirement ratio (RRR) targeted small and medium-sized banks (SMBs) by one percentage point on 3 April. To avoid excess liquidity, this RRR cut will be conducted separately on 15 April and 15 May, with 0.5 percentage point of reduction each time. This move is expected to release around CNY400 billion worth of long-term fund and help cut cost for SMBs by CNY6 billion per year. (IHS Markit Economist Yating Xu)
2. General Motors (GM) and its joint ventures (JVs) in China delivered over 461,700 vehicles in China during the first quarter of 2020, according to a company statement. GM's sales in China were down by 43.3% year on year (y/y), compared with 813,973 units sold in the same period of 2019. (IHS Markit AutoIntelligence's Nitin Budhiraja)
3. SsangYong will sell non-core assets to stay afloat after its Indian parent Mahindra and Mahindra (M&M) scratched its capital injection plan for the struggling South Korean automaker owing to the growing impact of the coronavirus disease 2019 (COVID-19) virus outbreak, reports Yonhap News Agency. M&M earlier this year announced that it plans to inject KRW230 billion (USD186 million) into SsangYong and make it profitable by 2022. However, M&M's board has recently voted against the investment plan as the COVID-19 virus outbreak is having a bigger impact on the global automobile industry. SsangYong is struggling, as its net loss widened in 2019 to KRW341.4 billion, compared with a net loss of KRW61.8 billion in 2018. (IHS Markit AutoIntelligence's Jamal Amir)
4. APAC equity markets closed sharply higher across the region; Australia +4.3%, Japan +4.2%, South Korea +3.9%, and Hong Kong +2.2%.
You'll frequently see data snaps in these reports from our web-based pricing portal, Price Viewer. Please contact data.delivery@ihsmarkit.com today to ask about complimentary access.
IHS Markit provides industry-leading data, software and technology platforms and managed services to tackle some of the most difficult challenges in financial markets. We help our customers better understand complicated markets, reduce risk, operate more efficiently and comply with financial regulation.
---
Follow Financial Services
RELATED INDUSTRIES & TOPICS