Customer Logins
Obtain the data you need to make the most informed decisions by accessing our extensive portfolio of information, analytics, and expertise. Sign in to the product or service center of your choice.
Customer Logins
IHS Markit Daily Global Market Summary - 1 April 2020

Q2 2020 started off with pressure on global equity markets and increased risk aversion today. Global PMI numbers came in particularly weak across the globe, marking the first wave of economic data that reflects the significant economic impact of COVID-19 as it began to spread more rapidly across Europe and the US in March.
Americas
1. Global manufacturing orders fell at the steepest rate for 11 years in March as the coronavirus disease 2019 (COVID-19) outbreak continued to cause factory closures, disrupted supply chains and hit demand, according to PMI survey data. None of the 30 countries for which IHS Markit survey data are available reported higher order book volumes, while only China reported any month-on-month growth of output, merely reflecting a stabilizing of production at a low base after suffering a record decline in February. Excluding China, global output fell at the sharpest rate since April 2009. (IHS Markit Economist Chris Williamson)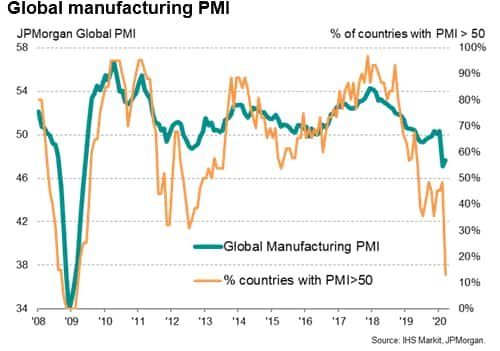 2. US equity markets closed sharply lower on the day; DJIA, Nasdaq, and S&P all closed -4.4%. Small cap stocks continue to come under the most pressure, as the Russell 2000 index closed -7.0% today and is currently -35.6% YTD.
3. Auto industry supplier Delphi issued a statement on 31 March announcing that it is to draw down its full USD500-million revolving credit facility. The move has been made as the coronavirus disease 2019 (COVID-19) virus outbreak continues to spread across the United States; however, the move has put a pending acquisition of the supplier by BorgWarner at risk. Delphi's action to draw on its credit facility at this time is similar to ones being taken by suppliers and automakers across the globe. (IHS Markit AutoIntelligence's Stephanie Brinley)
4. 10yr US govt bonds closed -10bps/0.58% yield, which is rapidly approaching the 9 March record low close of 0.50% yield (albeit the intraday and true record low yield was 0.38% that same day)
5. IHS Markit's CDX North America Investment Grade CDS Index closed weaker on the day at +12bps/126bps spread: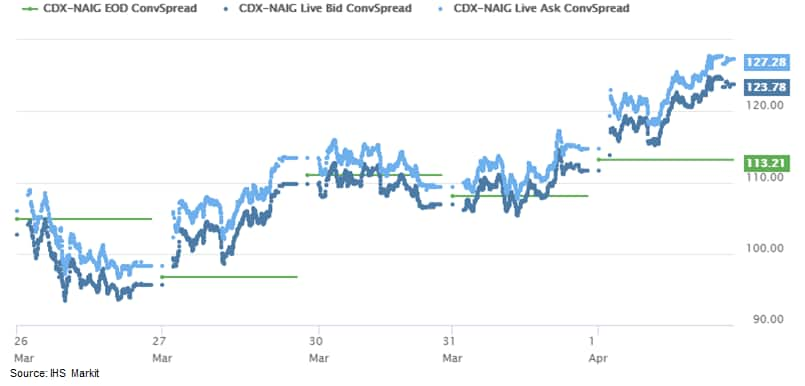 6. Crude oil +4.2% / $21.17 per barrel.
7. After the market close, the WSJ published an article stating that President Trump is set to meet Friday with the heads of some of the largest U.S. oil companies at the White House to discuss measures to help the industry weather an unprecedented oil crash, people familiar with the matter said. (WSJ)
8. A coalition of major pharmaceutical supply chain groups including pharmaceutical manufacturers, pharmacies, pharmacy benefit managers, and health plans have written to Vice President Mike Pence and Congressional leaders in the House of Representatives and the Senate, warning of the potentially unfavorable consequences that some coronavirus disease 2019 (COVID-19) policies could have on supply chains and drug prices. The letter comes as US dependence on countries like India and China for active pharmaceutical ingredients (APIs) has left it exposed to a serious threat of drug shortages. According to Time magazine, more than 80% of manufacturing facilities that make APIs for the US are located overseas - mainly in China - while the majority of finished generic products are also manufactured internationally, including 40% sourced from India, which is in turn dependent on China for APIs. (IHS Markit's Margaret Labban)
9. S&P Global Ratings has downgraded Colombia's outlook from Stable to Negative and reaffirmed the sovereign-risk rating at 40 (BBB- on the generic scale). This carries more risk than IHS Markit's rating of 35 (BBB on the generic scale). S&P would consider reversing the negative outlook if policy measures are able to effectively stabilize economic growth, which would also limit the increase in government debt and contain external liquidity risks. Downside risks include additional negative external shocks that would further undermine growth prospects and lead to a deterioration in public finances and external liquidity. (IHS Markit Economist Ellie Vorhaben)
10. Carnival Corporation is upsizing its rescue bond sale backed by its cruise ships to $4 billion after drawing strong demand, despite the world's largest cruise operator warning it might only have enough cash to stay operational for eight months. (FT)
Europe/Middle East/ Africa
1. IHS Markit now forecasts that the COVID-19 virus-induced recessions this year will be significantly deeper than during the global financial crisis across most of Europe. We expect peak quarter-on-quarter (q/q) rates of contraction to occur in the second quarter of 2020 given the timing of the containment measures and related disruption. As an illustration, our forecast of a q/q decline in eurozone GDP of 5.6% in the second quarter would be almost twice the peak rate of contraction during the global financial crisis (-3.2% in the first quarter of 2009) and we see downside risks to this forecast. (IHS Markit Economist Ken Wattret)
2. BP says it will reduce its planned organic capital spending in 2020 to about $12 billion as part of its response to the coronavirus disease 2019 (COVID-19) pandemic, down 25% compared with the company's prior full-year guidance, with an expected spending cut of about $1 billion in its downstream business segment, which includes petrochemicals.
3. IHS Markit is downgrading our short- and medium-term sovereign risk ratings for Turkey by one notch to 60 (B- on the generic scale) because of strong downward pressure on the country's foreign currency holdings. These reserves were already believed to be low - lower than officially reported. Sharp lira losses in March are highlighting the danger of depleted reserves. Heavy further downward pressure on foreign currency reserves leaves the Turkish central bank with few weapons with which to rescue the lira from further depreciation. Heavy external obligations in 2020 and a vulnerable banking system are liabilities to the continued lira collapse. Although non-performing loans remain modest by emerging market standards at present, Stage II loans have risen rapidly since 2018 despite widespread debt restructuring, rapid nominal credit growth rates and negative real lending rates, and true asset quality remains poor in our view. (IHS Markit Economists Andrew Birch and Alyssa Grzelak)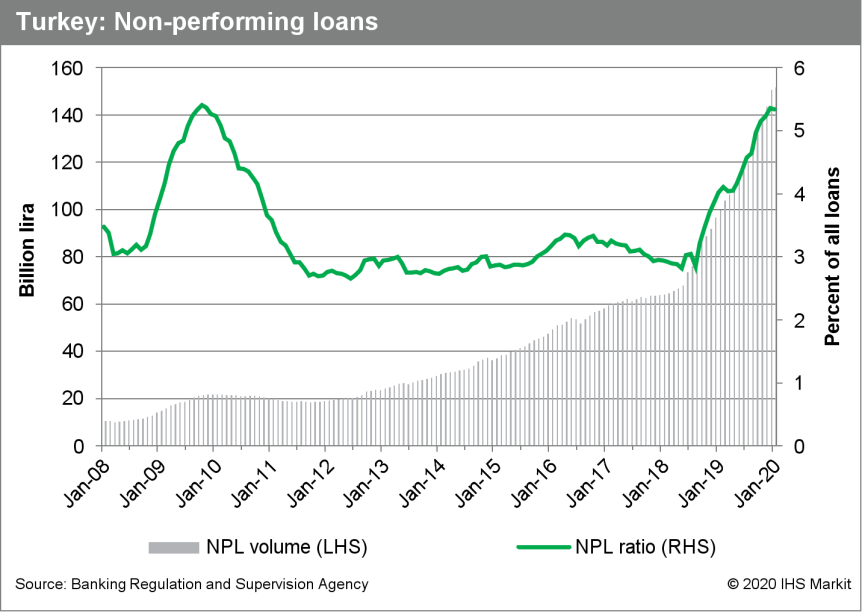 4. 10yr European govt bonds were lower across the region, except for UK -4bps; Spain +3bps and France/Germany/Italy +1bp.
5. European equity indices closed lower across the region; France -4.3%, Germany -3.9%, UK -3.8%, and Italy/Spain -3.0%.
Asia-Pacific
1. Manufacturing conditions across mainland China stabilized in March, according to the latest Caixin PMI data. The survey showed a slight increase in production after a record decline in February due to factory shutdowns and travel restrictions. However, a sustained fall in new business inflows suggests that further growth in output could be limited in the coming months, and largely confined to processing backlogs, as the coronavirus disease 2019 (COVID-19) pandemic hits worldwide demand. (IHS Markit Economist Bernard Aw)
2. China's State Council has announced a series of policies to improve the liquidity of small and medium-sized banks to lend to micro-, small-, and medium-sized enterprises. At the State Council executive meeting on 31 March, China's Premier Li Keqiang announced a series of policies to improve the liquidity of small and medium-sized banks to lend to micro-, small-, and medium-sized enterprises (MSMEs). The measures include increasing the relending and rediscount quotas for smaller banks by CNY1 trillion (USD141 billion), lowering the reserve requirement ratio (RRR) for these banks by an undisclosed amount, and supporting banks in issuing CNY300-billion bonds to finance lending to MSMEs. (IHS Markit Economist Angus Lam)
3. Toyota has temporarily suspended production operations in Vietnam since 30 March in a bid to protect workers' health and deal with an expected drop in demand amid the coronavirus disease 2019 (COVID-19) virus outbreak, reports Vietnam News Summary. The resumption of production will depend on the outbreak situation, market demand, the supply-chain situation, stocks, and the Vietnamese government's restrictions. (IHS Markit AutoIntelligence's Jamal Amir)
4. APAC markets appeared to have initiated today's negative tone in the equity markets, with all but Australia +3.6% closing lower on the day; Nikkei -4.5%, India -4.1%, South Korea -3.9%, Hong Kong -2.2%, and China -0.6%.
You'll frequently see data snaps in these reports from our web-based pricing portal, Price Viewer. Please contact data.delivery@ihsmarkit.com today to ask about complimentary access.
IHS Markit provides industry-leading data, software and technology platforms and managed services to tackle some of the most difficult challenges in financial markets. We help our customers better understand complicated markets, reduce risk, operate more efficiently and comply with financial regulation.
---
Follow Financial Services
RELATED INDUSTRIES & TOPICS