Customer Logins
Obtain the data you need to make the most informed decisions by accessing our extensive portfolio of information, analytics, and expertise. Sign in to the product or service center of your choice.
Customer Logins
IEA steps up urgency on climate: oil, gas exploration must end; no new unabated coal

No new oil and natural gas exploration projects should be undertaken across the world if a "narrow" path to achieve net-zero carbon emissions by 2050 is to be successfully navigated, the International Energy Agency (IEA) said 18 May.
"Immediate action," including the shelving of oil and gas production projects yet to be committed to as of 2021, is required "to begin an unprecedented transformation of how energy is produced, transported, and used worldwide" in "perhaps the greatest challenge humankind has ever faced," according to the IEA report, titled "Net Zero by 2050: A Roadmap for the Global Energy Sector."
The IEA said the roadmap sets the discussion for the November 2021 COP26 climate meeting in Glasgow, Scotland, especially for developed countries, by showing "the current gap between rhetoric and reality on emissions." It calls for "nothing short of a total transformation of the energy systems that underpin our economies."
Total global investment in clean energy, which was about $1.2 trillion per year over the 2016-2020 period, will have to rise to more than $4 trillion per year by 2030 and continue at that level through 2050.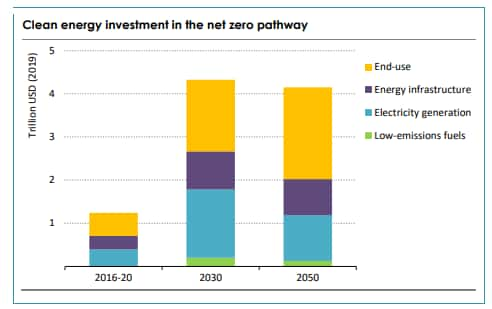 Source: IEA
Speaking at a press conference to coincide with the launch of the report, IEA Executive Director Fatih Birol said he is "optimistic … about the growing consensus on reaching net zero," as shown by the 2030 interim and 2050 net-zero commitments made by the world's largest economies. But these promises stand in stark contrast with the 4.8% rise in global energy-related carbon emissions the agency is forecasting for 2021 to 33 billion mt, he added.
"Many governments now are making commitments to bring their emissions to net zero by 2050 … but at the IEA, we believe in numbers," Birol said. "Our numbers unfortunately show ... this year global emissions will increase substantially, the second-largest increase in history. There is a growing gap between the rhetoric that we hear from governments and industrial leaders and what is happening in real life."
The pledges themselves represent about 70% of global annual CO2 emissions, and only one-quarter of them are backed by domestic legislation and policies. So, if the nations follow through with their policies that are now in place, this would leave the world generating about 22 million mt of CO2 emissions annually by 2050.
While agreeing with Birol that the roadmap sets up a challenging scenario, David Jones, global lead at European energy and climate research group Ember, credited the Paris-based organization for setting a new direction for the energy industry and the governments that it advises. "The implications … are far-reaching; this is truly a knife into the fossil fuel industry…. This is a complete turnaround of the fossil-led IEA from five years ago," he said.
Key milestones
The roadmap is packed with more than 400 milestones across all energy sectors and major economies, including:
Net-zero carbon electricity for Organisation for Economic Cooperation and Development (OECD) countries by 2035
Net-zero carbon electricity globally by 2040
75% cut over the next 10 years in methane emissions from fossil fuel sources
85% reduction in global refinery runs over 2020-2050
No additional new final investment decisions for "new unabated coal plants" (coal plants without advanced CO2 reduction or abatement technology)
Unabated coal demand should fall to 1% of global energy use by 2050
Natural gas use should fall by 55% to 1,750 billion cubic meters/year by 2050
Oil use should fall by 75% to 24 million barrels per day by 2050
In the IEA's net-zero scenario, the world economy would grow by 40% over the 2021-2030 period, but use 7% less energy than in 2020. By 2050, the global economy will have doubled from 2020, but energy demand will be 8% below current levels.
That scenario is made possible by "a worldwide push to increase energy efficiency ... resulting in the annual rate of energy intensity improvements averaging 4% to 2030—about three times the average rate achieved over the last two decades," the IEA said.
The pathway to limiting global warming also requires "a result of a global concerted effort to deploy all abatement measures and technologies."
Overall, the investments would create more than 30 million jobs in clean energy production, energy efficiency projects, construction, and manufacturing. An estimated 5 million fossil fuels-related jobs would be lost.
Electrification speeds up
Electrification of economies, which is already underway in most of the 37 countries in the OECD, should be accelerated. By 2050, IEA said 50% of global energy consumption will be through electricity, and 90% of that supply will be from solar, wind, bioenergy, and hydropower. Solar energy would become the single-largest energy source, accounting for 20% of the world's energy mix. Solar photovoltaic capacity would increase 20-fold by 2050, and wind power 11-fold.
Only a few days after releasing a report that forecasts total solar PV and wind capacity additions in 2021 and 2022 will be about 270-280 GW each year, the IEA said that's far from sufficient to meet carbon-reduction needs. The roadmap calls for annual additions of 630 GW of PV capacity and 390 GW of wind capacity by 2030, or roughly four times as much as it's forecasting for this year and next. "For solar PV, this is the equivalent to installing the world's largest solar park roughly every day," according to the report.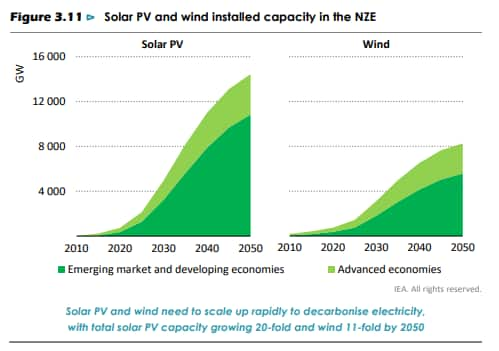 To support the transition, the IEA said that the mileage of power transmission lines needs to double today's length by 2040. This will require raising spending on infrastructure -- including electric vehicle (EV) charging stations -- from the current $260 billion per year, to $820 billion per year by 2030, and $1 trillion per year by 2040.
The IEA's pathway to net zero calls for the share of light-duty EVs to rise from the current 5% of global car sales to 55% by 2030 and 100% by 2050. Heavy-duty trucks will follow a slower pathway but reach nearly 100% by 2050.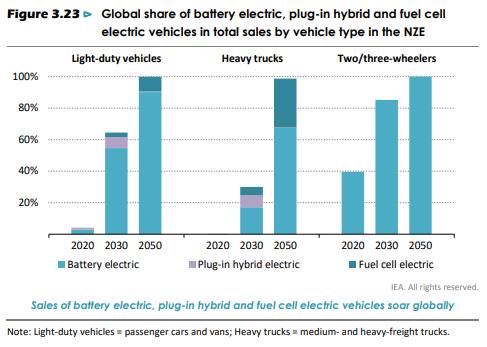 The report said that carbon emissions reductions needed by 2030 will involve the deployment of "technologies readily available today," but half of the reductions in emissions needed by 2050 will "come from technologies currently at the demonstration or prototype phase."
US Special Presidential Envoy for Climate John Kerry made the same point last week in an interview with BBC Radio, saying: "I am told by scientists that 50% of the reductions we have to make to get to net zero are going to come from technologies that we don't yet have. That's just a reality."
The IEA roadmap singled out carbon capture, utilization and storage (CCUS) for its ability to deliver significant carbon reductions soon, and it called for increased research on emerging technologies that are not yet ready for commercial deployment: advanced batteries, hydrogen electrolyzers, and direct air capture and storage. In its net-zero model, CCUS will reduce CO2 emissions by about 40 million mt/year currently to 1.6 billion mt in 2040, to 7.6 billion mt in 2050.
The impact will fall across the industrial sector as well, requiring investments in new and emerging technologies that have yet to be seen. "Every month from 2030 onwards, 10 heavy industrial plants are equipped with CCUS, three new hydrogen-based industrial plants are built, and 2 GW of electrolyzer capacity are added at industrial sites," the IEA wrote.
It also said that the energy transition must be achieved with a concurrent improvement in social and economic justice. "Providing electricity to around 785 million people that have no access, and clean cooking solutions to 2.6 billion people that lack those options, is an integral part of our pathway," the IEA wrote. "Emissions reductions have to go hand-in-hand with efforts to ensure energy access for all by 2030. This costs around $40 billion a year, equal to around 1% of average annual energy sector investment, while also bringing major co-benefits from reduced indoor air pollution."
Includes reporting by Anthony Lane, OPIS.
RELATED INDUSTRIES & TOPICS