Customer Logins
Obtain the data you need to make the most informed decisions by accessing our extensive portfolio of information, analytics, and expertise. Sign in to the product or service center of your choice.
Customer Logins
Hydropower's potential far from tapped: IEA

Approximately 230 GW of new hydropower capacity will be installed around the world in 2021-2030, a decline from about 300 GW installed in the 2010s, according to a new "Hydropower Special Market Report" by the International Energy Agency (IEA).
The IEA said that the slowdown in hydro construction represents a lost opportunity to tackle the dual challenges of universal access to electricity and net zero emissions by 2050. The IEA found that around half of hydropower's economically viable potential worldwide is untapped, and particularly in emerging economies and developing economies, where the figure reaches almost 60%.
Equally troubling, the agency said the installation rate is about half of what's needed to keep the world on track for a 2050 net zero target, based on the modeling in its Global Roadmap to Net Zero by 2050, which was released this spring.
In 2020, hydropower supplied one-sixth of global electricity generation, nearly 4,500 TWh, making it the single-largest source of zero-carbon or low-carbon power, the IEA said. In fact, its output last year was more than twice that of nuclear power and more than all renewables combined.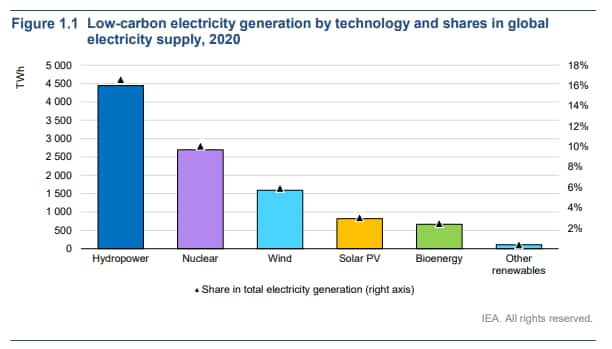 In 35 countries, hydropower supplies more than 50% of energy generation, including in 28 emerging and developing economies that have a total population of 800 million, the IEA added. Austria, Canada, Norway, and Switzerland also generate more than half of their power from hydro.
Contribution to net zero world
"Hydropower is the forgotten giant of clean electricity, and it needs to be put squarely back on the energy and climate agenda if countries are serious about meeting their net zero goals," said Fatih Birol, IEA executive director, in a press conference on 30 June. "Hydropower's advantages can make it a natural enabler of secure transitions in many countries as they shift to higher and higher shares of solar and wind—provided that hydropower projects are developed in a sustainable and climate-resilient way."
Birol explained that hydropower has "unmatched capabilities for providing flexibility and storage" because many hydropower plants can ramp their electricity generation up and down more rapidly than nuclear, coal, and natural gas power plants. While fossil fuels are often cited as providing reliable power to balance the intermittency of wind and solar power, the IEA report said hydro plants "currently make up almost 30% of global flexible supply capacity based on hour‐to‐hour ramping needs, similar to the [global] capabilities of coal- and natural gas-fired plants."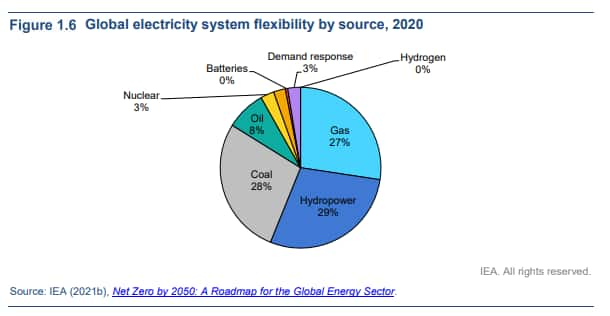 Trends and costs
Between now and 2030, the IEA projects that about $500 billion will be spent on hydropower capacity globally. China, India, Turkey, and Ethiopia will lead the way in new installations.
About $127 billion of the spending, or roughly one-quarter, will be on modernization and upgrades to existing plants. "This is notably the case in North America, where the average age of a hydropower plant is nearly 50 years, and in Europe, where it's 45 years," the IEA said.
Yet much like the underinvestment in new hydro, the figures for facility upgrades represent less than half of the $300 billion that the agency estimates is necessary to modernize all existing hydropower plants worldwide to maximize their output.
Costs for new projects are typically $1,200-$4,50/ kW, though the IEA said that the range is $1,000-$10,000/kW, depending on project size and location.
For comparison, the US Energy Information Administration (EIA) says that a new gas-fired power plant costs about $800-$1,000/kW, depending on the country where it's built, and the cost of a solar PV plant in the US is about $1,800/kW, but falling steadily.
While upfront costs for a hydropower plant can be high, they represent 80-90% of its levelized cost of energy over the long term, similar to wind and solar projects. In other words, they're very cost-effective once they start operating. The IEA said this means that hydropower would benefit from the same types of government subsidies that have been used around the world to support renewables.
"Government policies to de-risk investment—such as state guarantees, long-term contracts, and other measures to raise remuneration certainty—could decrease project risk," said the IEA, which reduces the cost of financing. The agency credited Brazil, Russia, and Turkey for supporting new hydro with long-term, state-guaranteed contracts, even as they have introduced market reforms.
"Reducing financing costs is important to ensure the competitiveness of hydropower generation, especially in developing countries where high macroeconomic risks result in elevated financing costs," IEA said. It found that for every one percentage point of reduced financing costs, a hydro plant will cost 7-14% more to build.
Despite the high initial costs, for developing countries investing in hydro also can bring other benefits, such as flood control, irrigation, and aquaculture. About 40% of hydro dams worldwide provide these types of ancillary benefits, but the IEA said these are not generally accounted for in cost-benefit analysis when similar new projects are considered.
While the report mostly sidesteps the issue of water access that has been prominent in the opposition to dams in China, India and elsewhere, it does acknowledge the development of sustainability standards for hydropower, guided by the World Bank and International Finance Corporation. These standards include water flow levels, biodiversity, and calculations of offset emissions. Brazil and Costa Rica have implemented their own sustainability programs that have guided new hydro projects.
Sustainability issues must be given greater prominence, according to the US-based Nature Conservancy, which leads the Center for Sustainable Hydropower. In a report titled, "The Power of Rivers," the organization said that dams built from 2015-2025 to serve hydropower facilities will affect more than 300,000 km (210,000 miles) of rivers around the world and "nearly 70 percent of all affected kilometers will occur in freshwater ecoregions with the greatest diversity of fish species."
Pumped hydro for storage
IEA provided detailed global forecasts to 2030 for the three main types of hydropower: reservoir (dams), run-of-river, and pumped storage.
Reservoir hydro will account for slightly more than half of net hydropower additions through 2030, about 130 GW, front-loaded to the first half of the decade. The analysis reveals that pumped hydro is emerging as a strong energy storage technology, and it will account for 65 GW, or 30%, of additions.
China will account for most new pumped storage hydro globally through 2025, but afterward the technology will enjoy growth across Asia Pacific, Europe, and North America as these places seek to help balance the intermittency of solar and wind power.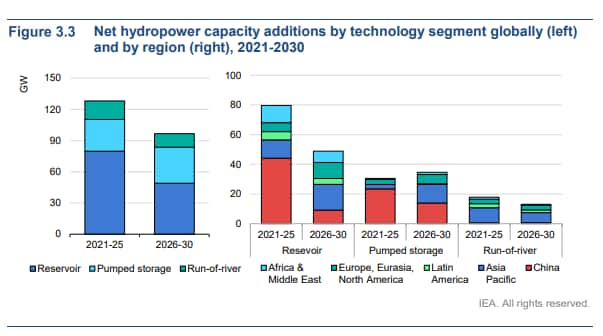 Regardless of location, the IEA said the main uncertainty for pumped storage hydro is economics as it competes with steadily falling costs for battery storage. "Narrowing peak and off-peak price spreads, high grid fees and inadequate remuneration for ancillary services make the business case for pumped storage hydro less attractive in the absence of instruments to provide long-term revenue certainty," it said.
In the US, interest in pumped hydro as an energy storage device began in earnest in the middle of the last decade. The EIA said in a report released in January 2021 that pumped storage hydro accounts for 22.9 GW of energy storage capacity in the US, or 93%. It noted that pumped storage operations typically provide 7-12 hours of backup power, whereas most battery installations today provide four hours.