Customer Logins
Obtain the data you need to make the most informed decisions by accessing our extensive portfolio of information, analytics, and expertise. Sign in to the product or service center of your choice.
Customer Logins
Hydrogen project announcements surge past $500 billion: Hydrogen Council

Global hydrogen power investment commitments through 2030 have surged in the last few months to an estimated $500 billion, and they are accelerating, said the Hydrogen Council, a trade group based in Brussels.
The investments represent 11 million mt of added annual hydrogen production, or 64% greater than at the start of the year, and more than five times as large as announced projects as of December 2019. Another 7.7 million mt/year of projects for post-2030 completion have been announced.
The 359 "large-scale projects" identified by the trade group represent an increase from 238 such projects at the start of the year, it said.
Of those projects and investments, the council says it considers about $150 billion, or roughly 30%, to be "mature," which it means "either in a planning stage, has passed a final investment decision, or is associated with a project that is under construction, commissioned, or currently operational." Those types of projects have nearly doubled in volume this year.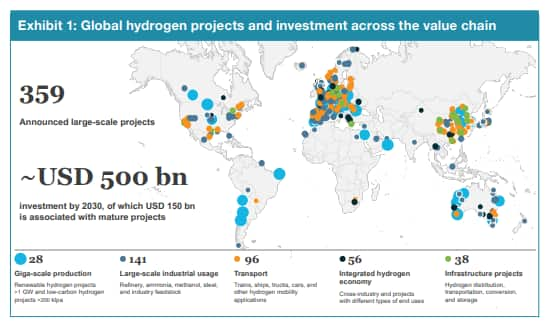 Source: Hydrogen Council
Europe accounts for more than half of the announced projects and about $130 billion of announcements. But China is coming on fast, with 53 projects announced and $17 billion in investments that the council considers to be mature projects.
National commitments to net-zero carbon emissions are driving the investments, the council said. A total of 90 countries, "representing 80% of the world's GDP, are now committed to net-zero targets. More than 30 countries have concrete hydrogen strategies and have allocated $76 billion of government funding," it said.
"We're seeing unprecedented commitment to tackle climate change, from the US to Europe to Asia. Governments and industry around the world are coming together around the need to scale-up clean technologies fast, and hydrogen's critical role as the catalyst for our clean energy transition has been solidified," added Darryl Wilson, executive director.
Other trends
Parsing the data, the Hydrogen Council found that green hydrogen—that is, produced through electrolysis powered by renewable energy—is taking the lion's share of commitments.
Some "70% of the announced production capacity comes from renewable energy sources, while the other 30% is low-carbon hydrogen generated by fossil fuels combined with carbon capture and storage (CCS)," it said. "Production from renewable energy sources translates to about 70 GW of electrolysis capacity by 2030, which is nearly double what was announced in the last report [in February]."
In some key markets, such as China, the council said that electrolysis is on track to become the low-cost source of hydrogen by 2030, thanks to the availability of renewable power (assuming its goal of reaching 1,200 GW of renewable capacity by 2030 is reached). "By 2030, the cost for electrolysis could significantly decrease to $1.70/kg in cost-optimal locations," it said.
IHS Markit has come to the same conclusion about the price competitiveness of green hydrogen in Europe, noting in a report this year that "electrolytic hydrogen costs are expected to fall rapidly" as new projects are scaled up in volume. "Large electrolysis plants can be cost competitive with autothermal reforming-CCS as early as 2030," IHS Markit said.
With volumes expected to rise significantly around the world, the Hydrogen Council said that trade patterns are starting to emerge. "Today, almost all hydrogen is used at the location of production, but this is set to change. By 2030, roughly 30% of announced production capacity will be transported, either through ships or pipelines," it said.
The council expects that Australia, Saudi Arabia, and Chile will be among the major exporters, given the capacities of their announced projects.
But logistical issues remain to be solved, it said. "For longer-distance transport by ship, hydrogen needs to be converted to increase its energy density. Ammonia, liquid organic hydrogen carriers, and liquid hydrogen are the main considered vectors for export; however, almost half of the projects' carriers are still undecided," it said.
The Hydrogen Council also announced this week that it added 14 new corporate members and now has 123 members. Newcomers include Abu Dhabi National Oil Company (ADNOC), Honeywell, and Sasol.
Range of uses
As a clean-burning, storable fuel, hydrogen has many uses in a net-zero world.
This month alone, IHS Markit has tracked these and other announcements, which represent the range of applications for hydrogen:
Shell said its Rhineland complex became the first refinery in Germany to operate an electrolyzer plant, a 10-MW unit that will produce gray hydrogen.
The US Department of Energy issued 31 "Hydrogen Energy Earthshot" grants worth more than $52 million for projects to enhance hydrogen production efficiency, test durability of heavy-duty vehicle applications with hydrogen, and coordinate carbon capture with hydrogen production, and more.
In Australia, InterContinental Energy, CWP Global, and Mirning Green Energy unveiled plans for a wind and solar project in southeastern Western Australia that could be as large as 50 GW, with the output to be used to produce up to 3.5 million mt of green hydrogen or 20 million mt of ammonia annually.
Shell proposed to build a large-scale CCS project at its Scotford Complex near Edmonton, Alberta, saying that it would be the centerpiece of Canada's first hydrogen hub. "In the initial phase of Polaris, CO2 captured from the refinery's hydrogen plants would produce blue hydrogen for use in the refining process, with the potential for large-scale blue hydrogen production in future phases," Shell said in a media statement.
Italy's Eni signed an agreement with Egyptian Electricity Holding Company and Egyptian Natural Gas Holding Company to assess the feasibility of producing green hydrogen and blue hydrogen. Eni has natural gas-producing operations in Egypt and is a 40% shareholder in the country's Damietta LNG plant.
In Morocco, energy and commodity trading house Vitol said it will manage the offtake of green ammonia from Morocco's HEVO project, the country's largest green hydrogen and green ammonia project to date. In addition to the green ammonia, the $850-million facility is expected to produce up to 31,000 mt/year of green hydrogen.
Chevron Products and engine maker Cummins announced a memorandum of understanding to develop hydrogen and other alternative energy sources. "The energy transition is happening, and we recognize the critical role hydrogen will play in our energy mix," said Amy Davis, vice president and president of new power at Cummins. "We've deployed more than 2,000 fuel cells and 600 electrolyzers around the world and are exploring other hydrogen alternatives including a hydrogen-fueled internal combustion engine as we continue to accelerate and harness hydrogen's powerful potential."
Norwegian oil and gas producer Equinor and US Steel signed a memorandum of understanding to work on CCS to complement conversion of natural gas to hydrogen for a carbon-neutral product from low-cost Appalachian production.