Customer Logins
Obtain the data you need to make the most informed decisions by accessing our extensive portfolio of information, analytics, and expertise. Sign in to the product or service center of your choice.
Customer Logins
With its latest flagship smartphones, Huawei affirms continued support of AMOLED

At its launch event in Paris in March this year, Huawei unveiled two new smartphone models, the P30 and P30 Pro, as the latest additions to its flagship P30 line.
Last year, Huawei had chosen to use two technologically different glass-substrate-based displays for its P20 and P20 Pro models. The P20 display is a 5.8-inch full-high-definition-plus (FHD+) low-temperature polysilicon thin-film-transistor (LTPS TFT) LCD with screen resolution of 1080 x 2240 pixels. The P20 Pro display is a 6.1-inch FHD+ rigid AMOLED with the same screen resolution as the P20.
This year, however, Huawei elected to use AMOLED for its new P series, changing the display's shape and aspect ratio to support more full-screen features. The P30 display is a 6.1-inch FHD+ rigid AMOLED with 19.5:9 aspect ratio and screen resolution of 1080 x 2340 pixels. In comparison, the P30 Pro display is a 6.5-inch FHD+ flexible AMOLED with the same aspect ratio and screen resolution as the P30. Furthermore, the notch design in both displays have been changed in shape from a rectangle to what resembles a drop of water.
The figure below shows the Huawei P-series smartphones, including the two newest models in its P30 flagship lineup.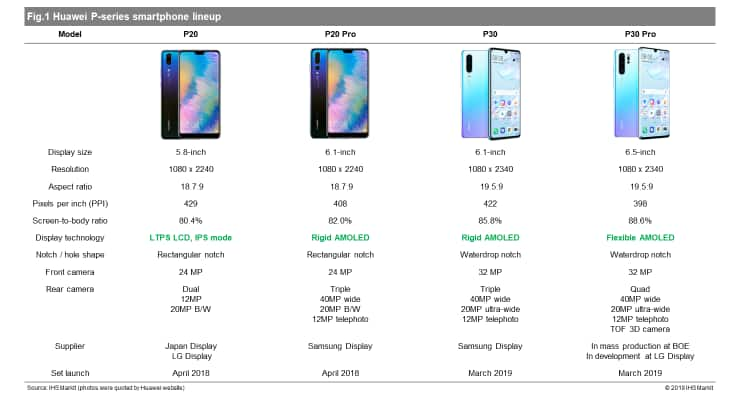 The switch to AMOLED has impacted the company's display supply chain.
In 2018, both Japan Display and LG Display provided the LTPS TFT LCD panels for the P20, while Samsung Display supplied the rigid AMOLED panels for the P20 Pro. With the adoption of AMOLED for the P30 series, the LTPS TFT LCD suppliers were booted from the supply chain, opening the door for China's BOE to take their place.
Since then, BOE has become a successful supplier of flexible AMOLED, with panel shipments increasing sharply from Q4 2018 after starting up delivery for the Huawei Mate 20 Pro. BOE has also been victorious in supplying flexible AMOLED for the P30 Pro, with the maker able to maintain stable production. LG Display, meanwhile, has the capability to supply displays for both the P20 and P30 Pro, yet appears to struggle in beginning the mass production of flexible AMOLED for the P30 Plus.
Overall, Chinese smartphone OEMs are increasingly adopting AMOLED for high-end smartphones. This is also true of Huawei, which is rapidly replacing LTPS TFT LCD with AMOLED on its flagship smartphones, as the figure below shows.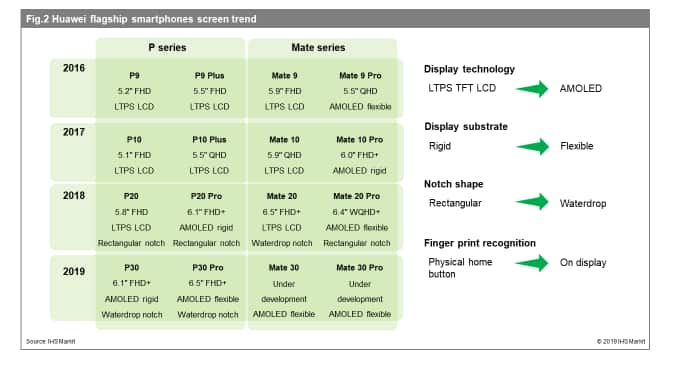 With a self-emitting display, AMOLED achieves wider contrast ratios and faster response times at the same time offering a thinner and lighter display module, compared to a TFT LCD display. AMOLED can also support flexible-display forms and fingerprint-on-display—features that TFT LCDs cannot provide. On top of those advantages, current market conditions favor AMOLED: the number of suppliers capable of producing flexible AMOLED is growing, the quality of AMOLED display panels is improving, and AMOLED panel prices are gradually decreasing. All told, these factors have led smartphone OEMs to adopt flexible AMOLED in growing volume for their premium and high-end line of smartphones.
Huawei's use of AMOLED for its two newest smartphones confirms the company's commitment to AMOLED technology, with significant implications for AMOLED manufacturers. Despite being among the world's top 3 smartphone companies by shipment volume—it moved up recently to second place after sweeping past Apple and now just trails Samsung—Huawei's adoption rate of AMOLED is relatively low among the world's top 5 smartphone manufacturers.
For years, Huawei opted to use TFT LCD displays for its high-end models, not AMOLED. When competitors began adopting AMOLED for their premium lines, Huawei stood firm and did not change its strategy on TFT-LCD. Huawei's shift to AMOLED—first with the P20 phones and now with the P30 models—should then be viewed with great interest. It is the clearest signal yet—to the displays market and to other smaller display manufacturers watching to see how Huawei would act—that the world's No. 2 smartphone manufacturer is now fully committed to AMOLED as the display technology of choice for its premium phones.
That, in turn, can motivate AMOLED makers everywhere to step up production of AMOLED panels. The end-result could see AMOLED makers increasing their share of the smartphone displays market—a most welcome win for the AMOLED space.

Brian Huh is principal analyst for small/medium displays at IHS Markit
Posted 1 July 2019
RELATED INDUSTRIES & TOPICS