Customer Logins
Obtain the data you need to make the most informed decisions by accessing our extensive portfolio of information, analytics, and expertise. Sign in to the product or service center of your choice.
Customer Logins
How much can Latin American LPG demand grow and can it absorb more US LPG exports?

Liquefied petroleum gas (LPG) import demand in Latin America has important implications for the global trade balance. Latin America is the first-choice destination for US exports; as US LPG exports grow, the volume that can be absorbed in Latin America will determine how much US LPG must flow to more distant markets in Europe and Asia. In our current base case estimate, US exports surpass 20 million metric tons per year (MMt/y) by 2025. We project that Latin America will import about 10 MMt/y of US LPG by 2025, but several factors contribute to uncertainty in both supply and demand within the region.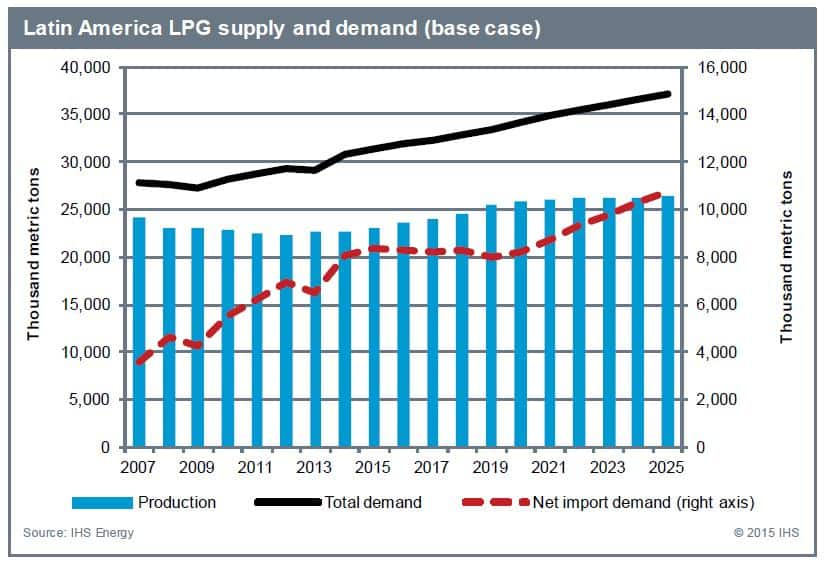 By 2025, we expect nearly half of US LPG exports to go to Latin America. This amounts to total import demand in the region of around 10 MMt/y, though imports could reasonably be higher or lower by 1 million metric tons (MMt) or more.
Aside from the United States, West Africa is the only LPG-exporting region positioned to supply Latin America on a large scale. Of the 8.7 MMt of waterborne LPG imported into Latin America in 2014 about 7.7MMt came from the United States and most of the remainder was sourced from West Africa. We expect West African exports to Latin America to continue, but incremental import demand growth will mostly be supplied by the United States.
The primary driver of demand growth in Latin America is the residential/commercial (res/com) sector. For 2016–25, we expect Latin America as a whole to add 5.8 MMt/y of incremental LPG demand across all sectors. Of this, 3.9 MMt/y is projected to come from the res/com sector.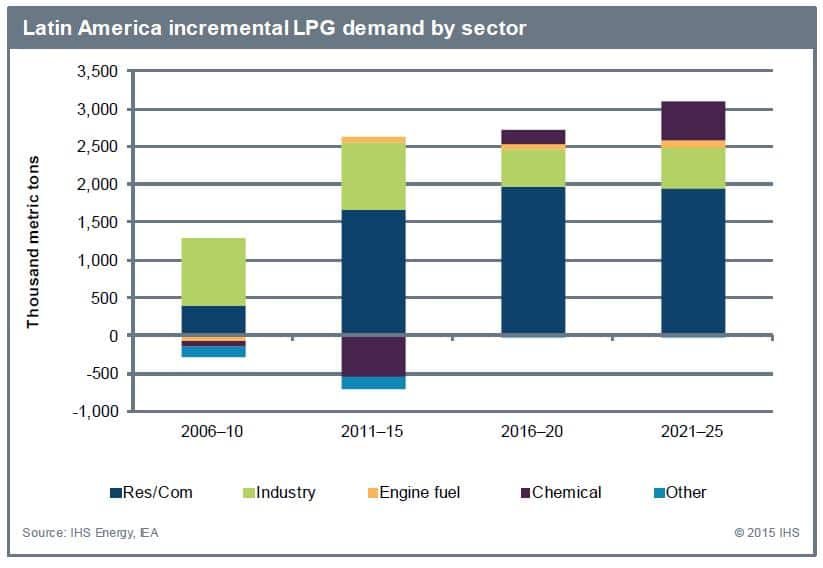 On average, res/com LPG consumption per capita in Latin America hovers around 34 kilograms (kg), twice the global per capita demand. This is driven in part by high per capita consumption in the region's largest market, Mexico (56 kg per capita in 2014). Although Mexico is an important LPG market, its res/com sector is mature, with little growth expected.
In other regional markets, the story is quite different, and the balance of this insight from IHS Natural Gas Liquids (NGL) Markets highlights the key growth markets and factors contributing to our outlook. In the full Insight Report, this analysis paired with IHS expectations for supply growth within the region and from the United States plus West Africa quantifies how much more US LPG Latin America could import by 2025. To learn more about our NGL Markets research request more information.
For more perspectives on the future of the Latin American LPG markets, join IHS experts and industry leaders at the 21st Annual IHS Latin America LPG Seminar & Workshops in Bogota, Colombia on November 9-11, 2015. Learn more and register today.
Keefer Douglas, Research and Analysis Associate Director, Downstream Research
Posted 8 September 2015
---
Follow IHS Markit Energy
RELATED INDUSTRIES & TOPICS