Customer Logins
Obtain the data you need to make the most informed decisions by accessing our extensive portfolio of information, analytics, and expertise. Sign in to the product or service center of your choice.
Customer Logins
How low can the Mont Belvieu propane price go?

US propane prices have been on a free-fall since January of this year with further downside price pressure expected. Weekly US propane prices have fallen from 63 cents per gallon (cpg) in early January to 41 cpg in mid-June based on various and sundry market factors. The market factors affecting the US propane price include but are not limited to crude oil prices, US natural gas production from both oil-directed drilling and natural gas-directed drilling, and weekly and monthly propane supply, demand, trade and inventory levels. Additional propane price pressure could be applied from the on-going tensions resulting from the unresolved US-China trade dispute.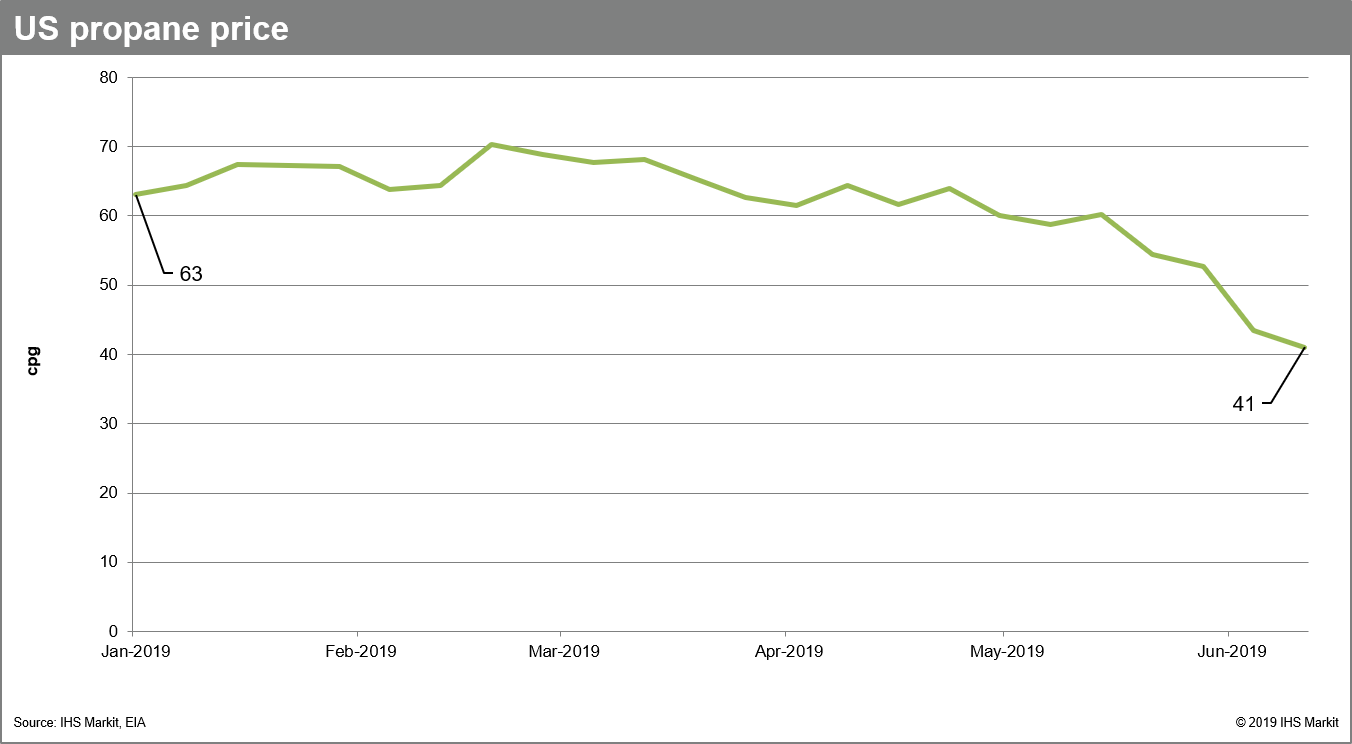 Crude oil prices during the first half of 2019 have been trading in a very narrow price range. During the month of January WTI crude oil price was around $52 per barrel ($/bbl) and the mid-June price settled at approximately $53/bbl. During the same period propane prices have plummeted as propane supplies have outstripped demand leading to higher inventory levels.
Expressing the propane price as a percentage of the crude oil price highlights the relative weakness between the US propane market price and the global crude oil market prices. The US propane price expressed as a percentage of the crude oil price was approximately 55% in January 2019 and has fallen to 33% mid-June. Comparing weekly propane prices to other periods, for example comparing 2018 to 2019, propane pricing for 2019 is very weak. For 2018 propane price averaged approximately 57% on a weekly average full year basis with a high of around 70% and a low of 50% while propane pricing for 2019 has fallen precipitously.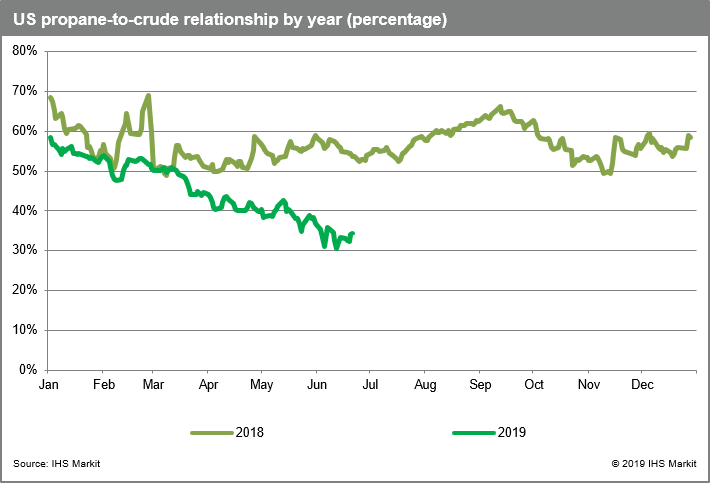 The 2019 US propane price collapse is underpinned by propane market fundamentals. US propane production has exceeded demand during the first half of 2019 as compared to 2018 and the excess supplies have led to higher inventory levels on an absolute and an adjusted basis. The result is higher inventory levels and correspondingly weaker propane pricing on a year-over-year basis. Propane inventory levels reflected by days of disposition was approximately 16 days at the beginning of the inventory fill season in 2018 compared to the same period in 2019, days of disposition is approximately 21.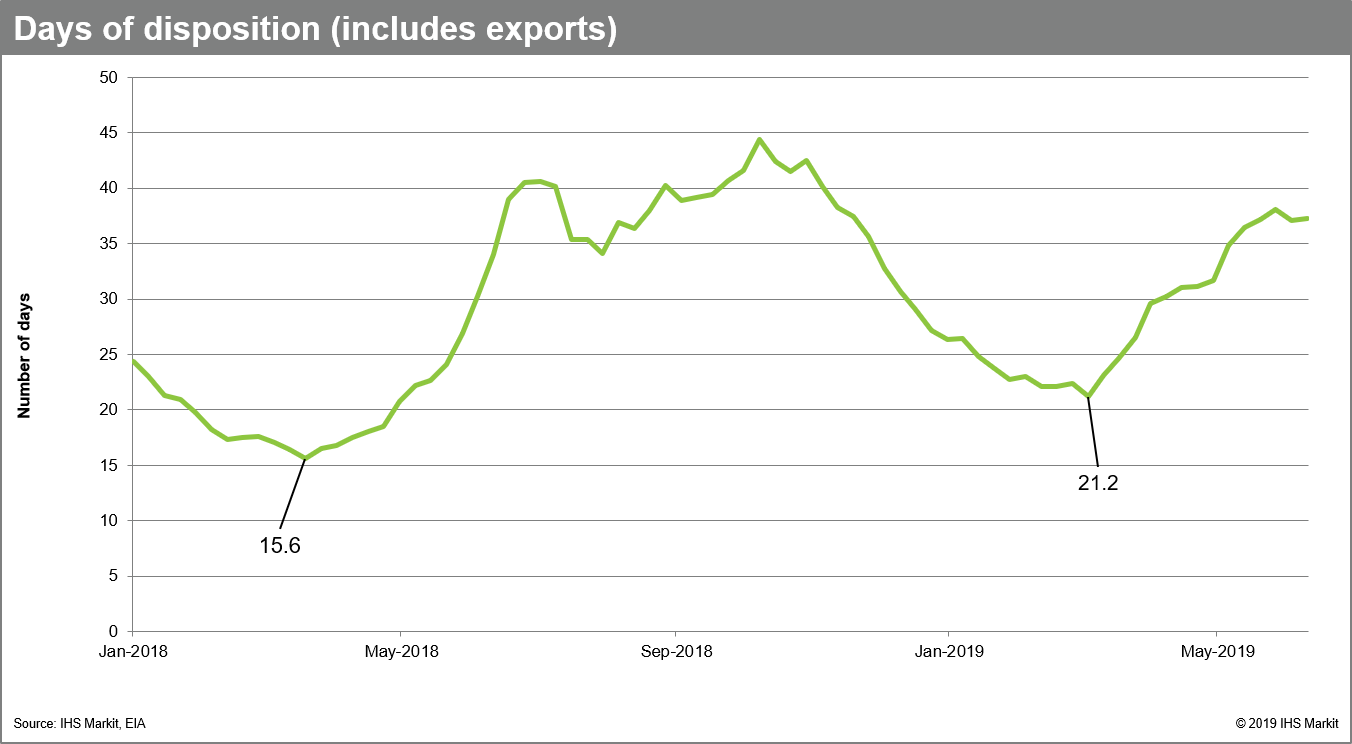 What's our view of US propane prices for the balance of 2019 given our assessment of the market fundamentals and how will the US-China trade dispute if unresolved impact propane prices further? What would be the impact of the global crude oil market and related pricing and an unresolved US-China trade dispute on propane pricing for the second half of 2019 and early 2020?
IHS Markit North American NGL market experts can provide a full picture of both weekly and monthly propane market coverage along with indepth forecasting of propane pricing. The data and insights featured in this post is included in our US NGL Markets Weekly report and North American NGL Markets subscription service.
---
Follow IHS Markit Energy
RELATED INDUSTRIES & TOPICS