Customer Logins
Obtain the data you need to make the most informed decisions by accessing our extensive portfolio of information, analytics, and expertise. Sign in to the product or service center of your choice.
Customer Logins
Holiday retail sales outlook 2019
Assuming consumers remain even moderately confident over the next few months, holiday sales are on track for an above-average year. We forecast that retailers will ring up $733.7 billion in sales, good for growth of 4.6% over last year. This would outperform the average holiday sales growth of 3.8% since 2010, but this forecast is not as strong as it would appear due to the low-base effects from last year. In other words, last year's sales were so poor that even a modest improvement in holiday retail spending would look strong in year-over-year terms. Retail is in a comfortable place, but peak growth is likely in the rear-view mirror. In 2020, tighter labor markets will result in a slower pace of hiring and consumer confidence is likely to recede from its elevated level as economic growth and the stock market cool. Tariffs could begin to bite as well, eroding consumers' willingness to spend.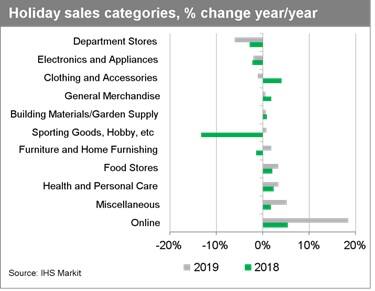 Out of the store fronts…click, click, click!
Online retail is showing no signs of slowing down, and more shoppers are checking off their gift-buying lists on their computers, phones and tablets than ever before. The share of holiday sales captured by online retailers—notching 18.6% in 2018—has increased on average by one percentage point per year over the last decade, with a slight acceleration over the last five years. Due to the extreme softness in online sales last December, we look for a sizable rebound this year. The forecast calls for online retail sales* to surge 18.4% over last year's sales, boosting the share of total holiday sales to a new high of 21.1%. Although penetration of the online segment is bound to slow as the e-commerce environment matures, the deceleration is only expected to be modest in the coming decade. Online holiday sales should be near 30% of total sales by 2030.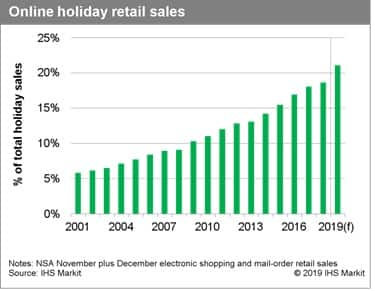 Not all categories of retail are due for an improvement over last year. Department stores, electronics & appliances, and clothing & accessories categories are each expected to see sales declines over 2018's levels. The commonality among these segments is that is each is negatively impacted by tariffs and consumer substitution toward e-commerce. A series of bankruptcies and physical store closures has thinned out the brick-and-mortar presence of these categories in recent years, but sales have yet to reach a turning point and the impending blow from tariffs will likely exacerbate the pain.
The nightmare before (or after) Christmas?
Trade policy has become a stronger headwind than in 2018 and could factor as an unwelcome holiday surprise for retail sales. In August, President Trump announced a plan to impose a 15% tariff on the nearly $300 billion of goods imported from China not previously subject to tariffs. These goods would fall under the 15% tariff in two phases, the first of which was implemented on 1 September and the second of which is scheduled for 15 December. The tariff expansion covers more consumer items than in past rounds, especially clothing and footwear, toys, and electronics.
Consumers are not likely to feel the full force of the tariffs until after the holidays. Most retailers began placing orders for their holiday goods in the summer months, which will allow them to mostly avoid paying the higher tariff rates that went into effect in September. Even if some purchasers are subject to higher prices on last-minute orders, they may opt to hold down retail prices due to the competitive pricing environment. The greater trade-related risk stems from consumer confidence, as household expectations for the economy going forward have trended lower since the tariff announcements in August. If actual consumer conditions do conform to this more pessimistic outlook—perhaps due to a slowing job market, financial volatility, impeachment developments, or trade war escalation—holiday sales could be in for another disappointing year.
*IHS Markit defines online holiday sales as not-seasonally-adjusted November plus December retail sales at electronic and mail-order stores.