Customer Logins
Obtain the data you need to make the most informed decisions by accessing our extensive portfolio of information, analytics, and expertise. Sign in to the product or service center of your choice.
Customer Logins
Healthcare systems face ongoing challenges with aging populations and chronic diseases on the rise

As the number of people in the world aged 60 and above more than doubles by 2050 from current levels, the planet's aging population—along with a corresponding rise in chronic illness within the group—will pose a challenge to global healthcare systems.
While healthcare stakeholders today face the daunting task of delivering quality services across the care continuum, providing healthcare for older populations is more expensive and requires more resources. As people age, the incidence of chronic diseases like diabetes and heart disease also rises, and treatment for chronic illnesses is costly. As a result, health systems must devise strategies to tackle the problem. Part of the strategy to improve patient care—and boost efficiencies in the process—is for medical establishments to invest in new technology and devices to take advantage of new models of diagnosis and therapy.
Medical imaging technology, for instance, will play a major role in addressing chronic health concerns, with strategies focusing on preventative health, which should promote the regular use of medical imaging equipment. Diagnostic imaging, meanwhile, will play a crucial role in the early detection of chronic diseases and the monitoring of disease progression. For its part, interventional imaging equipment will be utilized to guide an increasing number of minimally invasive interventional procedures, including heart-valve replacements and angioplasties.
The global medical imaging market in 2018 was worth $27.9 billion. This year, the market is projected to rise 3.5% to $28.9 billion, as shown in the graphic below. From 2017 to 2022, the world's medical imaging market will expand at a compound annual growth rate (CAGR) of 3.2%.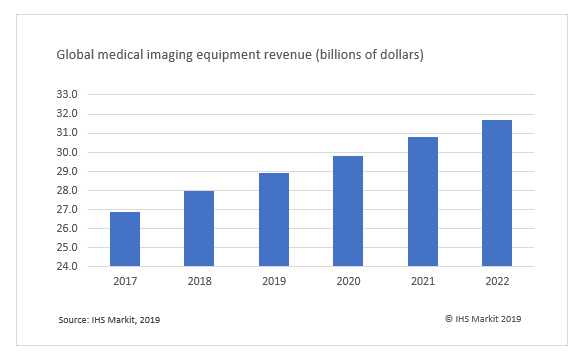 Over the years, demand for diagnostic imaging and interventional procedures is projected to increase, and the market should experience strong growth.
Even so, market expansion could be offset by the strain of caring for an aging population, with health systems pushed to do more imaging scans because of rising rates of illness and disease. Given the increased financial burden placed by a larger populace that is sick, medical systems could well reallocate healthcare spending, moving funds away from medical imaging budgets.

New approach is needed in the face of consolidation and changing dynamics
The financial burden on healthcare systems is creating an environment in which hospitals are consolidating at a much faster rate than in the past few years. Hospitals are purchasing medical equipment in bulk, and major supplier contracts are often won by the big three—American firm GE Healthcare, Philips Healthcare of the Netherlands, and Germany's Siemens Healthcare.
The three enjoy an enormous advantage because of their wide product portfolios and capability to bundle imaging equipment across a variety of modalities, such as CT, MRI, and ultrasound. Of the total medical imaging equipment market in 2017, the three firms accounted for nearly 60% of revenue.
A shift in the healthcare delivery environment will also require medical imaging manufacturers to adjust their sales approach and strategies. Medical reimbursement to healthcare providers is now tied to patient outcomes instead of the number of services performed—a change in approach from volume- to value-based care—driving providers to find ways to achieve new economies of scale to improve patient care while reducing their own costs.
This means that more than ever, medical imaging manufacturers must demonstrate their equipment to have the best return on investment (ROI), especially as purchasing decisions have moved away from clinicians to hospital administrators and even C-level executives.
To convince hospitals of the investment worth of their equipment, medical imaging manufacturers are showing how their devices can improve workflow efficiency and increase patient comfort. And increasingly, manufacturers are finding ways to incorporate into their product portfolios functionality that can be tied to artificial intelligence (AI).
The most discussed subject today in the medical imaging industry, AI has been shown to be more accurate when employed in diagnosis than in radiologists working alone. With the potential to improve patient incomes and drive down costs, AI integration will be a key feature in all medical imaging products, with integration projected to begin in the next three to five years, IHS Markit is forecasting.
Manufacturers who establish themselves as a leader in this field will have the best chance of claiming a major stake in this potentially huge market.

Holley Lewis is senior analyst for healthcare technology at IHS Markit
Posted 24 June 2019
RELATED INDUSTRIES & TOPICS