Customer Logins
Obtain the data you need to make the most informed decisions by accessing our extensive portfolio of information, analytics, and expertise. Sign in to the product or service center of your choice.
Customer Logins
Haul or transfer? Water transportation strategies for unconventional oil and gas development

22 April 2014
IHS Markit Energy Expert
The decision to use pipelines, truck hauling or water transfer for water disposal is dependent on these parameters: water volumes, distances between assets, pipe right of way, water quality, environment, and regulation.
As the range of oilfield water management service offerings grows across unconventional plays in the US, operators are faced with decisions about what wastewater management strategies to use. Water transportation, which can make up over half of the lifecycle cost of water management, is of critical importance. While hauling by truck has historically been the most common method of water transportation, transfer via fixed pipeline or layflat hose has gained significant traction in the industry. Using pipeline/hose transfer can simplify logistics, lower costs, create more robust supply chains, and reduce impacts from truck traffic.
Operators are finding business models to invest in, own, and operate water management infrastructure, despite the high price tag. Many operating companies are running dedicated water pipe as part of a three- or four-pipe installation to handle different fluid types? -oil, gas, and water (freshwater and/or produced water)-with gathering and distribution networks throughout the play. For example, Southwestern Energy and Sandridge Energy have significant water management infrastructure investments in the Fayetteville and Mississippian plays respectively. These operators account for the water pipe within the midstream budget at minimal incremental cost to other pipeline projects. Water management companies are also making infrastructure investments to transport wastewater from their clients in the Bakken and Niobrara respectively. For temporary installations, layflat hose is more common. Layflat is mobile and customizable, and the speed of deployment reduces labor time and cost.<</p>>
Choosing a water transportation strategy
Choosing between hauling and transfer options requires careful analysis to weigh the costs and risks of each option. Investing in pipeline infrastructure, for example, may be the cost-effective option in the long run, but only if there is certainty that there is a long-term demand for water transportation. IHS identifies several factors that operators should consider in evaluating transportation options:
Volume of Water and Timeframe. Because fixed pipeline infrastructure has high fixed costs but minimal marginal costs, the upfront capital investment is only advantageous if there is a large amount of water to be transported over a long period of time. Layflat hose has smaller upfront costs than fixed pipeline and can be a good alternative to trucking over short distances for smaller amounts of water over shorter time periods.
Distance between assets. The geospatial layout of the operators' assets-wells, water storage, water treatment systems, disposal wells-has a significant impact on the optimal transportation strategy. An investment in fixed pipeline is likely to be appropriate for longer distances between a water source or treatment facility and a set of well pads. Hose or trucks would then be used to distribute the water piped in from a central holding facility to the individual wells. This "hub-and-spoke" model allows operators to optimally leverage economies of scale.
Leasehold coverage. In order to lay pipe or hose, the operator must obtain right-of-way from landowners. If the operator's leaseholds for oil and gas assets are contiguous and cover the area where pipeline will be laid, this is easy. If not, it can be difficult and expensive to obtain the permits needed to run pipeline, adding significantly to transfer costs.
Quality of water. Flowback and produced water in plays with poor formation water quality contains constituents that can cause scaling and corrosion in pipeline. Appropriate O&M measures need to be put in place, increasing the cost of pipeline options.
Environmental conditions. Regions with rocky or mountainous terrain, such as the Appalachian Basin, require more expensive transfer installation. Climate is also a limiting factor for water transfer. In North Dakota operators are seasonally limited in using water transfer due to freezing temperatures. Measures can be taken to ensure that the pipes do not freeze, such as heating the lines, or burying permanent pipelines, but this can be costly, and trucking may turn out to be the least expensive alternative.
Regulation. Wastewater, by its nature, usually contains contaminants that would cause harm if introduced to the environment, notably basic salt, which could harm agriculture. Different states have significantly different rules regarding liability for spills and leaks from hose and pipeline. In states with more stringent rules, such as Pennsylvania, operators face increased costs for transfer. Advances in layflat hose to ensure robust, reliable, field-tolerant, leak-resistant connections suitable for the unique challenges in the oilfield are mitigating this risk.
An operator must evaluate these factors in order to assess the costs and risks of various transportation options for their specific operations, as there is significant variability from play to play. This is demonstrated by some examples from different plays which have seen significant water transfer investments for different reasons. In the maturing Bakken, stable, high-quality production volumes are driving wastewater gathering systems. In contrast, the Mississippian is an up and coming play, but large wastewater volumes make infrastructure investments economical.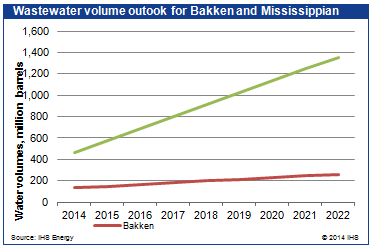 The Bakken has seen significant pipeline developments, especially for freshwater acquisition. The eastern half of North Dakota has significant surface water resources, while the western half of the state where the oil and gas resources are located is more water-constrained. Several pipeline projects, most notably the Western Area Supply project, are underway to transport freshwater across the state. The primary purpose of this project is to supply domestic use by the booming population, but excess capacity is being used to develop about a dozen water depots for oil and gas operators. As operating activity in the play matures, investments in wastewater gathering systems are underway.
The Mid-Continent region's Mississippian is in the early phases of play development, but IHS expects daily liquids production to more than double over the next ten years. Moreover, Mississippian wells typically produce 10x more wastewater than wells in any other US play. Leading operators in the region report that there are 4-5 salt water disposal wells drilled and completed for each oil well in the region. Sandridge Energy has over 160 SWD assets in the region with more than 900 miles of saltwater gathering pipe infrastructure. The operator's investment in water management infrastructure is estimated to reduce the cost of disposal based water transportation to $0.55 per barrel. Currently operating at half capacity, Sandridge may look to capitalize on their Mississippian midstream services investments by receiving waste fluids from other operators in the region.
Posted 22 April 2014
---
Follow IHS Markit Energy
RELATED INDUSTRIES & TOPICS