Customer Logins
Obtain the data you need to make the most informed decisions by accessing our extensive portfolio of information, analytics, and expertise. Sign in to the product or service center of your choice.
Customer Logins
Hanjin disruption will hurt display market in peak season

Trouble with South Korea's largest shipping company is affecting the global display industry and the country's largest display suppliers, Samsung and LG, in particular.
Now under court receivership, Hanjin Shipping-also the world's seventh-largest shipping company, recorded during the first half of 2016 a total debt of Korean won (KRW) 6.0 trillion (US$5.5 billion) and also posting a net worth-to-debt ratio of 1000%. As a result, the Hanjin Group and other creditors concluded that the company was no longer suitable for operation and filed for court receivership, a legal restructuring process that has created an unexpected logistics crisis.
For now global terminals, ports and freight companies have all stopped handling Hanjin Shipping's cargo due to concerns about payment. In fact, Hanjin Shipping's current arrears, including charterage and port fees, amount to around KRW 650 billion. The Hanjin Group might funnel in KRW 100 billion in emergency funds, but this has not happened yet, so the logistics crisis will not be quelled soon.
For a measure of relief, a US court has granted temporary protection for some ships on 9 September 2016, with those ships able to make port entry and unload without being seized by creditors. However, the company is in dire need of additional rescue funds so that all container ships can resume port entry and cargo handling. Moreover, continuing fallout from the crisis could result in additional costs surpassing $100 million related to delays in delivery, emergency shipping and air freight.
The display industry will not be immune to these damages, as display companies and related industries, including Samsung and LG, rely on Hanjin Shipping for transportation. In the meantime, the major Korean companies have switched to Hyundai Merchant Marine as an alternative, but since it has smaller shipment capacity many are concerned that it will fall short. Furthermore, charter fees have doubled, and Korean companies are unexpectedly shouldering the extra freight charges.
Hanjin's setback will affect product delivery schedules for Black Friday, the biggest event in the second half of the year, and it will also put a damper on the competition between Samsung's Galaxy Note 7 and the Apple iPhone 7. Hanjin Shipping sends approximately four ships to North America every week, and many display industry companies use Hanjin services when shipping to clients and to manufacturing fabs in the US.
This is expected to affect the components market even more than the market for finished display products. Half-finished goods or components, such as panels, are produced in Korea and other parts of Asia and then transported abroad. As an extreme case, when the transportation costs of panels increase, the burden may be passed on to the components of the panel. Moreover, with soaring charter rates and the difficulty in getting a charter may lead companies to turn to air shipping, which would increase overall costs.
As for LCD TVs that make up the largest portion among display products, panel prices have been skyrocketing ever since the second quarter of 2016 because of fluctuating supply-demand conditions, as shown in the graph below. Some sizes are being sold at a premium because there is a shortage in supply.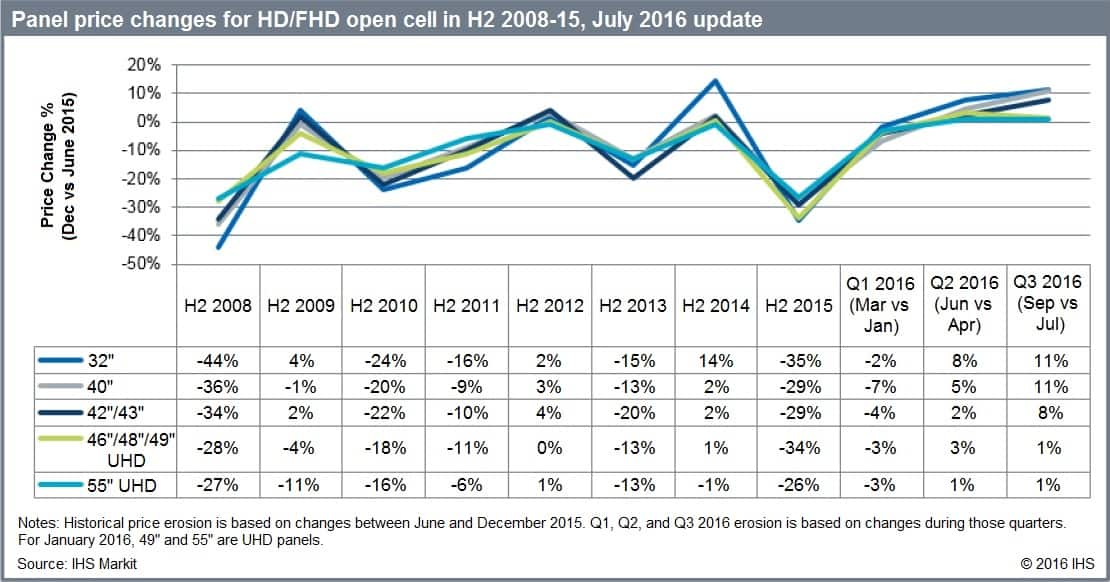 In other words, set makers are not being supplied with enough panels to meet peak-season demand, and to add insult to injury, companies will be hard hit in planning for their peak-season sales with a logistics crisis, especially for their promotion activities targeting Black Friday.
Given mounting cost burdens from increased panel and logistics prices, coupled with insufficient supply, companies may not be able to conduct their price promotions in line with the peak season. This will also affect whether they achieve their sales targets for the second half of the year, along with repercussions on future stock management and plans for the forthcoming year.
As indicated by the graph, while LCD TV panel prices have strongly rebounded from Q2 to Q3 this year, the Hanjin disruption may cause a shortage situation in Q4, with panel prices continuing to rise until November when preparation for the "hot" holiday sales season then gradually cool down.
The big question is whether panel makers will share in the increased cost being shouldered by LCD TV set makers as a result of the logistics crisis, or whether the added costs will solely be a burden for set makers. This will impact not only the peak season for this year, but will also be an important factor that affects market conditions next year.
David Hsieh is Director of Analysis & Research within the IHS Technology Group at IHS Markit
Posted 3 October 2016
RELATED INDUSTRIES & TOPICS