Customer Logins
Obtain the data you need to make the most informed decisions by accessing our extensive portfolio of information, analytics, and expertise. Sign in to the product or service center of your choice.
Customer Logins
Gulf defence markets: Threat assessment and spending forecast

07 December 2017
Jane's Editorial Staff
The Gulf remains a key defence market for international companies, and continues to face an array of major security challenges. These range from the ongoing conflict in Yemen, to the continued influence of Iran, and ongoing conflict in Syria and Iraq.
This extract from the Jane's Intelligence Briefing series examines the security challenges and provide a useful update on the security, budgetary, and industrial trends in the region. Content from this extract has been taken from a range of Jane's defence industry solutions.
Regional security environment
One of the main issues today regarding regional security and risk is the operations that GCC countries are currently involved in. The operations tempo, particularly for Air Forces, has seen the countries undertake missions in Syria and Iraq against Islamic State, and combined operations against Houthi rebels in Yemen.
With these conflicts there is the risk of conflict overspill, which is a real concern for countries such as Oman and Saudi Arabia in the south and the north. For other countries, there is also the risk of being targeted by Islamic State cells, as was seen by the bombing of a Shia mosque in Kuwait in 2015.
Iran is also an ongoing security threat for the GCC countries, with a ballistic missile threat, and nuclear weapons programme driving strategic thinking for these countries. In addition, Iran has the potential to increase unrest in Shia areas of eastern Saudi Arabia and Bahrain.
Islamic State
Islamic State has also been a key threat within the region to date, but is now being pushed back. This map from June shows how the group had, according to IHS Markit analysis, been pushed back to an estimated area of 36,200 square kilometres, which is roughly the size of Belgium or the US State of Maryland. This marks a 60% decline in controlled territory since the first estimate of 90,800 square kilometres in January 2015, and a 40% decline since the start of the year.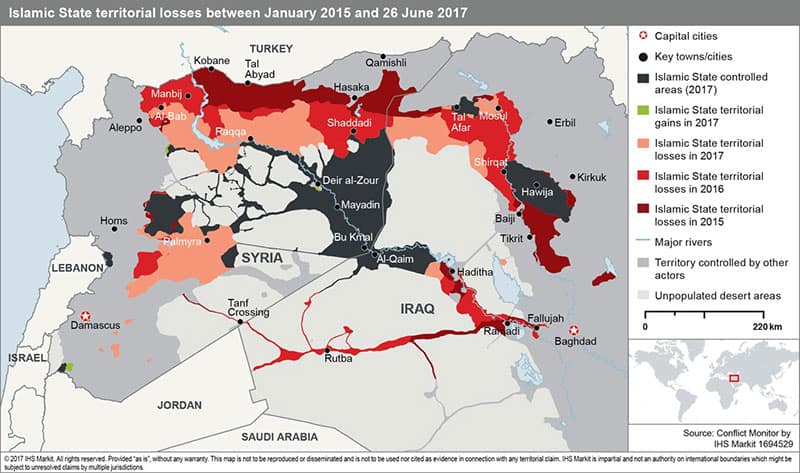 In a sense, the battle against Islamic State has brought a range of new challenges for both Western and regional militaries. This can be seen through increased sophistication in IEDs, for example, but also the use of UAVs in both surveillance and combat roles. In Yemen, unmanned surface vessels have also begun to appear as a threat to shipping, as well as non-state actor use of advanced systems like anti-ship missiles and ballistic missiles.
Political challenges
Succession remains a concern, with power transition potentially causing issues internally and externally, as countries may look to decide how they pursue modernisation or development, and what these costs may be. Additionally, there would also be a resulting delay as power transitions to a new leader - something that happens with any country really. Kuwait and Saudi Arabia are both ruled by leaders in their 80s, with Kuwait's crown prince also in his 80s. Oman's Sultan Qaboos is 76, and does not appear to have a publicly designated successor.
Economic and fiscal conditions
Three years since oil prices began to collapse, the Gulf region is still adjusting to the new reality of low oil prices. Following a boom period between 2011 and 2014 where prices were above $100 a barrel we've seen a sustained period of oil at below $60 a barrel. These depressed prices represent the new reality for the major energy producers in the Gulf.
Defence spending in the Gulf
Following sustained period of growth over the previous decade or so, we saw defence spending fall by around 3% following cuts in 2015 and 2016 - the first cuts seen since 2008. However the fragile security environment in the region has seen defence spending protected, spending has plateaued rather than been cut. Even though government budgets are still under a lot pressure, tentative growth returned this year and a recovery to pre-oil crash levels is now expected in 2018 or 2019.
Procurement cycles in Qatar
Qatar is really the standout country in terms of its attempts to increase capabilities. The procurement cycles in Qatar and Kuwait have supported the Gulf defence market since the oil price crashed. Since mid-2014, Qatar has finalised over USD20 billion worth of deals and as a result the navy will double in size, the air force may well treble in size. A massive expansion of their military and one which will require higher levels of defence spending going forward to support it.
Industrial consolidation
One of the first things to note in the region has been the emergence of defence industrial consolidation, with the two countries with major defence industrial ambitions - the UAE and Saudi - being the main ones involved. In the UAE, the creation of the Emirates Defence Industries Company, or EDIC, was seen as a way to bring together the country's various defence industrial holdings into one organisation.
Procurement processes - rise of the smart buyer
One of the things that appears to be emerging out of the UAE and Saudi in particular is the potential rise of the "smart buyer" - a shift away from procuring platforms to procuring capability, which includes the TLS package. As a result, there may be increased options to leverage greater work on MRO for domestic industry, which may be a problem for services firms such that focus on TLS and logistics. That said, OEM partnering with companies that can offer a lower cost TLS solution may be a way forward - and there may be some secondary offset success in that regard.
Iran - the future wildcard?
With arms sanctions set to be lifted in 2020, there's the possibility of it opening up as a market, and some suppliers are already considering it. The country has some broad modernisation requirements ranging from aircraft to armour, and joint equipment. Combat aviation is already a key area of focus, with Russian firms already looking to export there.
The country possesses some fairly solid strengths, born out of the experience of the past decade, in areas such as UAVs, rockets, and missiles, to name a few.
Jane's runs a series of 40 intelligence briefings throughout the year which are accessible to subscribers to Jane's intelligence centres and modules. This extract comes from Gulf Defence Markets: Threat assessment and spending forecast which was held in September 2017 and contained content from a range of Jane's defence industry solutions.
Jane's Editorial Staff
Posted 7 December 2017
RELATED INDUSTRIES & TOPICS