Customer Logins
Obtain the data you need to make the most informed decisions by accessing our extensive portfolio of information, analytics, and expertise. Sign in to the product or service center of your choice.
Customer Logins
Goodbye 3G transitional, 4G is finally coming to your device
18 September 2016
Stephane Teral
A lot of people remain confused about 4G because of the fierce 4G marketing war among the four US carriers at CES in Las Vegas back in 2010: it had to do with bragging about their great WiMAX 802.16e, CDMA 1xEV DO Rev. A, HSPA+ and LTE-all categorized as 3G transitional technologies in the International Mobile Telecommunications-2000 (IMT-2000) specs from the International Telecommunication Union (ITU).
Six years later, some of you may see your smartphone switching among EDGE, 3G, LTE and 4G while moving from one area to another. Well, if your connection indicates 4G, that should really be what it means, which implies that your device is connected to an LTE-Advanced network, technically defined as 4G in the IMT-2000. You may wonder, then, what happened between LTE and this 4G LTE-Advanced?
Your service provider has simply upgraded its existing 3G transitional or LTE network by combining two frequencies together, commonly referred to as carriers because a frequency carries a signal that transports the data between the base station and your device. Named carrier aggregation (CA), this technique creates a bigger pipe that provides more throughput, delivering more than 100 megabits per second (Mbps), versus 10-30 Mbps on LTE, as well as lower latency. Bottom line: your experience is better because your device goes faster when you use an app-for example, a YouTube video works better with no buffering.
In general, service providers typically start with two carriers and then add more carriers gradually to cope with bandwidth demand. In Japan and South Korea, three-carrier CA is the norm, with four- and five-carrier CA on the way.
As reported by the Global Mobile Suppliers Association (GSA) on 12 August 2016, there are 521 commercial LTE networks worldwide, of which 147 operators have launched commercial LTE-Advanced networks in 69 countries, and more than 180 LTE operators are investing in LTE-Advanced deployments, studies or trials. Already, the number of Category 9-capable networks (301-405 Mbps) is significant and expanding, while Category 11 systems (up to 600 Mbps) have been commercially launched and are paving the way to gigabit service being introduced by year-end. Indeed, Australia's Telstra in February was one operator that very publicly stated its intention to launch a 1-gigabit-per-second (Gbps) mobile service this year.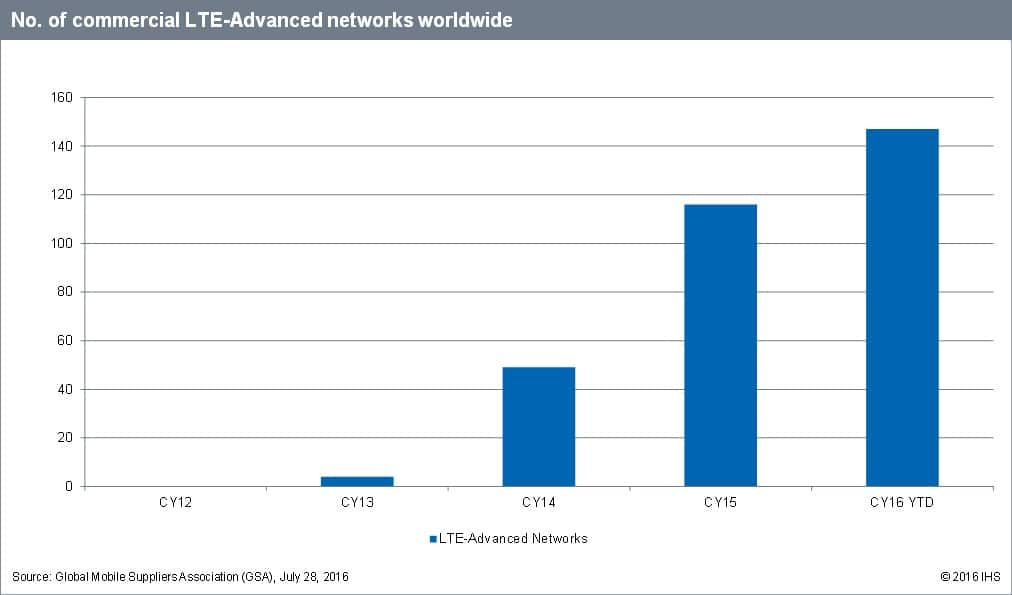 All of this is happening at what can still be considered very early days in 4G! And there are so many features and new technologies, such as multiple-input and multiple-output (MIMO), associated with 4G that there is much more to come.
So don't be too carried away with 5G technology just yet: 4G has very long legs and is here to stay.
Stéphane Téral is Senior Research Director, Mobile Infrastructure & Carrier Economics, within the IHS Technology Group at IHS Markit
Posted 20 September 2016
RELATED INDUSTRIES & TOPICS