Customer Logins
Obtain the data you need to make the most informed decisions by accessing our extensive portfolio of information, analytics, and expertise. Sign in to the product or service center of your choice.
Customer Logins
A good start for credit - but will it last?

2018 ended on a sour note and spreads looked set to continue their ascent throughout this year and beyond. But here we are, a little over a week into 2019, and the Markit iTraxx Europe is 10bps tighter than Dec 31 levels.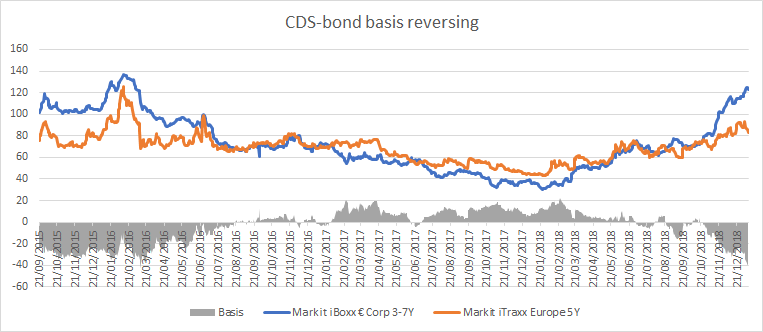 A bumper non-farm payrolls report, a more dovish stance from the Federal Reserve, optimism on US-China trade talks and Chinese economic stimuli all served to compress spreads after a shaky start.
Yet a view that these factors will support credit valuations through 2019 is surely a contrarian one. In Europe the ECB will no longer be supporting the corporate bond market after QE was withdrawn. It bears reminding that the central bank absorbed 78% and 25% of new supply in 2017 and 2018 respectively.
Optimists will assert - with reasonable justification - that the shift in monetary policy was well signalled and has been priced in. Spreads widened significantly in 2018, notably in the latter half after the ECB in June stated its intention to wind down the CSPP by the end of the year. The increase in yields may lead to funds flowing back from regions that offered better risk-reward profiles. The European credit cycle also seems to be at an earlier stage than the US - the much mooted downgrade risk on non-financial corporates and leveraged loan fragility may be a bigger risk across the pond, at least in the short-term.
This outlook has a lot of credence. But it is predicated on Europe maintaining solid, if unspectacular growth and political risk turning out to be a damp squib, as it turned out to be in 2017. Both factors have the potential to disrupt bullish strategies. Germany may already be in recession if the terrible industrial production figures released this week are any indication, while the rise in national populism threatens to capture the European Parliament in May's elections. Another general election in Italy - where the Lega may gain even more power - cannot be ruled out, while the Brexit debacle hangs over the UK.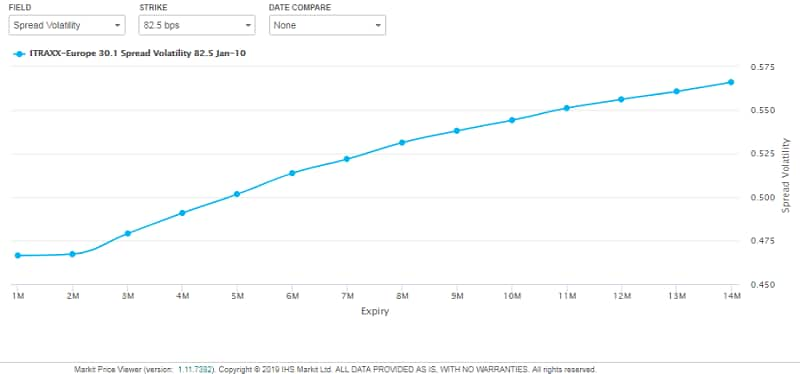 What does this mean for credit investors in 2019? Further spread oscillations are inevitable without ECB intervention (implied volatility from the options market - iTraxx Main 3-month at around 50 - is significantly higher than realised volatility). This poses obvious dangers, and it is likely that asset managers focused on cash will reach for synthetic instruments - CDS indices and options - to mitigate risk. The febrile climate may also create relative value opportunities, such as in CDS-bond basis. The difference between the two markets narrowed in the second half of 2018 thanks to the CSPP withdrawal. But bearish investors expecting the ECB to intervene again - either through QE or another TLTRO - will be looking at a basis strategy to get ahead of a policy change. Liquidity, as ever, will have to be closely monitored in both markets.
IHS Markit provides industry-leading data, software and technology platforms and managed services to tackle some of the most difficult challenges in financial markets. We help our customers better understand complicated markets, reduce risk, operate more efficiently and comply with financial regulation.
---
Follow Financial Services
RELATED INDUSTRIES & TOPICS