Customer Logins
Obtain the data you need to make the most informed decisions by accessing our extensive portfolio of information, analytics, and expertise. Sign in to the product or service center of your choice.
Customer Logins
Global Power and Renewables Research Highlights, January 2022

Analysis of COP26 coal pledge, power supply challenges heading into winter, and mainland China's focus after its recent blackouts
The following provides a brief overview of selected reports in the Global Power and Renewables service from December 2021. Learn more about IHS Markit's Global Power and Renewables Service and the reports featured in this post.
December reports continued to explore some of the themes related to climate and clean energy efforts, in addition to securing reliable power supply in the midst of the global energy crunch and heading into the winter.
COP26 coal pledge and renewables development
During the 26th Conference of the Parties (COP26) in Glasgow last November, more than 40 countries and a number of subnational governments signed onto the Global Coal to Clean Power Transition Statement, or the "coal pledge." The pledge has been heralded as a major breakthrough at the conference that would mark the end of coal. Upon closer examination, however, IHS Markit's recent report "Coal pledge from COP26: More symbolic than substantial" finds that the pledge falls short of its ambition. Signatories represented less than 15% of the global installed coal-fired power, with only three countries among the top 10 largest coal-fired power producers signing the pledge and one of them being "conditional" only. Many others—European countries, for example—had previously announced coal retirement targets for their aging coal fleets. Moreover, only three signatory countries' "no new coal" commitments—covering about 20 GW of capacity—were meaningful. The vast majority of countries signing the pledge either did not have any plans to build new coal-fired power or have never had any coal-fired power. South Korea, Vietnam, and Sri Lanka were the only signatories where new coal-fired power plants are under construction or in development. Yet the challenges facing South Korea and Vietnam in early coal retirements as well as stopping projects already under way also illustrate the difficulty of a fast phasedown. More than 80% of Vietnam's coal plants are less than 10 years old, meaning retirements in the 2030s or even 2040s could be considered "early," with stranded asset concerns. Stopping construction of new plants that are well under way would also incur significant cost—not to mention implications for overall power supply.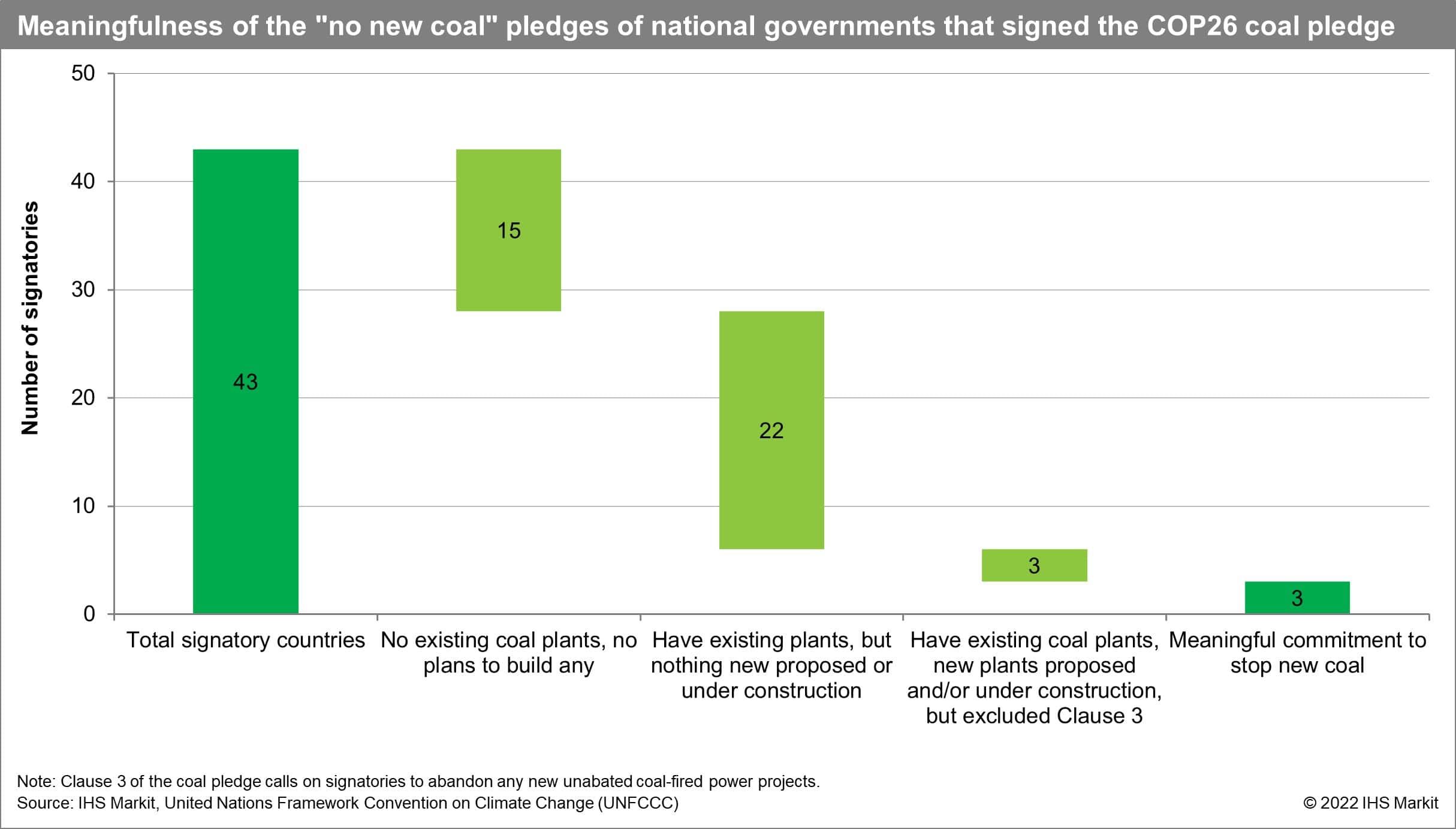 Meanwhile, efforts to boost renewables development continued in 2021. In Russia, a tender for multiple renewable energy projects was held in September. According to IHS Markit's report "Recent renewables capacity tender sets new benchmarks for Russia's power market", the tender was the first in the second government support program to stimulate clean energy growth in the country, with a focus on boosting domestic manufacturing and technological development. A total of 2.626 GW of capacity was awarded—1.851 GW for wind power and 0.775 GW for solar—with winning bid prices surprisingly low even by global standards. Completion of this new capacity would represent an increase of nearly 40% in Russia's existing renewable capacity.
The United Kingdom also launched Allocation Round 4 of its auction scheme for renewable capacity at the end of last year, with the reinclusion of onshore wind and solar photovoltaics (PV) for the first time since 2015. According to IHS Markit's report "Back in the pot: Opportunities for UK onshore wind and solar PV", up to 5 GW of new onshore wind and solar capacity will likely be built as a result, a massive increase compared with recent addition levels. While the auction creates a boost for solar and onshore wind capacity, offshore wind will remain the major technology for the United Kingdom. Long-term annual average growth rates excluding hydrogen for onshore wind and solar are expected to be 1.4% and 2.6%, respectively, whereas offshore wind is expected to grow at 4.6% per year, reaching 47.2 GW by 2050.
Also in December, China's National Energy Authority released the "Management measures on wind farm repowering and decommissioning," officially granting repowering activities for wind farms with an operating period of 15 years or more. According to IHS Markit's report "Wind farm repowering officially granted in China: Another boost for onshore wind installation", repowering can unleash about 60 GW of onshore wind installation demand by 2030. While it is clear that repowering will not alter the total national renewable subsidies entitlement of wind projects, waste disposal guidelines are still missing, and developers may have to bear additional disposal costs should new regulations arise in the future.
Also in 2021, however, prices for key raw materials for wind and solar PV spiked owing to pandemic-related supply chain disruptions. According to IHS Markit's report "Raw materials price volatility impacts on solar PV and wind costs", raw material price spikes observed in 2021 could increase solar PV system costs by 12% while wind system costs could increase by 7% and 6% for onshore and offshore wind, respectively. Sustained high prices for raw materials will likely lead to increased levelized costs of electricity for solar PV and wind at least through 2023.
Securing reliable power supply
With much of the world battling through an energy supply crunch in 2021, in the midst of ongoing decarbonization efforts and global supply chain disruptions, supply security has been top of mind, especially going into the winter.
IHS Markit's report "Are we entering an age of increasing power supply disruptions?" takes a look at some of the major power supply challenges during the past year, assessing impacts, drivers, and emerging trends. According to the report, at least 350 million people, or more than 4% of the global population, were impacted by major power outages over the past year. Power supply challenges ranged from a massive nationwide blackout in Pakistan due to a technical fault at a power plant, to rolling blackouts in northeast mainland China caused primarily by coal shortages amid robust demand growth, to outages in parts of the United States driven by extreme weather events and soaring energy prices in Europe. While power supply challenges are not something new and power supply disruptions have long plagued certain parts of the world, new challenges are emerging and exacerbating older ones. In many markets around the world, power supply shortages have been caused by lack of maintenance and chronic underinvestment in generation and grid assets. In recent years, however, climate-related extreme weather events have also intensified, impacting both supply and demand and increasingly challenging power system reliability while also rendering weatherizing equipment important and making hydro-heavy markets more susceptible. With climate change driving decarbonization efforts across the world, an unsynchronized pace of transition across the value chain can also strain power systems and expose energy markets to increased volatility. At the same time, systems that are increasingly dominated by variable generation resources are bringing about new challenges.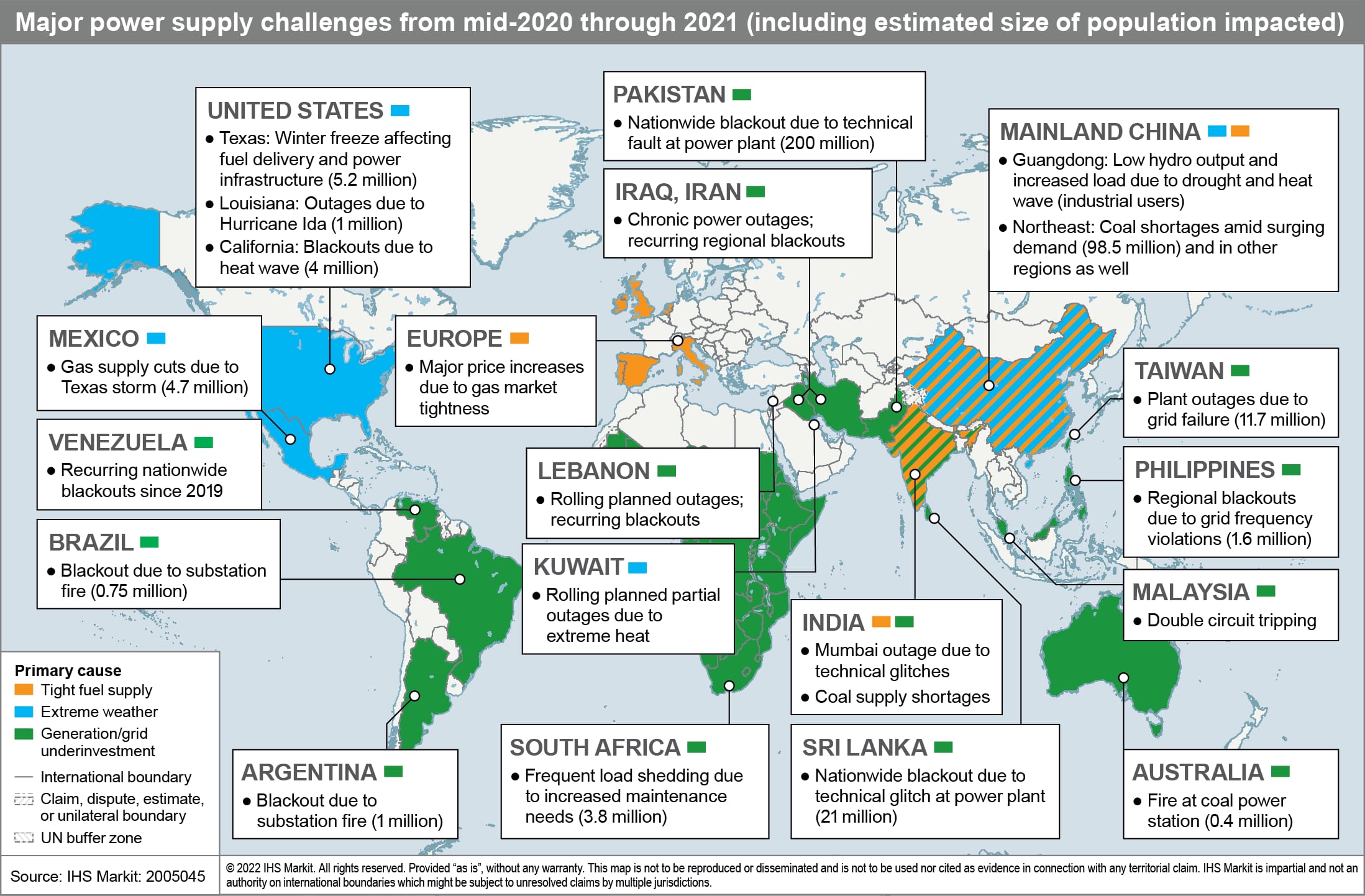 Against the backdrop of widespread power shortages in mainland China, the National Development and Reform Committee released the Notice on Deepening Market Reform of Coal-fired Power Pricing in October 2021, removing the benchmark on-grid power price for all coal-fired power generation and regulated retail tariffs for commercial and industrial customers and allowing coal-fired power to float within a bound of 20% away from the base price. According to IHS Markit's report "A vital step in liberalizing power pricing in China: Turning the crisis into an opportunity", while the new policy will help improve generators' financial position, thereby incentivizing a power supply increase, it goes beyond tackling the energy shortage and marks a milestone in deregulating the wholesale market, a key component of mainland China's power reform.
Mainland China also held its annual Central Economic Work Conference in December 2021 to review the country's economic performance during the past year and prioritize work for 2022. According to IHS Markit's report "China's Central Economic Work Conference: Secure energy supply to facilitate economic stabilization", while the conference confirms mainland China's long-term decarbonization goal, energy supply security will be the focus for 2022, and the campaign-style power rationing for the sake of climate targets will not reoccur in the short term. Developing renewables will continue to be important to enable coal replacement, but at this point, the government still lists coal as one of the nationally fundamental energy resources and calls for clean and efficient use of coal. Mainland China's dual-control policy will also gradually transition from energy consumption to carbon emissions, although both schemes will most likely coexist. Newly added renewables and feedstock use of fossil fuels will be exempted from total energy consumption accounting, offering more leeway to allow for growth while making energy control targets more achievable.
Meanwhile, Japan is bracing for another cold winter this year but this time with an integrated approach, involving the government and power utilities to alleviate the risk of a supply crunch. According to IHS Markit's report "Japan's power sector prepares for another cold winter", reserve margins in Tokyo and its western regions are forecast to fall to dangerous levels during January and February 2022. Several measures have been put in place to ensure a stable power supply during winter 2021/22, including securing more dependable capacity, shifting maintenance schedules of many power plants to off-peak months, and ensuring coordination across regions. At the same time, should commodity prices continue their increasing trend, power prices will also rise over the coming winter months, hurting end users.
Learn more about our global power and renewable research.
Rama Zakaria is associate director of Global Power and Renewables at IHS Markit.
Posted on 27 January 2022
---
Follow IHS Markit Energy
RELATED INDUSTRIES & TOPICS
{"items" : [ {"name":"share","enabled":true,"desc":"<strong>Share</strong>","mobdesc":"Share","options":[ {"name":"facebook","url":"https://www.facebook.com/sharer.php?u=http%3a%2f%2fihsmarkit.com%2fresearch-analysis%2fglobal-power-and-renewables-research-highlights-january-2022.html","enabled":true},{"name":"twitter","url":"https://twitter.com/intent/tweet?url=http%3a%2f%2fihsmarkit.com%2fresearch-analysis%2fglobal-power-and-renewables-research-highlights-january-2022.html&text=Global+Power+and+Renewables+Research+Highlights%2c+January+2022+%7c+IHS+Markit+","enabled":true},{"name":"linkedin","url":"https://www.linkedin.com/sharing/share-offsite/?url=http%3a%2f%2fihsmarkit.com%2fresearch-analysis%2fglobal-power-and-renewables-research-highlights-january-2022.html","enabled":true},{"name":"email","url":"?subject=Global Power and Renewables Research Highlights, January 2022 | IHS Markit &body=http%3a%2f%2fihsmarkit.com%2fresearch-analysis%2fglobal-power-and-renewables-research-highlights-january-2022.html","enabled":true},{"name":"whatsapp","url":"https://api.whatsapp.com/send?text=Global+Power+and+Renewables+Research+Highlights%2c+January+2022+%7c+IHS+Markit+ http%3a%2f%2fihsmarkit.com%2fresearch-analysis%2fglobal-power-and-renewables-research-highlights-january-2022.html","enabled":true}]}, {"name":"rtt","enabled":true,"mobdesc":"Top"} ]}