Customer Logins
Obtain the data you need to make the most informed decisions by accessing our extensive portfolio of information, analytics, and expertise. Sign in to the product or service center of your choice.
Customer Logins
Global Power and Renewables Research Highlights, August 2022: Impacts of sustained high fuel prices, mainland China's focus on renewables, US Supreme Court decision and Inflation Reduction Act

The following provides a brief overview of selected reports in the Global Power and Renewables service from July 2022. Learn more about our Global Power and Renewables Service and the reports featured in this post.
July reports showcase the impacts of sustained high fuel prices on power markets around the world, in addition to highlighting renewables growth in mainland China and discussing the recent US Supreme Court decision on regulating carbon emissions from existing power plants and the Inflation Reduction Act.
Sustained high fuel prices continue to impact power markets globally
On the back of tight fuel markets from last year, the Russia-Ukraine crisis has pushed coal, gas, and oil prices around the world to record highs—feeding directly into high wholesale power prices. With fuel prices expected to remain elevated in the near term, we take a look at impacts on power markets.
In Europe—where the situation is particularly dire given the region's dependence on Russian gas—record-high wholesale electricity prices are impacting power consumption. According to the IHS Markit Insight "European power demand: 6 July 2022", high prices have depressed demand recovery in several countries, leading to potential episodes of demand destruction. Demand in France, Spain, Belgium, Romania, and Germany all ended June around 4% below average. In the United Kingdom, demand remains considerably below historic 2019 levels.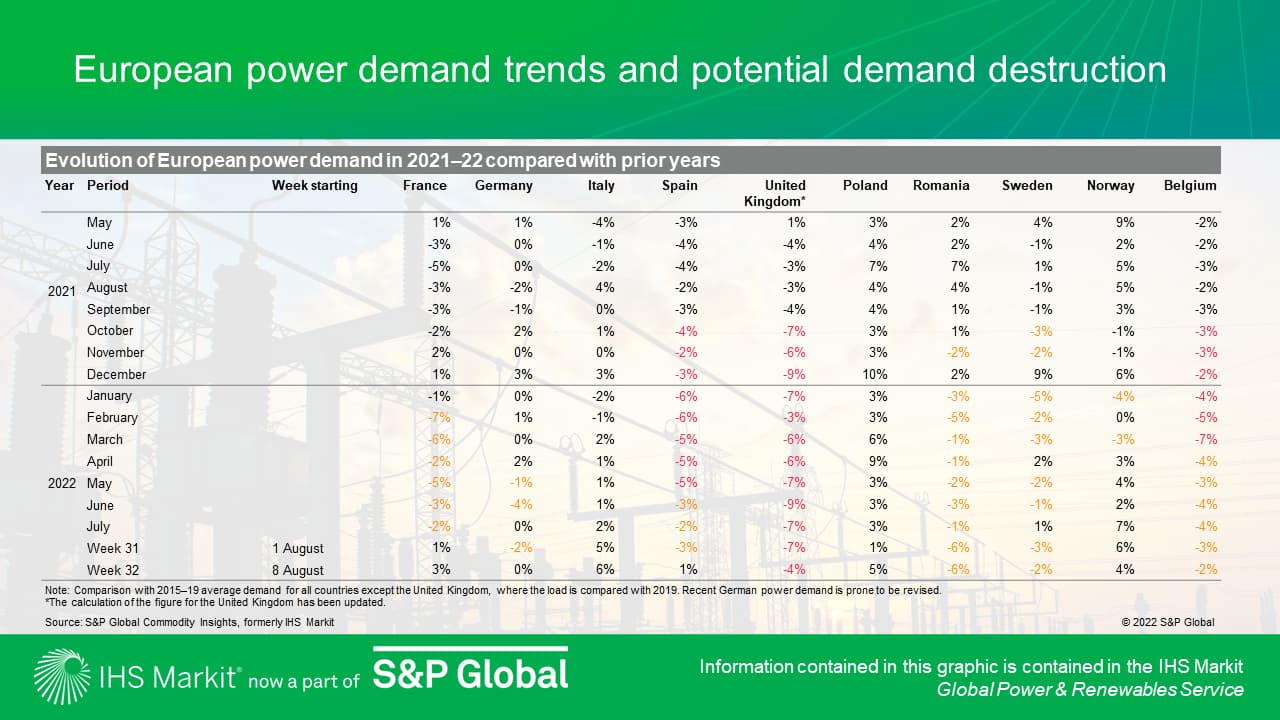 According to the IHS Markit Insight "European gas: Update of emergency plans", the Italian government has put forward the idea of a price cap on the Title Transfer Facility, with Europe-wide impact, while the French government has announced its intention to fully nationalize Électricité de France (EDF) to better manage its finances as prices rise. In Germany, the parliament passed into law a draft bill that would reactivate 10 GW of coal, lignite, and fuel oil capacity, and in the United Kingdom, EDF has delayed closure of two units totaling 1 GW at its West Burton A coal plant until March 2023.
In Southeast Asia, power demand recovery continued this year but electricity tariffs, which have been kept constant to shun damage from COVID-19, are hiking amid rising fuel costs. According to the IHS Markit Market Briefing "Southeast Asia Power and Renewables Market Briefing: Southeast Asia's power demand recovery continues but faces challenges amid fuel prices surge, July 2022", for the first time in five years, Indonesia's Perusahaan Listrik Negara announced that it will impose a steep hike for third quarter 2022 between 17.6% and 36.6% per kWh in electricity tariffs for household consumers and government buildings. Thailand's Energy Regulatory Commission and Singapore's SP Group—both of which rely heavily on imported LNG for electricity generation—have also issued warnings to consumers, advising them to prepare for higher electricity tariffs. Tight coal supplies are also increasing the risk of power shortages in countries such as Vietnam and Philippines.
In India, increased prices of Indonesian coal and LNG, along with rapid increase in electricity demand, are causing power outages. According to the IHS Markit Market Briefing "India Power and Renewables Market Briefing: Second quarter 2022", in March, electricity demand witnessed month-on-month growth of 7%—primarily owing to an early onset of summer and heat waves that swept the country. Average daily spot prices in the day ahead market touched $117.3/MWh—more than twice the average daily spot price in March 2021—and the average number of days of coal available at power plants dropped to around nine days by the end of March, with widespread load shedding reported in various states.
According to the IHS Markit Market Briefing "OECD Asia Power and Renewables Market Briefing—Second quarter 2022", in Australia, for the first time in history, the National Electricity Market was suspended for nine days in June—owing to a combination of planned and unplanned thermal outages, an early onset of winter, fuel supply issues, and high fuel spot prices. In Japan, residential electricity prices were up 31% year on year as commodity prices reached all-time highs. Power shortages are also becoming a recurring issue in the country, with the Ministry of Economy, Trade and Industry requesting power conservation this summer. South Korean electric utility KEPCO has also been under significant financial pressure owing to surging crude and LNG import prices. With fuel prices expected to remain elevated for at least 2022/23, KEPCO will likely raise retail tariffs substantially through basic fuel costs in 2023.
High fuel prices have also led the Ministry of Economic Affairs in Taiwan to lift the retail electricity tariff by 8.4% on average, effective July 1. According to the IHS Markit Insight "Belated decision: Taiwan finally raised retail electricity tariff", this action is the first retail tariff revision since 2018, breaking the 3% maximum adjustment range principle. The new rate plan might blow over 380,000 customers, with 22,000 high- and ultrahigh-voltage users and 360,000 households, respectively—accounting for about 60% of electricity sales volume based on IHS Markit estimation.
In the United States, high gas prices have put upward pressure on Cross-State Air Pollution Rule (CSAPR) Group 3 seasonal nitrogen oxide (NOX) allowance prices, which increased over tenfold in 2022. According to the IHS Markit Insight "The 2022 ozone season NOX prices rise with natural gas prices", the rapid increase in natural gas prices over the past six months has made coal plants more economically competitive, driving the spike in NOX prices as coal plants demanded more allowances. Regulatory uncertainty from a proposed update to the CSAPR program, known as the Good Neighbor Rule update, has also made allowance holders wary of trading away credits that could be banked for use next summer when fewer allowances are granted.
In Latin America's Southern Cone region, the near-term growth outlook remains challenged by rising inflation and political volatility. According to the IHS Markit Data "Latin American Power Market Fundamentals Report: Southern Cone", Argentina is seeking to implement a reduction in retail tariff subsidies to narrow the country's fiscal deficit amid rising fuel prices that will be imported by the wholesale market administrative body. While Argentina's power regulator has increased the average retail power tariffs for two local utilities, the adjusted tariffs will only marginally offset the surge in costs faced by the power market. In Brazil, increased hydropower output has eased the pressure on gas-fired power generation and in Chile, rapid renewable deployments are causing an oversupply situation, although ongoing poor hydro conditions and fuel supply constraints could jeopardize the reliability of power supply in the short term.
Mainland China's focus on renewables
In mainland China, climate ambitions are driving a focus on renewables deployment. The country aims to build a "New Power System" by 2035, with renewables playing a dominant role.
In May 2022—following the Southern Region Green Power Trading Rules published by Guangzhou Power Exchange Center in February 2022—the Beijing Power Exchange Center unveiled Green Power Trading Execution Details for the State Grid's operating regions. According to the IHS Markit Insight "Green power trading in mainland China spreads nationwide despite uncertainties in practice", the release of these rules marks a milestone in the journey toward a national unified power market—with green power becoming a recognized category in parallel with thermal power and others under the mid-to-long-term power market.
In June 2022, the National Development Reform Committee announced mainland China's 14th Five-Year Plan (FYP) for renewables, calling for a massive buildout of renewables. According to the IHS Markit Insight "China's renewables 14th Five-Year Plan: Official targets to be remarkably outpaced?", provincial targets and project pipeline dynamics reflect a far more aggressive pace, indicating that mainland China will exceed the government's 2025 renewable targets and achieve one of the 2030 nationally determined contribution goals five years ahead of schedule—with mega base and distributed renewable projects driving most of the renewable capacity growth during the 14th FYP period.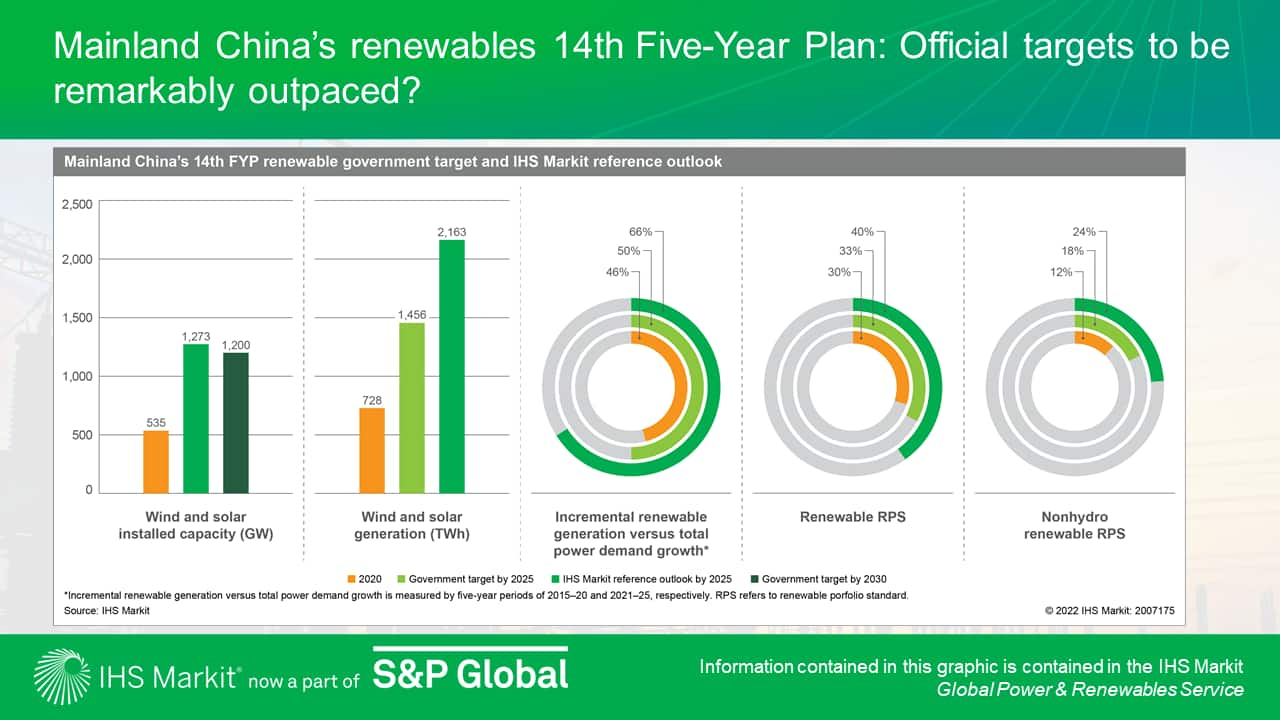 The Chinese government also emphasized the development of flexible power to increase the power system's readiness to accommodate more intermittent renewable energy. While coal- and gas-fired power are the backbones of dispatchable power in most regions—and will continue to be the largest contributors to flexible capacity in the short term—pumped hydro will grow at a fast pace owing to pricing reforms and a booming project pipeline. According to the IHS Markit Insight "China's pumped hydro surge: Deployment poised to quadruple over a decade", mainland China has set an ambitious national target of 62 GW of pumped hydro by 2025 and 120 GW by 2030. As of mid-June, the total pipeline for pumped hydro was 534 GW and IHS Markit expects installed capacity to reach 67 GW by 2025 and 128 GW by 2030.
Emerging types of energy storage are also mentioned in the government plan, with a national target for energy storage (non-pumped hydro) of 30 GW by 2025. Increased investment in transmission will also help facilitate nonlocal renewable consumption. However, despite these efforts renewables growth may face short-term headwinds of inadequate system flexibility and transmission bottlenecks.
US Supreme Court decision and Inflation Reduction Act
On 30 June, the US Supreme Court issued a 6-3 decision limiting the scope of the Environmental Protection Agency's (EPA) authority to regulate power plant greenhouse gas (GHG) emissions. The ruling addresses the Obama-era Clean Power Plan, specifically the approach used by EPA to establish the best system of emission reduction.
The IHS Markit Insight "West Virginia ruling constrains EPA's regulatory flexibility, but uncertainty persists" presents initial views on this important policy development. According to the report, the decision has important ramifications for EPA's flexibility in regulating the power sector and will likely affect how EPA measures its authority to regulate other emitting sectors. The ruling will likely also have broad consequences for administrative law and the ability of agencies to regulate using novel mechanisms or to extend regulatory reach into new areas under existing statutes—for example, the decision may have relevance to the US Securities and Exchange Commission's GHG reporting and disclosure rule.
While the ruling reduces EPA's policy options, the agency remains compelled to regulate GHG emissions from the power sector and plans to release a proposed rulemaking for existing units in early 2023. Meanwhile, states, cities, and companies continue to lead the way on US decarbonization.
On 16 August, President Biden signed into law the Inflation Reduction Act (IRA)—a bill that represents the first multidecade greenhouse gas legislation passed by the Congress. According to the IHS Markit Insight "Inflation Reduction Act will spark a new era for clean energy technology in the United States", the tax credits in the IRA will reduce levelized costs for wind and solar dramatically. The post-IRA levelized cost of energy (LCOE) outlook for solar and onshore wind is now well below the variable costs of existing coal and gas in many regions of the United States. The LCOE outlook for offshore wind lags its onshore counterparts but is on course to break into the range of coal and gas variable costs in the early 2030s.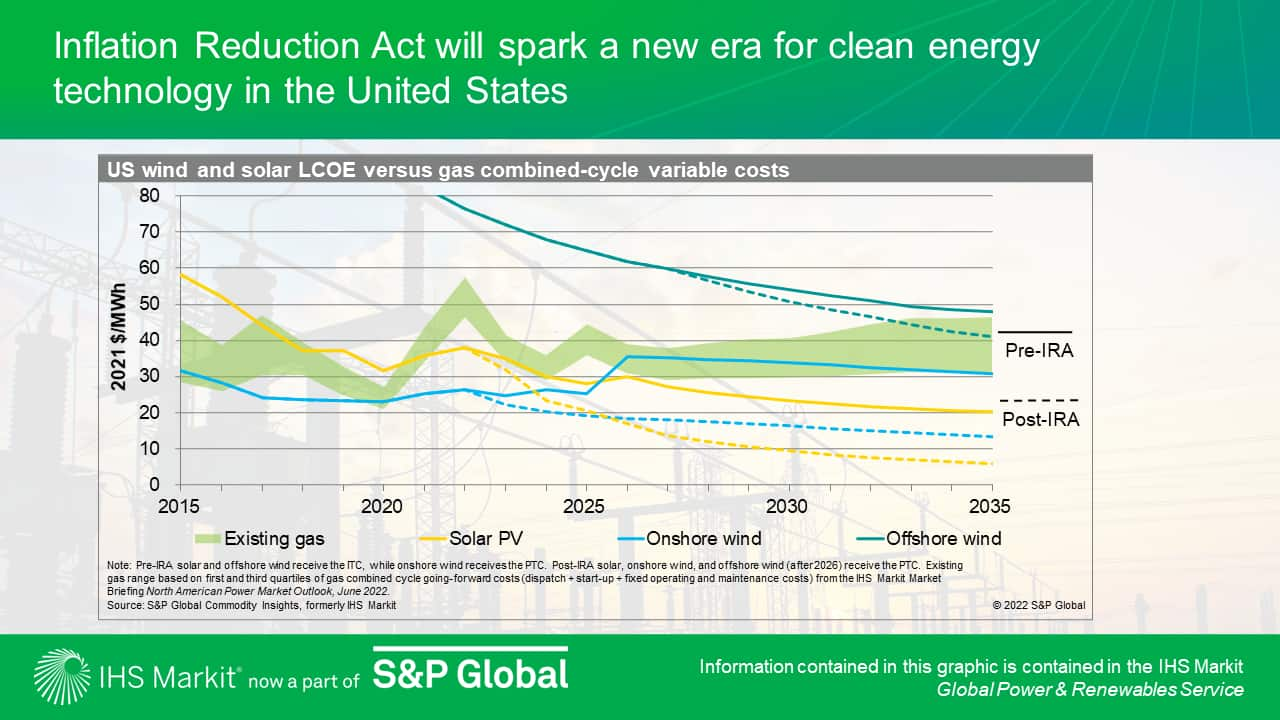 The IRA is expected to increase new renewable capacity by 10-20% this decade while accelerating fossil retirements, although further efforts will be required to unlock the full potential of the legislation—including addressing supply chain challenges, bloated interconnected queues, and transmission.
Learn more about our global power and renewables research.
---
This article was published by S&P Global Commodity Insights and not by S&P Global Ratings, which is a separately managed division of S&P Global.
RELATED INDUSTRIES & TOPICS
{"items" : [ {"name":"share","enabled":true,"desc":"<strong>Share</strong>","mobdesc":"Share","options":[ {"name":"facebook","url":"https://www.facebook.com/sharer.php?u=http%3a%2f%2fihsmarkit.com%2fresearch-analysis%2fglobal-power-and-renewables-research-highlights-august-2022.html","enabled":true},{"name":"twitter","url":"https://twitter.com/intent/tweet?url=http%3a%2f%2fihsmarkit.com%2fresearch-analysis%2fglobal-power-and-renewables-research-highlights-august-2022.html&text=Global+Power+and+Renewables+Research+Highlights%2c+August+2022%3a+Impacts+of+sustained+high+fuel+prices%2c+mainland+China%e2%80%99s+focus+on+renewables%2c+US+Supreme+Court+decision+and+Inflation+Reduction+Act+%7c+IHS+Markit+","enabled":true},{"name":"linkedin","url":"https://www.linkedin.com/sharing/share-offsite/?url=http%3a%2f%2fihsmarkit.com%2fresearch-analysis%2fglobal-power-and-renewables-research-highlights-august-2022.html","enabled":true},{"name":"email","url":"?subject=Global Power and Renewables Research Highlights, August 2022: Impacts of sustained high fuel prices, mainland China's focus on renewables, US Supreme Court decision and Inflation Reduction Act | IHS Markit &body=http%3a%2f%2fihsmarkit.com%2fresearch-analysis%2fglobal-power-and-renewables-research-highlights-august-2022.html","enabled":true},{"name":"whatsapp","url":"https://api.whatsapp.com/send?text=Global+Power+and+Renewables+Research+Highlights%2c+August+2022%3a+Impacts+of+sustained+high+fuel+prices%2c+mainland+China%e2%80%99s+focus+on+renewables%2c+US+Supreme+Court+decision+and+Inflation+Reduction+Act+%7c+IHS+Markit+ http%3a%2f%2fihsmarkit.com%2fresearch-analysis%2fglobal-power-and-renewables-research-highlights-august-2022.html","enabled":true}]}, {"name":"rtt","enabled":true,"mobdesc":"Top"} ]}