Customer Logins
Obtain the data you need to make the most informed decisions by accessing our extensive portfolio of information, analytics, and expertise. Sign in to the product or service center of your choice.
Customer Logins
Global energy-related carbon emissions to surge nearly 5% in 2021, led by coal: IEA

The world will see a sharp 4.8% rebound in annual energy-related carbon emissions in 2021, the International Energy Agency (IEA) said, with emissions from coal, natural gas, and China leading the surge.
This increase would counteract nearly all the emissions reductions the IEA observed in 2020 when the global economic slowdown led to a 5.8% reduction in energy-related emissions to 31.5 billion mt.
Issuing what it called a "dire warning," the Paris-based intergovernmental agency said the global economic recovery this year will generate a 1.5-billion mt increase in energy-related carbon emissions to 33 billion mt. It would be the second-highest year's emissions on record, only behind the 33.4-billion mt level of 2019, and would represent a retreat from meeting Paris Agreement goals for 2030 or 2050.
"The economic recovery from the COVID crisis is currently anything but sustainable for our climate," said IEA Executive Director Fatih Birol in a statement on 20 April that accompanied publication of the "Global Energy Review 2021."
The projected emissions increase would be the largest single-year increase since 2010, when emissions surged 1.7 billion mt in the recovery from the global economic recession following the banking crisis of 2007 and 2008, Birol said.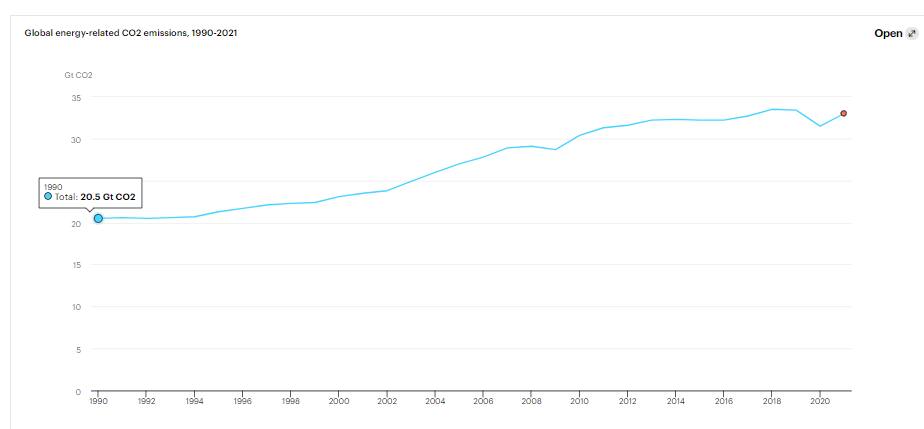 Source: IEA
The findings are predicated on a strong rebound in global economic growth of about 6%. The economic downturn of 2020 hit the transportation industry particularly hard, which led to the largest decline in oil demand in history — 8.5 million barrels/day, or 8.8%. Concurrent with the economic rebound this year, IEA is forecasting a 6% growth rate for oil consumption, or a recovery of 5.4 million b/d.
IHS Markit's latest outlook for global oil demand sees an increase of nearly 6 million b/d from the first to third quarters of this year. "Mainland China's consumption is rising, and pent-up travel demand will fuel gains in Europe and North America—assuming the pandemic is under better control in the coming months," IHS Markit said earlier this month.
But IEA acknowledged the uncertainties inherent in any forecast, given "the pace of global vaccine rollouts, the possible emergence of new variants of COVID-19, and the size and effectiveness of economic stimulus measures."
Emissions by fuel
Similar to oil, coal demand experienced a major decline in 2020, as it fell by 4%, or the largest percentage since World War II. IEA expects a recovery to pre-pandemic levels this year, with emissions from coal use projected to rise by 640 million mt this year, or 4.5%, to 14.8 billion mt. This is just 350 million mt below 2014's all-time record.
"The power sector accounted for just over 40% of the drop in coal use in 2020, but the rapid increase in coal-fired generation in Asia sees it account for three-quarters of the rebound in 2021," IEA said.
This forecast reinforces a finding earlier this month by the environmental group Global Energy Monitor that China added more new coal-fired capacity in 2020 than the rest of the world retired.
Natural gas demand fell by 75 billion cubic meters, or 1.9%, in 2020, but saw a V-shaped recovery that showed new daily record demand by the last quarter of the year. As a result, IEA sees a strong year for gas in 2021, with gains of 3.2% to a new demand record of 3.85 trillion cubic meters.
With record gas demand comes rising emissions. CO2 emissions from gas combustion are expected to increase by more than 215 million mt in 2021 to reach an all-time high of 7.35 million mt of CO2, which is 22% of global CO2 emissions. As people return to work in offices and use other public buildings, this sector will be strong in 2021. "Gas use in buildings and industry accounts for much of the trend, with demand in public and commercial buildings seeing the greatest drop in demand in 2020 but the biggest anticipated recovery in 2021," IEA said.
On the other hand, oil-related emissions are expected to remain well below their record levels for at least another year. Oil-related CO2 emissions fell by 1.2 million mt in 2020, and they are expected to recover by about 650 million mt in 2021, with aviation-related oil demand and emissions lagging behind other forms of transportation.
In contrast to the reduced global demand for fossil fuels in 2020, renewable energy production increased by 3%, with the IEA now forecasting an additional 8% increase in 2021, "the fastest year-on-year growth since the 1970s."
As the graph below shows, wind power will lead the way, followed by solar and hydropower.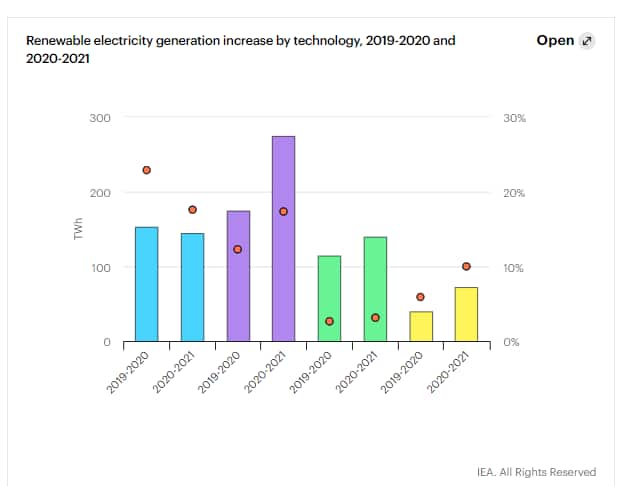 Emissions by region and country
China's strong and quick recovery from the coronavirus pandemic means that the country's emissions will jump by almost 500 million mt in 2021, after rising 75 million mt in 2020 — the only nation with an increase last year. Thus, in 2021, the carbon emissions of the world's largest emitter nation by far, will be 1.390 billion mt, or about 600 million mt higher than just two years ago.
"Despite China's rapid growth in generation from renewables, output from coal-fired power plants has increased by 330 TWh, or nearly 7%, between 2019 and 2021," IEA said.
India also is expected to end 2021 with higher emissions than in 2019, based on an economic recovery (note the IEA report was completed prior to the recent spike in COVID-19 infections in India that have led to lockdown measures). IEA projected a cumulative 30 million mt CO2 increase, or 9% on the year for the South Asian country.
As with China, coal remains the culprit in India, with IEA expecting the rise in coal-fired power in 2021 to be three times greater than the increase in renewable power generation. "CO2 emissions in India are now broadly on par with emissions in the European Union at 2.35 Gt, although they remain two-thirds lower on a per capita basis and 60% below the global average," IEA said.
Europe's CO2 emissions are expected to rebound in 2021 by 80 million mt, although this is only about one-third of the falloff in 2020. The report noted that coal generation will account for only about 14% of power generation in Europe this year, and the trend is downward. Austria and Sweden closed their last coal plants in 2020, and Portugal is on track to do so in 2021.
IEA's data on CO2 emissions stemming from the use of gas comes at a sensitive moment for Europe. Europe's gas use was about 470 billion cubic meters in 2020, about 21.3% of total power production.
The European Commission (EC), the executive arm of the EU, affirmed this week a target of 55% GHG emissions reductions by 2030 (from 2005 levels), as the interim pathway to net zero by 2050. The member states came to the agreement on 21 April, addressing concerns from coal-dependent states such as Poland.
Concurrently, the EC issued its "green taxonomy" that defines which economic activities are "sustainable" and contribute to reaching the emissions target. Investments in sustainable activities can enjoy favorable tax status, as well as enabling investors and operators to meet their own environmental goals. New or modified gas projects such as power plants and LNG import terminals were not classified as green under the taxonomy — yet. The EC said it has not made a final determination about either gas or nuclear power (the latter of which contributed 12.9% of EU power in 2019).
In the US, CO2 emissions in 2021 are expected to rebound by more than 200 million mt to 4.46 billion mt. This is still 5.6% below 2019's level and 21% below 2005.
"Oil use, the biggest contributor to [CO2] emissions in the United States, should remain almost 6% below 2019 levels, as transport activity remains curtailed across 2021," IEA said. "CO2 emissions from coal are expected to be almost 12% below 2019 as coal use for electricity generation is likely to recover only 40% of the ground lost to renewables and natural gas in 2020."
The US' emissions trajectory could change significantly in the next few years, after the Biden administration releases a new nationally determined contribution -- a nonbinding commitment to emissions reductions by 2030 -- which is expected in conjunction with this week's Leaders Climate Summit.
Includes reporting by Anthony Lane, OPIS.